Enjoying The Fruits Of Summer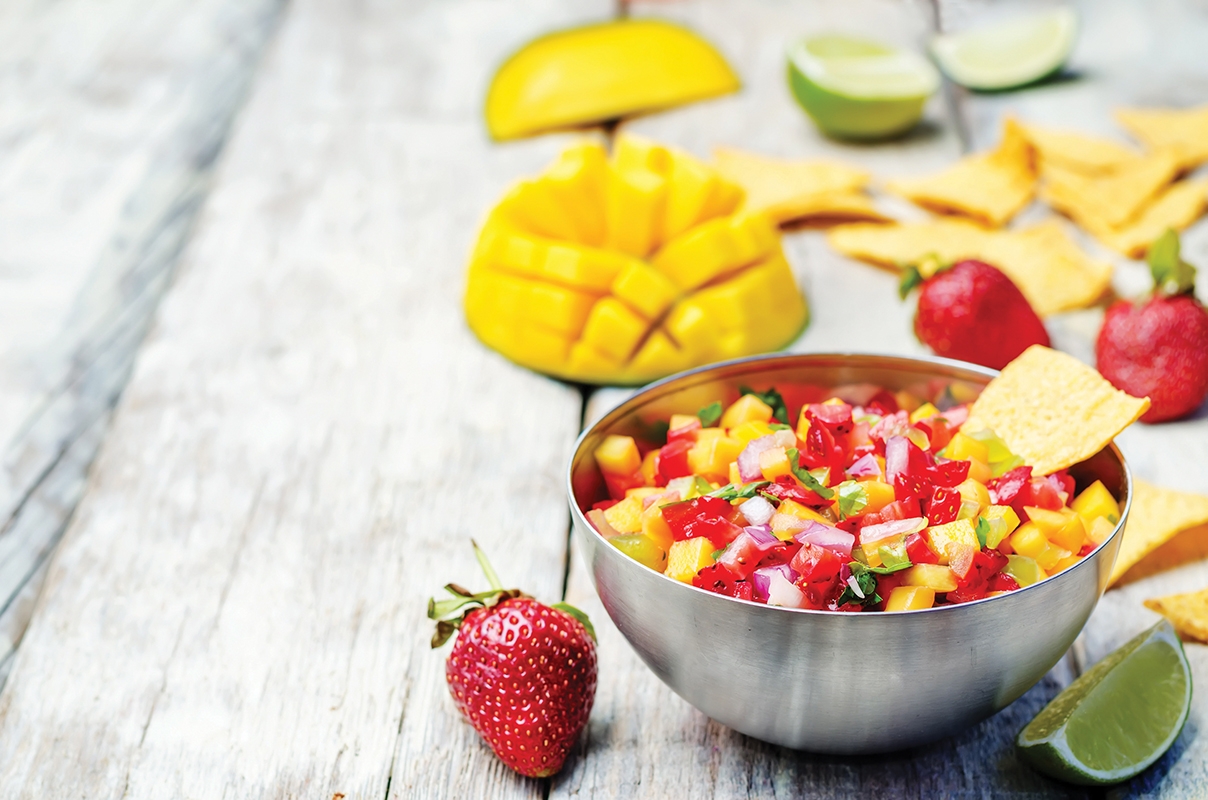 Summer is here ... long, hot, lazy days are the norm and one of my favorite ways to cool off is enjoying the best part of summer – fruit! Berries, peaches, plums, and melons all scream to be savored with reckless abandon. Whether you shop at the farmer's market or your favorite grocery store, you will be rewarded with a plethora of delicious options. What I love most about fruit is its versatility – it can be spun into a smoothie or refreshing beverage, blended into a soup, mixed into a salad or salsa, or baked into a dessert … all with just a little imagination.
Because fruit at its peak is loaded with natural sweetness, it can be easily folded into a variety of creations using just a few simple ingredients – for instance, a delicious cobbler. But I also love to complement its sweet temperament and vibrant colors by incorporating spicy flavors and contrasting textures. The results are nothing short of amazing and will have you craving more all summer long.
One of my very favorite ways to use fruit is in salsa. Let your creativity run wild and try different flavor combinations – I dare say you will never fail to create something delicious. Whether using it as a fruit salsa for dipping your favorite tortilla chip or a topping for southwestern fare, as the perfect mix-in for a summer salad, or as a go-to garnish atop freshly grilled meats and fish, you will find yourself wanting to experiment often in search of the perfect addition to your dinner table.
This tasty fruit salsa that can do no wrong is a staple in my kitchen during the summer months. My main ingredient of choice is usually mango – my favorite combination includes diced mango, chopped fresh cilantro, diced red bell peppers, seeded diced jalapeño, and diced red onion. Add a squeeze of lime juice and voilà – the perfect summer treat! Here are a few of my other favorite pairings:
– Pineapple, strawberries, fresh mint, scallions, and Serrano chiles;
– Strawberries, avocado, red onion, and jalapeño;
– Watermelon, sweet yellow onions, fresh mint, and kiwi.
Fresh fruit also lends itself beautifully to adorning the ordinary salad plate. Whether it's a simple starter or an entrée, fruit offers a delicious way to make the salad the star of any meal. One of the most popular salads I make features a fresh assortment of berries and goat cheese atop a bed of baby greens. Topped with candied almonds and a poppy seed dressing, this salad will surely be a hit any day of the week. The nice thing about salads is that you can add your own spin using your favorite fruits, veggies, and add-ins to satisfy any particular palate. Here are several ideas to help get you started:
– Arugula with watermelon, mint, and feta cheese;
– Baby greens with mango, black beans, corn, avocado, and crispy tortilla strips ... add grilled shrimp or chicken for the main course;
– Baby greens with grilled peaches or nectarines, strips of prosciutto, or sautéed pancetta and goat cheese ... with this option, I highly recommend a honey balsamic dressing;
– Romaine lettuce with strawberries, blue cheese, and red onion ... add sliced grilled steak to please the meat lovers in your family.
If you really want to get your taste buds in on the action, then take a stab at making jams and chutneys. Not only is this a great way to preserve your fruit long into the year, but it's also an ideal opportunity to experiment with flavor combinations that can easily elevate a simple sandwich or quesadilla or provide an accompaniment to the perfect appetizer at your next summer gathering. You can make these little gems and let them rest in your refrigerator for several weeks, or your freezer for several months.
This brings me to another of my favorite summertime staples – a spicy peach chutney (see recipe). This is the perfect addition to grilled chicken, makes a wonderful glaze for pork, and is one of the most delicious sandwich spreads you will ever taste. For example, spread it on toasted bread with a piece of warm brie or slather of goat cheese. There are a host of basic chutney and jam recipes that you can use as the backdrop, then simply add an ingredient or two for a spicy note or depth of flavor, without sacrificing the integrity of the recipe. For instance, take your favorite strawberry jam recipe and simply add a tablespoon of minced chipotle chilies in adobo sauce. The result is a sweet and smoky delicacy that is as delicious as a glaze on ribs and pork as it is on a cracker with a creamy cheese.
Speaking of chipotle chilies, they are magnificent partners for many fruits, such as peaches, blueberries, apricots, and strawberries. Even if jam-making isn't your thing, pick up a jar of your favorite pre-serve and mix in some chipotles for scrumptious and surprising results. Once you give the sweet and spicy combination a try, you will want to continue pushing the envelope for delectable results.
Last but not least, don't forget to let fresh fruit shine on its own. A sprinkle of sugar over berries can turn them into the most delightful topping for vanilla ice cream, while grilled sliced pineapple with a dusting of brown sugar brings out a caramelized goodness that is hard to beat. Or fold those sliced plums or peaches into a pie crust for a rustic and charming mid-summer tart.
No matter how you choose to enjoy the long, hot, lazy days of summer, be sure to take some time to chill out and savor the "fruits" of your labor.
Spicy Peach Chutney
– 5 cups chopped peeled peaches (about 1-3/4 pounds)
– 1-1/2 cups finely chopped sweet yellow onion
– 1/2 cup packed brown sugar
– 1/2 cup white wine vinegar
– 2 tablespoons minced peeled fresh ginger
– 1/2 teaspoon salt
– 2 minced seeded jalapeño pepper
– 1/4 cup chopped fresh cilantro
– 2 tablespoons fresh lime juice
Combine first six ingredients in a saucepan; bring to a boil. Cover, reduce heat, and simmer 45 minutes. Stir in jalapeño. Simmer, uncovered, 5 minutes. Remove from heat; stir in cilantro and juice. Cool to room temperature. Store in airtight container in refrigerator for up to one month, or freeze for several months.
Stacey Moritz
Owner of The Lemon Tree Cafe, located at 113 S. White St. in Downtown Wake Forest, offering freshly prepared salads, pastas, soups, and take-away fare.