Easy Breezy Holidays
Tips And Tricks For A Calm And Collected Cooking Season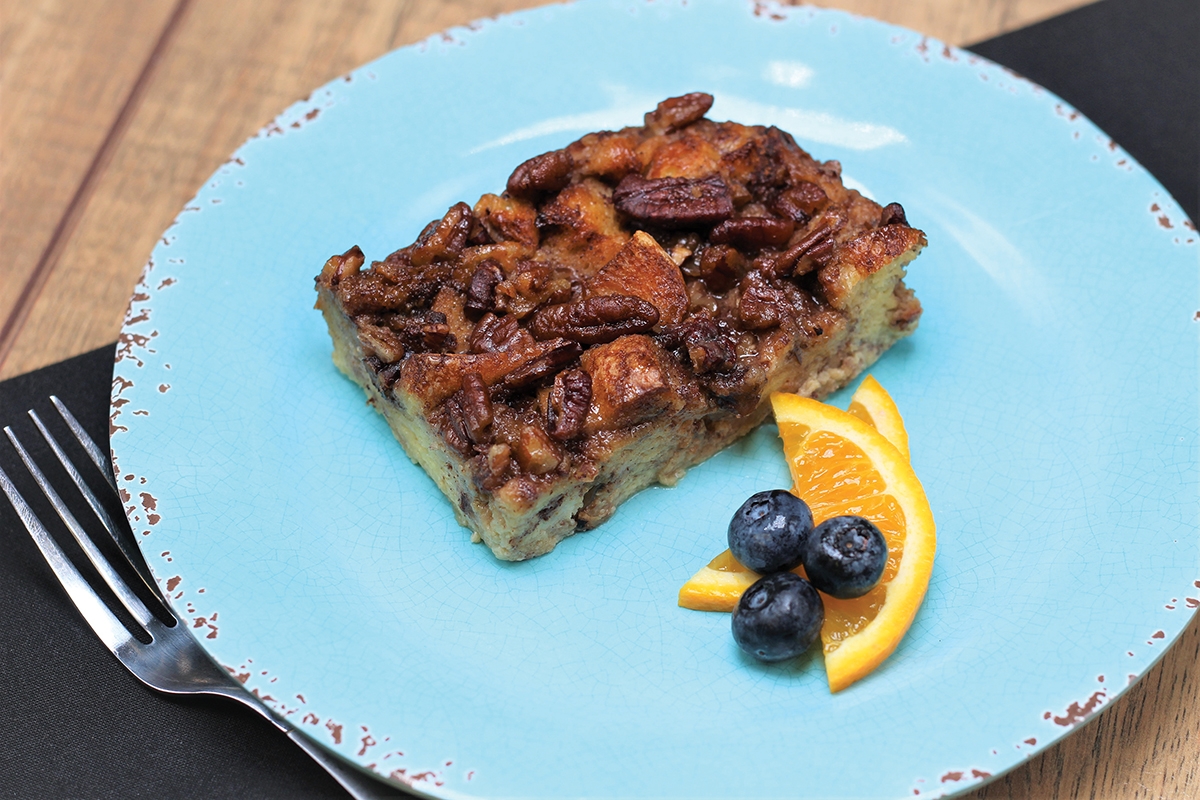 Here it is – time to plan for all the fun and festivities we love over the next few months. And, as usual, your delicious and beautiful ideas for food, decorating, party-going, and party-throwing far outweigh the time you have to dedicate to those endeavors. Yeah, I've been there (more than once). So, what can you do right now to make sure you have time to actually enjoy the season as it comes? I have a few thoughts on how to make your holiday food and festivity scene spring to life with a few tricks that can get you lots of treats. Set yourself up for success this season so you have time to stop and smell the cinnamon.
Make It Ahead
This is always my biggest recommendation to anyone who asks. I know, it's still work … but a little time spent planning, prepping, and baking ahead of time will save you time, stress, and frustration in the long run. There are so many great recipes out there for goodies that will last in your freezer and keep you from having to spend your weekend in the kitchen when you could be relaxing with your family in front of the tree. Take some time early in the season to get a few special goodies all nestled in the freezer. Trust me, it's worth the time now. There is no shame in turning on some holiday melodies in October for a day or two to get yourself into the spirit of the season – so go ahead and crank up the music and get some baking done early. You will thank yourself in December when you can grab an extra cup of coffee and sit by the fireplace instead of shuffling to the kitchen and hauling out the flour.
If you want to try something new, go online and see what is out there. Or grab that family recipe that Mom has always made and you've been wanting to try for yourself. The two recipes I am sharing with you are a couple of my go-tos that can help set you up for holiday happiness. First is a tried-and-true weekend breakfast dish that is great for brunch events or just for feeding your hungry family with very little early morning effort (always a win). I am also sharing one of my favorite freezer friendly cookies – Lime Melt-Aways. These are simple cookies that don't take up much space in the freezer, pack a fresh lime punch which is refreshing in the middle of winter, and are a nice addition to any holiday dessert spread. Give them a try – I think you will be happy you did. My other advice is to share the work or find someone else to do the bits that you don't want to do or don't have time to do.
Find It Online
Yup, I said it. If you need it, I am sure you can order it. From meats to sweets and gifts to garlands, there are plenty of online vendors that offer all sorts of goodies you can order and pickup, or even have delivered, saving you tons of time and added holiday stress. This can be a great way to shop locally and support our micro-economy too. Lots of online retailers offer homemade décor and specialty treats, and several online craft "stores" sell seasonal goodies and gifts year-round. Many local purveyors of delicious dishes and treats likely have an online presence so you can easily shop for what you need right from the comfort of your own home, while still supporting local merchants. For simplicity and time savings, it's a great way to go.
Have A Make-It And Bake-It Party
Remember the old cookie exchanges, where everyone would bring several batches of one kind of cookie and swap them for other cookies from fellow bakers? Create your own twist by hosting a cookie baking party with friends or family. Pick two or three types of treats, ask your friends to bring a portion of the ingredients, and make the goodies yourselves. Spend a day hanging out with people you love, laugh, share stories, and get some baking done. You can create a keepsake for your collective – have everyone share their favorite holiday cookie or bar recipe with you, then include all those recipes into a little booklet that each person can take away with her. You may not get as many varieties of cookies, but you will get a nice collection and enjoy some time together as a bonus. This can be a fun holiday tradition to start with your neighbors and friends.
Bring Back The Cookie Exchange
Not interested in a group baking day? Then bring back the previously-mentioned cookie exchange of old. Gather a group of baking friends to share their favorite holiday treats. Don't get too big or you'll end up making a ton of sweets – six to eight is generally a good number. Each invitee has to commit to making a dozen-or-so of their favorite cookie or dessert bar for each person who is part of the group (if possible, be sure to find out what people are making so there aren't duplicates). Everyone brings the sweets they made, and the exchange is in swing. Each guest will leave with her take of all the other treats – a great way to bring a lot of variety to your holiday dessert fare. Bonus – you often get to try your friends' "family favorites." This is a great way to share tradition with your friends.
Find A Professional
Now, this does get tricky (believe me). If you find that you just want to say "dash it all" and call in the big guns, there are plenty of catering services around. But, call now. Trust me, the limited spots fill up fast – really fast. Many caterers book up early and there is often a high minimum, as their services are at a premium during the holiday season. But some will likely have pick-up services if you are willing to do some re-heating at home. This is a great option if you would like to make some of your own goodies, but want to supplement with fare you just won't have time to – or don't want to – prepare yourself. Some caterers may offer special seasonal meal packages that you can order for a stress-free gathering, and many traditional grocery stores will have package deals you can order ahead of time. Bottom line – if this is the option you decide on, order now. If you wait until the bitter end, you will likely end up doing it yourself anyway.
No matter how you spend your holiday time, a little planning ahead is never a bad idea. With options to save you time and stress when December approaches, you can enjoy more relaxing time, more sleep-in time, and more friends and family time. So with time speeding up as the year comes to a close, go ahead and start your pre-holiday planning and prep, get those lights a-twinkling, and relish the joy of the season.
Maple Pecan Strata
This breakfast strata works best with baguettes or other crusty bread, and must be prepared at least one day in advance. Bread works best when it is a little dry or stale, but you can simply leave it out of its packaging while you assemble all of your ingredients. And yes, use the crusts – it helps give a little extra texture to the strata.
This dish can be made up to two months in advance and stored in the freezer. Move it from the freezer to the refrigerator the day before serving so it can thaw completely before baking.
– 6 cups diced stale bread cubes (baguette works best), approximately 1" square
– 1½ chopped pecans (divided)
– 8 eggs
– 2¼ cups milk
– 1/3 cup maple syrup
– 1 teaspoon vanilla
– 2 teaspoons cinnamon
– 1 teaspoon nutmeg
– 1/3 cup butter, softened
– 2/3 cup brown sugar
Preheat oven to 350 degrees and spray a 9 x 13-inch baking dish with cooking spray, making sure it's evenly covered. Put the bread cubes in the dish. Sprinkle ¾ cup of the chopped pecans over the top of the bread cubes, trying to evenly distribute them. Crack the eggs into a medium bowl and whisk. Add the milk, maple syrup, vanilla, cinnamon, and nutmeg to the eggs and whisk to combine. Pour the milk and egg mixture evenly over the bread in the pan (don't worry if some of the cubes look a little dry; they will soak up the liquid). In a small bowl, combine the butter, brown sugar, and remaining ¾ cup of chopped pecans. Crumble together and sprinkle evenly over the top. Cover and freeze or refrigerate.
This dish needs at least 8 hours of "soak" time to get the bread completely saturated and ready for baking. If you freeze it, simply remove the strata from the freezer and place in your refrigerator the day before you want to bake it. Bake for 35-45 minutes or until the center is firm to the touch and doesn't feel "liquidy." Serve with fresh fruit and a little extra maple syrup.
Lime Melt-Aways
(Makes approximately 70 cookies)
These are a light and buttery slice-'n-bake cookie with a nice refreshing and "snowy" look that is perfect for your holiday sweets platter.
– 1 cup butter, softened
– 1 cup granulated sugar
– ¼ teaspoon baking soda
– 2 egg yolks
– 1 tablespoon milk
– Zest and juice of 1 lime
– ½ teaspoon vanilla
– 3 cups all-purpose flour
– 2 cups sifted powdered sugar
Using a hand mixer or stand mixer, beat the softened butter together with the sugar and baking soda. Beat until fluffy, scraping the sides of the bowl often. Add the yolks, milk, zest, lime juice, and vanilla, and mix until combined. Beat in as much of the flour as you can with the mixer (if it becomes too dry, use a wooden spoon to finish).
Divide dough into fourths. Shape each section into a log about 9 inches long. You can accomplish this most easily by rolling the log in a piece of parchment paper or plastic wrap. Roll it back and forth under your hands on a hard surface, applying gentle pressure to stretch it out to the desired length. The longer you make it, the smaller your cookie rounds will be when they are sliced and baked. For best results, chill for at least 4 hours before baking. If you wish to store them for later use, wrap them very well in plastic wrap or freezer bags and store in the freezer for up to three months (please note that these are delicately flavored cookies that will take on a "freezer flavor" if not wrapped well before freezer storage).
If cooking from frozen, move to the refrigerator at least an hour before you want to bake. Pre-heat oven to 350 degrees. Remove the log from the plastic or parchment paper, setting on a cutting board to slice. Using a thin, sharp knife, cut into approximately ½-inch sections. Place cookies approximately 1 inch apart on a cookie sheet and bake for 7-9 minutes or until the edges are firm. While cookies are baking, place powdered sugar in a bag. Let cookies rest for 1-3 minutes after baking; while still warm, place a few in the bag and shake gently to coat, then place on a cooling rack to cool completely. For best appearances, shake the cookies in the powdered sugar again after they have cooled. For a splash of color, add some decorative colored sugars to the powdered sugar for the final coating.
Holly Hopkins
Holly has spent many years working with food, starting off at her Grandma's elbow, making wedding cakes and cookies galore. Since then, she has been a manager and business owner and is thrilled to be combining her passions for high quality food and superior customer service at Chef Mario's.