Driveable Destinations
Happy Holidays From Historic Beaufort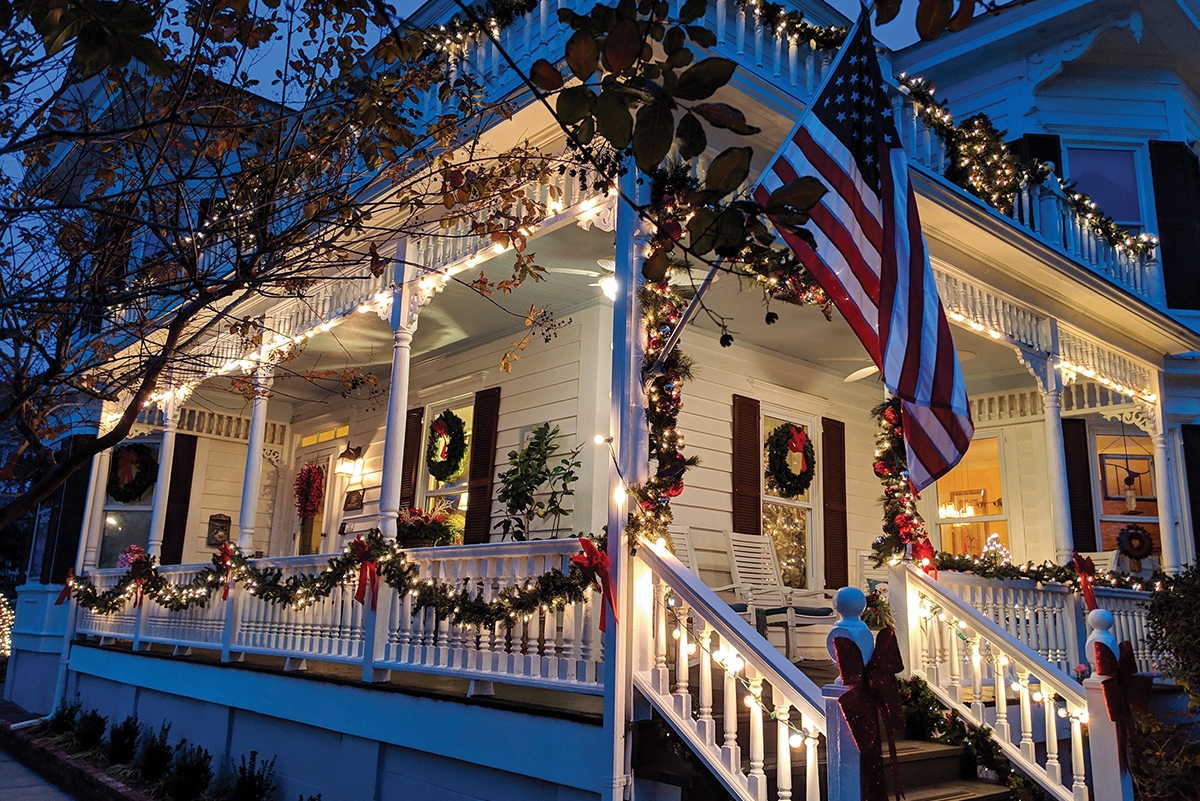 If you're looking for a postcard-pretty place to celebrate the holidays, the Town of Beaufort has everything but the snow! For two weekends in December, this coastal community will serve up a smorgasbord of seasonal tours, shopping excursions, artisanal crafts, boats, treats, lights, and history that make it a super-fantastic driveable destination.
The winter calendar kicks off on Saturday, December 7th with the Crystal Coast Christmas Flotilla, in which a twinkling electric light parade takes to the water on virtually anything that floats. The caravan of boats, yachts, kayaks, and commercial vessels launches from Morehead City at 5:30 PM and arrives in Beaufort at 6:15 PM. A panel of judges will evaluate the entries for excellence and creativity and present prizes to the winners at an Awards Party held immediately afterward at the Harvey W. Smith Watercraft Center across the street from the North Carolina Maritime Museum. Attendance is free, but to register a boat for entry, please call the Maritime Museum at 252-728-1638.
The weekend following the big boat parade, Beaufort offers up a spectacular double-whammy centered on the town's 12-block historic district. The fun begins on Saturday, December 14th with a festive shopping extravaganza known as the annual Beaufort Holiday Art Walk. This event runs from 1:00 PM – 5:00 PM and includes a variety of open houses, art receptions, craft exhibitions, and gallery showcases. All participating proprietors are located in the immediate downtown area and Art Walk maps will be made available.
When evening falls and the Art Walk ends, the Historic Beaufort Candlelight Homes Tour begins. With music provided by carolers from local churches, this extremely popular holiday tradition gives visitors the chance to celebrate the season on a double-decker bus that makes regular stops at privately-owned historic homes, all gorgeously decorated with trees, wreaths, garlands, and more. From 5:00 PM – 8:00 PM, a pre-selected slate of homeowners will graciously open their doors to visitors. This is a unique way to experience the brightness and warmth of a coastal North Carolina Christmas. The tour typically includes several inns, bed and breakfast establishments, and churches, and tourgoers come away with a new understanding of how these properties have contributed to a rich local history that spans the decades from the early-1700s through the present day. This event starts at the Beaufort Historic Site at 130 Turner Street, tickets are priced at $20 each, and maps will be distributed. For more information on the Historic Beaufort Candlelight Homes Tour, call 252-728-5225 or visit beauforthistoric-site.org/tickets.
Again, this one is not to be missed! Together with the Crystal Coast Christmas Flotilla and Beaufort Holiday Art Walk, it's all the more proof that December in Beaufort is definitely the place to be.
Photo courtesy of the Beaufort Historic Site (beauforthistoricsite.org).
Jennifer Smart
Assistant director of the Wake Forest Historical Museum.