Driveable Destinations
Local Farms For Strawberry Season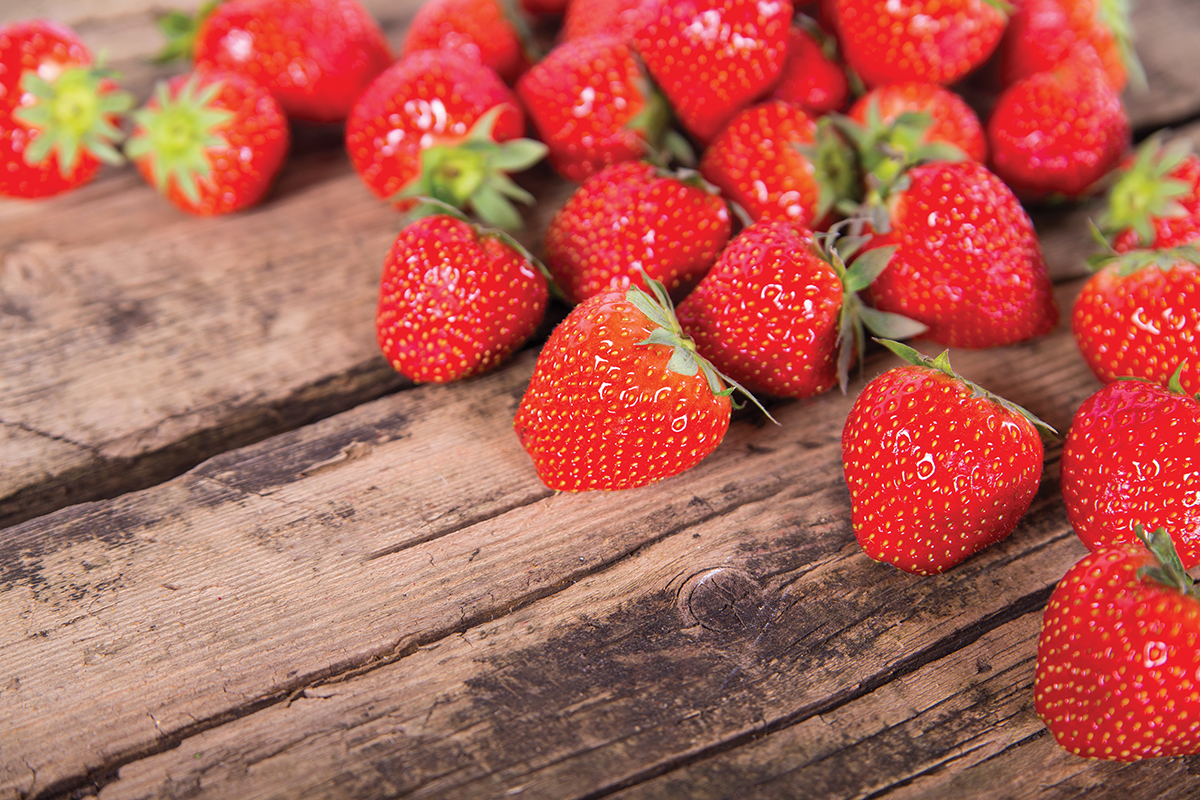 With a perfect combination of big city bustle and country charm, northern Wake County strikes a delightful balance between metropolitan and rural. We're sophisticated but also authentic. We have a sense of history and place. We can joyfully embrace hip cultural trends like "shop local" and "farm-to-table" by actually visiting real life farms while on a single, fantastic road trip. That's because when you live in the Wake Forest area, a short drive in any direction will take you to gorgeous fields packed with "pick your own" fruits and vegetables – an activity that peaks with strawberry season. Nothing says spring like dropping fresh juicy berries into a plastic bucket, which is why I'm offering a guide to three of the area's premier strawberry farms, all family-owned and authentically hardworking … and all delicious driveable destinations just down the way.
Vollmer Farm
Located at 677 NC Highway 98 E in Bunn, Vollmer Farm is about a half hour from Wake Forest. This is a fifth generation family farm that's a certified organic berry producer and a big local favorite for everything from parties to field trips. The Vollmers' mission is to grow wholesome, healthy produce, while simultaneously providing visitors with a meaningful "real farm" experience. What you get is a one-price admission ticket that covers a full day on the property – whether you want to pick berries, visit the Farm Market and Ice Cream Shop, or simply enjoy the fresh air.
The tricky thing about berry picking is setting a date. The "pick your own" season is a bit of a moving target. Although May is always correct in a general sense, the exact starting point can shift forward or back depending on rainfall totals, temperatures, and other weather conditions. To cope with these variables, the Vollmers rely on Facebook, Twitter, and Instagram to provide followers with regular crop reports. Sign up at www.vollmerfarm.com for "opening date" announcements, and you'll be the first to know when it's time to hit the rows. Blueberries and blackberries follow in June and July.
Lyon Farms
A rustic property in Granville County, Lyon Farms is hugely popular among locals, many of whom return year after year to cruise the endless rows of spectacular spring strawberries. The farm is located at 1544 Munns Road in Creedmoor, again about a half hour from Wake Forest. The drive takes you along a quiet road that winds through the countryside surrounding Falls Lake, ending at acreage that has belonged to members of the Lyon family since 1861. Now registered as a North Carolina "Century Farm," Lyon Farms produces fruits and vegetables year-round, along with seasonal items such as jams, cider, and corn on the cob. Offerings include dozens of healthy choices that are available at regional produce stands, the on-site market, or as "pick your own."
When picking strawberries here, the family atmosphere makes for a really special experience. Visitors who plan to stop by early in the season are advised to check their website (www.lyonfarms.com) or call ahead to guarantee the strawberry plants have grown enough to produce the best fruit and the fields are open to the public. Strawberries are harvested straight from the rows or purchased in pre-picked baskets. As spring turns to summer, consider going back for the blackberries, blueberries, tomatoes, and peaches.
Page Farms
Roughly 20 miles southwest of Wake Forest, Page Farms is located at 6100 Mt. Herman Road in Raleigh and advertises a "pick your own" season that normally begins in mid-April and lasts through the first week of June. This 100-acre farm was purchased by the Page family in 1922 and was initially cultivated to produce tobacco. It's been handed down through the years, and today the property
is managed by the family's fourth generation. Members are striving to keep their proud agricultural heritage alive by growing fresh fruits and vegetables, developing healthy crops ranging from straw-
berries in the spring to corn and pumpkins in the fall, and educat-ing visitors about the life of a real working farm.
Page Farms (www.pagefarmsraleigh.com) maintains a Facebook page with news and updates and, as the only of one of these three that's not out in the country, this farm offers a somewhat different experience. Really, it's not every day you come across a farm that's right in the heart of a metropolitan area – and which features wholesome delicious crops that also come from the heart.
Picking the Best Strawberries
All three farms make finding beautiful berries a breeze, but I do have a few tips.
– One pound of fresh berries is equal to about 2/3 of a quart.
– It takes about 10 to 15 minutes to pick a quart of berries.
– Heaping berries more than 5 inches deep will bruise those at the bottom.
– Pick only berries that are fully red.
– Avoid placing picked berries in the sunshine; they do better in shade.
– Don't wash berries until you're ready to use them.
Fresh Spinach and Strawberries
– 1 pound fresh spinach, washed and dried
– 1 pint fresh strawberries
– ¾ cup sliced almonds, toasted
– Dressing (recipe following)
Dressing
– ½ cup sugar
– 1 tablespoon poppy seeds
– 2 tablespoons sesame seeds
– 1½ teaspoons minced onion
– ¼ teaspoon paprika
– ½ cup red or white vinegar
– ¼ cup cider vinegar
– ½ cup salad oil
Mix dressing ingredients and refrigerate (dressing will keep for up to one month). Toss spinach and strawberries. Pour dressing over salad, then top with almonds.
Thank you to former Wake Forest College Birthplace Society President Susan Brinkley who provided this recipe that comes from the Junior League of Raleigh.
Jennifer Smart
Senior public information and communications analyst with the City of Durham Department of Water Management.