Driveable Destinations
Roaming To Nikwasi ... AKA Franklin, NC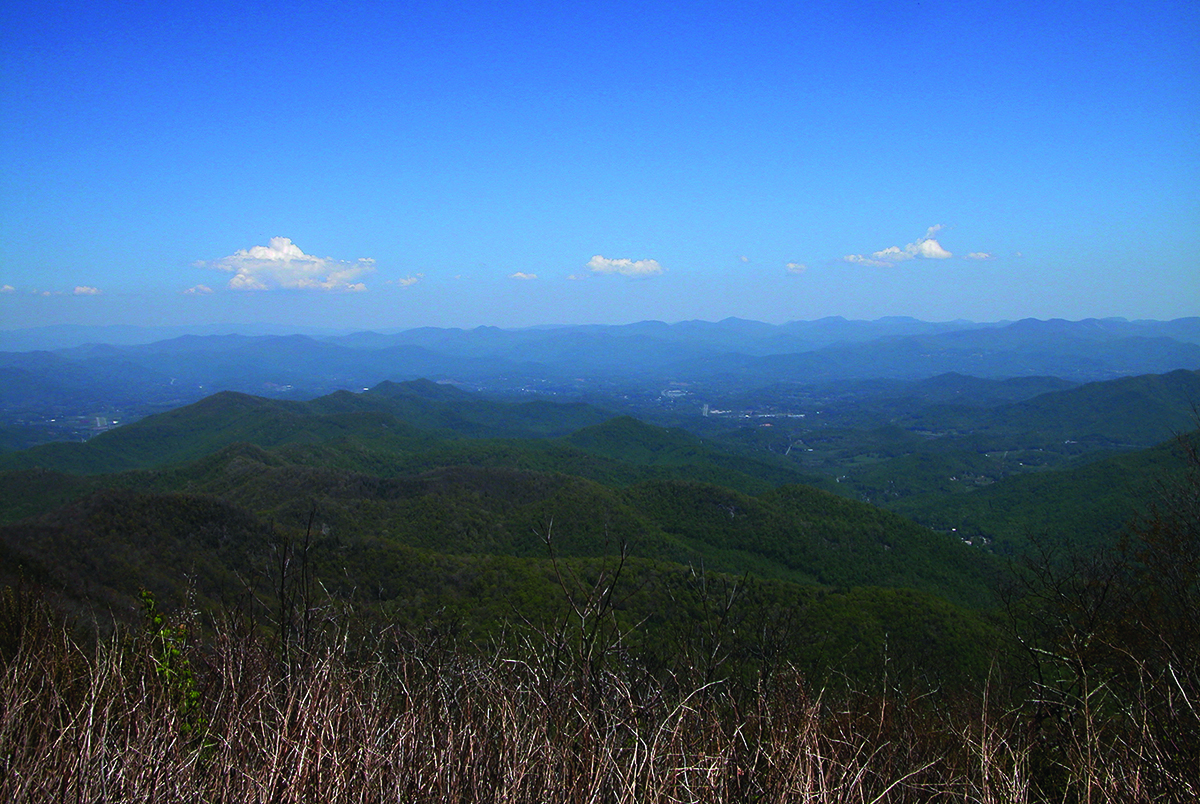 For those who love those out-of-the-way locations that somehow feel like another world (or maybe even another time), you can't do better than the town of Franklin, North Carolina. Situated in the state's southwestern tip less than 10 miles from Georgia, this little spot sputtered into existence as the original Cherokee settlement of Nikwasi. In fact, the second thing you notice when you motor round the mountain curves and hit the charming business district is the 900-year-old Indian mound right on Main Street. You can't miss it. According to legend, the mound is home to spirit warriors who come from beneath the earth to protect the living. As late as the 1890s, older Cherokee residents still claimed a sacred fire burned underground.
I say the mound is the second thing you'll notice because the first thing will most definitely be the near-mythic beauty of the mountains. Surrounded by peaks on every side, Franklin is just 10 miles east of the Appalachian Trail. Even in the Nikwasi days, the settlement boasted a central location – and for that reason, you'll discover roads spreading out in every direction. Locals have their own names for these old familiar routes. Some are pretty self-explanatory. No reason to wonder where you end up if you take "the Georgia Road" or "the Highlands Road." But for each major destination, you'll find dozens of lesser-known, equally fascinating places that are super fun and easy to visit. Wayah Bald is the highest peak in the region and has an observation tower; the Nantahala is great for white water rafting, fishing, boating, and swimming; and in nearby Dillsboro, you can catch a ride on the Great Smoky Mountains Railroad. Winding through it all is the magnificent Blue Ridge Parkway, a 469-mile span of highway with a series of overlooks offering breathtaking views of waterfalls, peaks, ridges, and valleys.
Franklin holds a special place in my heart because it's my husband Sandy's hometown. His ancestors were among the first to settle the region and we still own a house on Main Street (fairly distant from the Indian Mound). We visit every year, and over the past two decades, we've seen Franklin undergo an astonishing transformation. Let's just say it isn't your grandfather's mountain town anymore. The little bend in the road that once relied on gem-hunting tourists and the summer habits of "Florida people" to keep its economy afloat has grown into a bustling, booming, rock-and-rolling, Appalachian-trail-hiking, craft-beer-brewing experiment in commercial reinvention. Nowadays, Franklin is savvy. The town literally runs buses up and down the mountain to bring hikers into town so they can populate its restaurants, brewery, and retail outlets. The stores that once catered to little old ladies who collect antiques are now packed with everything from camping gear to novelty t-shirts with slogans that read "Not All Who Wander Are Lost" or (for dog lovers) "Take Your Best Friend Camping."
In the midst of this changing focus, Franklin has also maintained its family atmosphere. Among the trail-specific offerings you'll still find fudge shops, ice cream parlors, pottery artisans, and gem stores. In fact, gem mining continues to be a big draw and a number of privately-owned mines around the outskirts of town sell bags, buckets, or even whole piles of dirt to anyone interested in sitting by a rivulet of running water and panning for raw sapphires, garnets, rubies, or emeralds. I will not deny this is totally fun and we've done it several times. I also will not deny that my husband remains bewildered that so many people are willing to pay good money for a bag of dirt. That said, it's a great family activity and can keep little ones occupied for a good chunk of time.
Another fantastic opportunity for fun is the nearby destination of Cherokee, North Carolina. Less than an hour's drive from Franklin, this is the headquarters for the Eastern Band of the Cherokee Nation. Apart from the famous Harrah's Cherokee Casino – which opened in 1997 and is a major draw – the commercial district sparkles with shopping, art, and restaurants. Even better, the cultural attractions shed new light on Native American culture and heritage. The Museum of the Cherokee Indian is considered one of the top 10 native sites east of the Mississippi. A tour through the Oconaluftee Indian Village takes visitors back in time to observe the arts of arrow making, weaving, pottery, and beadwork. Best of all is "Unto These Hills," a live outdoor production that debuted on July 1, 1950 and has en-tertained more than six million people so far. The performance is packed with action, violence, triumph, and tribulation as it dramatizes the story of the Cherokees from 1780 through the 21st century. Even better, it's done at night under the stars at the Mountainside Theatre.
One interesting thing about the Cherokee Nation is how many people believe they're descended from the tribe. (Think Johnny Depp or Loretta Lynn, both of whom claim Cherokee ancestry.) If your family legend has a Cherokee connection, this is a fabulous place to do some research. Tribal membership is open to people over 18-years-old who can prove they're at least 1/16th Cherokee and have an ancestor on the "Baker Roll of 1924." The roll was compiled by the Federal Government as a way to name all the families definitively linked to the Eastern Band.
After all those activities, if you still feel like driving around the greater area, you can visit Bridal Veil Falls, Black Mountain, Lake Junaluska, and many, many more treasures of western North Carolina. The wonders are natural and timeless. No one says it better than author John Parris, who became known for writing truths like this one: "You've got to take the winding, twisting little dirt tracks that lead into the hidden valleys and into the high coves. Sometimes you have to do a spell of walking, cross a footlog, squeeze through a fence. It is then – and only then – that you come upon an older way of life. It is only then that the eye and ear behold something that was supposed to have died a long, long time ago."
Franklin, North Carolina is 315 miles southwest of the Wake Forest area. The drive usually takes about five and a half hours. The quickest route is to follow US-70 west to I-85 south and I-40 west at Greensboro. The next merge is onto US-74 west toward Waynesville. Follow the US-23 S/US-441 S exit to Dillsboro/Franklin/Atlanta. US-441 Business S/E will become Main Street and take you into town past the burial mound.
Jennifer Smart
Assistant director of the Wake Forest Historical Museum.