Driveable Destinations
Out To Lunch In Little Washington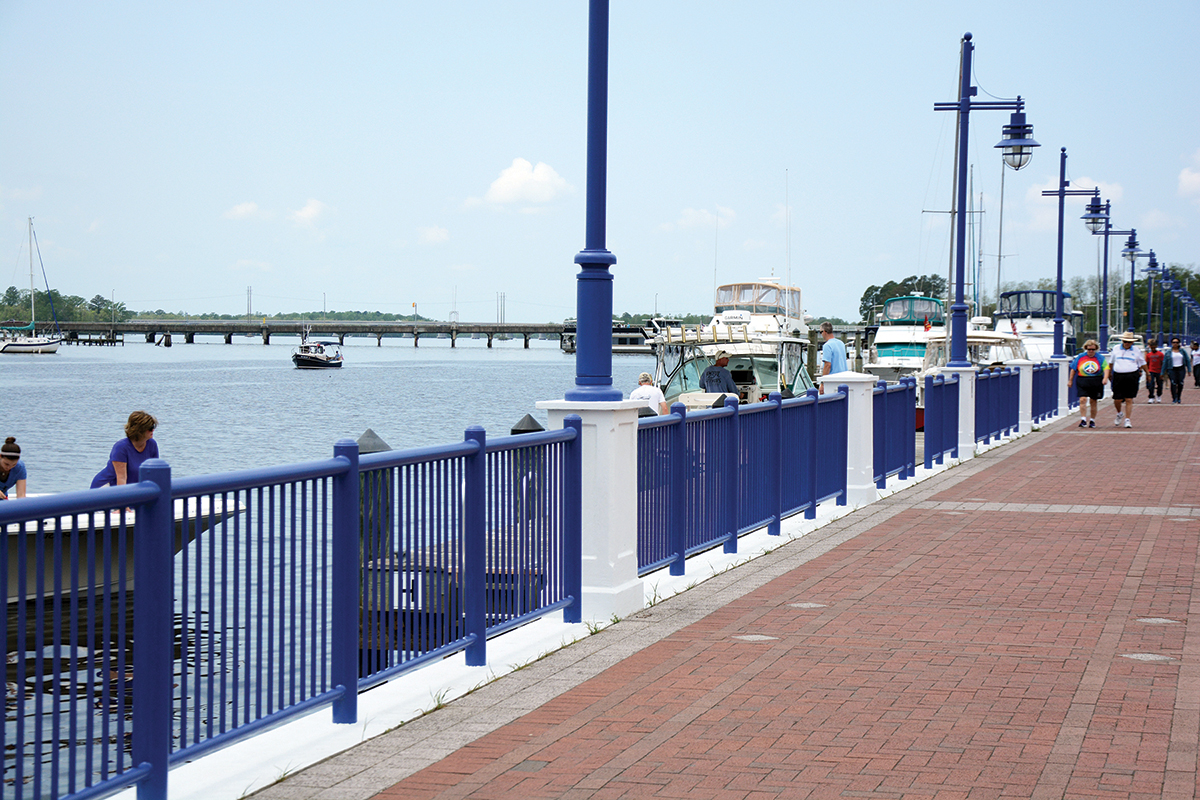 Little Washington has water and wildlife the same way fairy tales have princesses and frogs. They're just an integral part of the story. And like a good fairytale, the town's personality and charm bubble beneath the surface, occasionally misting the air with magic. The culture, cuisine, and attitude are strictly of the "changes in latitude" variety, and they make this picturesque community the perfect spot for a mini-vacation.

That's why, one recent Saturday morning, we hopped in the car and traveled 100 miles southeast, landing at the historic downtown that borders one of the largest estuaries in the United States. Second only to Chesapeake Bay, this scenic waterfront marks the spot where the Pamlico River empties into the Atlantic Ocean. The resulting mix of salt and fresh water – along with shallow depth and plenty of sunlight – creates a unique and vital ecosystem that supports birds, animals, vegetation, and marine life. Sea turtles, bald eagles, and fish from the amberjack to the wahoo are among the species that call this place home.

To learn more about their vast watery frontier, our first stop was the North Carolina Estuarium. Located directly on the shore of the Pamlico River, the combination museum/aquarium tells the story of life in the "soundlands" through an educational film and more than 200 associated exhibits. These include everything from an early 20th century woolen bathing suit to living aquariums and fishing artifacts. When you've seen enough of the interior, just step outside; the Estuarium opens onto a waterfront promenade where it joins a park, playground, and blocks of downtown shops and restaurants as a main feature in this rare, open-air marketplace of nature, commerce, and water adventure.

After the Estuarium and the waterfront, we piled back in the car and drove the short distance to our chosen lunch stop – said to be a personal favorite of Jimmy Buffett's. Backwater Jack's Tiki Bar and Grill is a local treasure with a "faux tropical atmosphere" that specializes in an outdoor mood, a selection of boat drinks, and seafood so fresh you'd almost believe the kitchen staff is fishing out the back door. The service is friendly and fast, kids are welcome, and reservations are not required. It's only open in the spring and summer, and don't forget to stop by the ATM before you arrive; at Backwater Jack's, they only take cash.

Being new to this part of the state, we followed lunch with a little sightseeing behind the wheel. That meant a half-hour drive through the countryside to check out another legendary community – the Town of Bath. Founded in 1705, Bath was the first town established in North Carolina. Its chief attraction at the time was the waterway; early settlers could travel 50 miles along the Pamlico River to Ocracoke Inlet, providing a direct route to the Atlantic Ocean. This gave Bath an important role in commerce. Residents made a living working the trade routes for tobacco, furs, and naval stores (products derived from pine resins and used in building and maintaining ships). All that vibrant nautical activity also attracted pirates. The most famous was Edward Teach, more commonly known as "Blackbeard." Believed to have arrived in 1718, Blackbeard is known to have frequented the area and remains memorialized in local legend. He allegedly threw wild parties while ashore, leading to something akin to the 18th century equivalent of celebrity status. A room at the Bath State Historic Site is dedicated to Blackbeard and his men, many of whom may have been local residents.

On our way out of Bath, still in sightseeing mode, we decided to take a gander at Goose Creek State Park. Less than a 30-minute drive from Little Washington, the park is fully equipped with an array of coastal Carolina's most beautiful environmental features: live oaks, wetlands, nature trails, and a cypress swamp. In fact, Little Washington and the surrounding area boast a never-ending list of outdoor activities. The Pamlico River basin has more than 300 miles of mapped paddle trails. There's a free boat launch on Runyon Creek and a floating dinghy dock at the west end of the waterfront for kayaks and canoes. Fishing charters are available through Tar-Pam Guide Service; Hunters' Pointe Sporting Clays Club offers skeet shooting and archery; and a variety of cruises are available for those in search of a quiet, restful river tour.

To finish our visit in Little Washington, we opted for a different kind of tour. Accessible by sidewalk, self-guided, and free, it took us from the antique shops and local art galleries in the downtown area through the historic residential district. The first community in America to be named for General George Washington, the "original Washington" was founded in 1776, and by the 1800s, its prosperous merchants had constructed blocks of grand homes; a walk along Market Street, Main Street, Water Street, and Tenth Street lets you see them up close. Those wishing to stay the night have the option of boarding at the elegant Elmwood 1820 Bed and Breakfast Inn at 731 West Main Street.

As ours was a day trip, we started home in the late afternoon. Apart from enjoying the excellent food, gorgeous scenery, and charming shops, we felt a bit more aware of the unique role this coastal community has played in our state's history. Just as estuaries are a mix of salt and fresh water, Little Washington combines commerce and nature, education and excitement, structure and shore. It's a place with beauty on the surface and layers underneath – just like a good fairy tale. And it all makes for a driveable destination I highly recommend.
Little Washington is about a two-hour drive from northern Wake County. Travel southeast on US-264 E, bypassing Greenville, for the easiest route. For more information, visit www.littlewashingtonnc.com.

Jennifer Smart
Senior public information and communications analyst with the City of Durham Department of Water Management.