Driveable Destinations
Charlottesville, Virginia ... Monticello, Michie Tavern, And the Rising Fame Of Rockbridge Guitars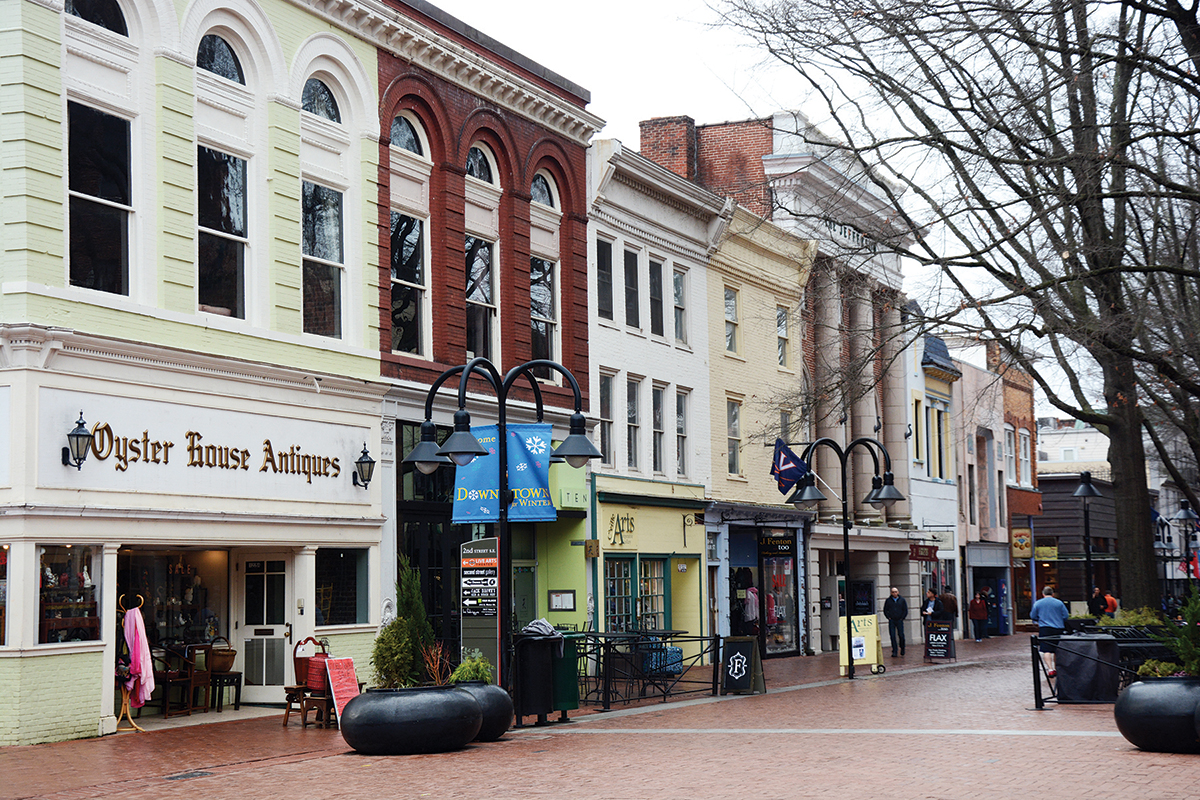 Our story of Charlottesville, Virginia will begin with the astounding success of the Rockbridge Guitar Company. There are two reasons for this. First, it may be the only famous thing in Charlottesville that you don't already know about. Second, this thriving business that produces handcrafted guitars for artists including Keith Urban, Dave Matthews, and Mary Chapin Carpenter was co-founded by Wake Forest native Randall Ray, who as a boy learned woodcarving from his father in our own small northern Wake County town.
For aficionados of acoustic guitars, the Rockbridge instrument is akin to the Holy Grail. The partnership between Ray and co-founder Brian Calhoun dates back to 2002, when the craftsmen came together with an idea for an old-style instrument that would have a unique, new sound. The goal was to create a guitar somewhere in scale between a Martin and a Gibson, with fresh new clarity and a somewhat vintage feel. Over the past 15 years, they have succeeded beyond their wildest dreams. Rockbridge guitars have appeared on stages, in private collections, and at music festivals around the world. It's a passion for Ray, and a growing source of pride for both Charlottesville and the Town of Wake Forest.
Of course, the Rockbridge Guitar Company is but a blip in the epic sweep of people, places, and things that make up the history of the greater Charlottesville area. The shop is only a short stroll from the historic Downtown Mall, which ranks as one of the city's most popular public attractions. This is where you'll find more than 120 shops and 30 restaurants, red brick walking paths, fountains, sidewalk cafes, and shade trees. It's a lovely stop for tourists visiting in the spring or summer months. The Downtown Mall also has convenient parking and a free trolley connecting it to the University of Virginia along West Main Street.
Chartered in 1819 by the Virginia General Assembly, the University of Virginia stands on a piece of land once owned by our fifth president, James Monroe, with buildings famously designed by our third president (and principal author of the Declaration of Independence), Thomas Jefferson. Jefferson also planned the curriculum. The heart of his "academical village" is the historic Rotunda. Rebuilt following a destructive fire in 1895, the Rotunda was last restored in the 1970s and is now undergoing its latest major renovation.
Charlottesville is also home to Monticello, Jefferson's "essay in architecture." The name means "little mountain" in Italian, the mansion once stood on a 5,000 acre plantation, and Jefferson's process of designing, building, imagining, and reworking the home – along with its outbuildings, gardens, and grounds – covered a time span of nearly 50 years. The initial structure was built with local brick, lumber, stone, and limestone, with additional enhancements added later. These include the central hallway, the mezzanine bedroom floor, and the first octagonal dome ever constructed in the United States.
Visitors to Monticello enter the property through a freestanding Visitor Center where tickets are purchased for the shuttle ride to the main house. The property is open year-round with guided tours that focus on the first floor, the plantation's slave history, and the extensive gardens and grounds. Those willing to pay higher ticket prices can also gain access to the private rooms on the home's second floor. Yet another option allows visitors interested in the fascinating history of Sally Hemings and her family to register for a small-group interactive experience that includes both the mansion and Mulberry Row, the hub of dwellings, workshops, and storehouses that served as the working center of the plantation. The Hemings family is one of the most researched and best documented enslaved families in our nation's history, and the descendants have provided information and oral histories that help illustrate the challenges faced by Americans whose family stories include ancestral links to both slaves and slave owners.
Not far from Monticello is Michie Tavern, where traditional Southern dishes are served buffet style, making this an excellent place for lunch. Built by Corporal William Michie following the Revolutionary War, the tavern opened in 1784 in a remote part of Albemarle County and quickly became a popular stop for politically-minded locals. It was large and spacious enough to host debates, dances, church services, entertainment, and traveling doctors and dentists. The property operated as an eatery and inn until the Civil War, then as a private home for the next 70 years. In 1927, the nation's first upswing in automobile traffic led to motorists searching for tourist stops. Michie Tavern was taken apart and the pieces were numbered, trucked 17 miles, and fully reassembled just half a mile from Jefferson's plantation. The tavern is now a Virginia historic landmark. The ambience is entirely authentic, the staff is dressed in period costume, and the "bill of fare" includes fried chicken, hickory smoked pork barbecue, black-eyed peas seasoned with country ham, stewed tomatoes, and cornbread and biscuits.
With Charlottesville a little more than a three hour drive from Wake Forest, we managed this itinerary over the course of a very long day trip – though in retrospect it seems a destination with too many highlights to pack into a single afternoon. Next time we go, we'll stay for the weekend. 
Charlottesville has a robust online presence and top attractions are easily found through a Google search. Most mapped routes rely on I-85 North when traveling from northern Wake County. If you prefer only highway driving, aim for Richmond then head west.
Jennifer Smart
Senior public information and communications analyst with the City of Durham Department of Water Management.