Driveable Destinations
So Much To Celebrate In Mount Airy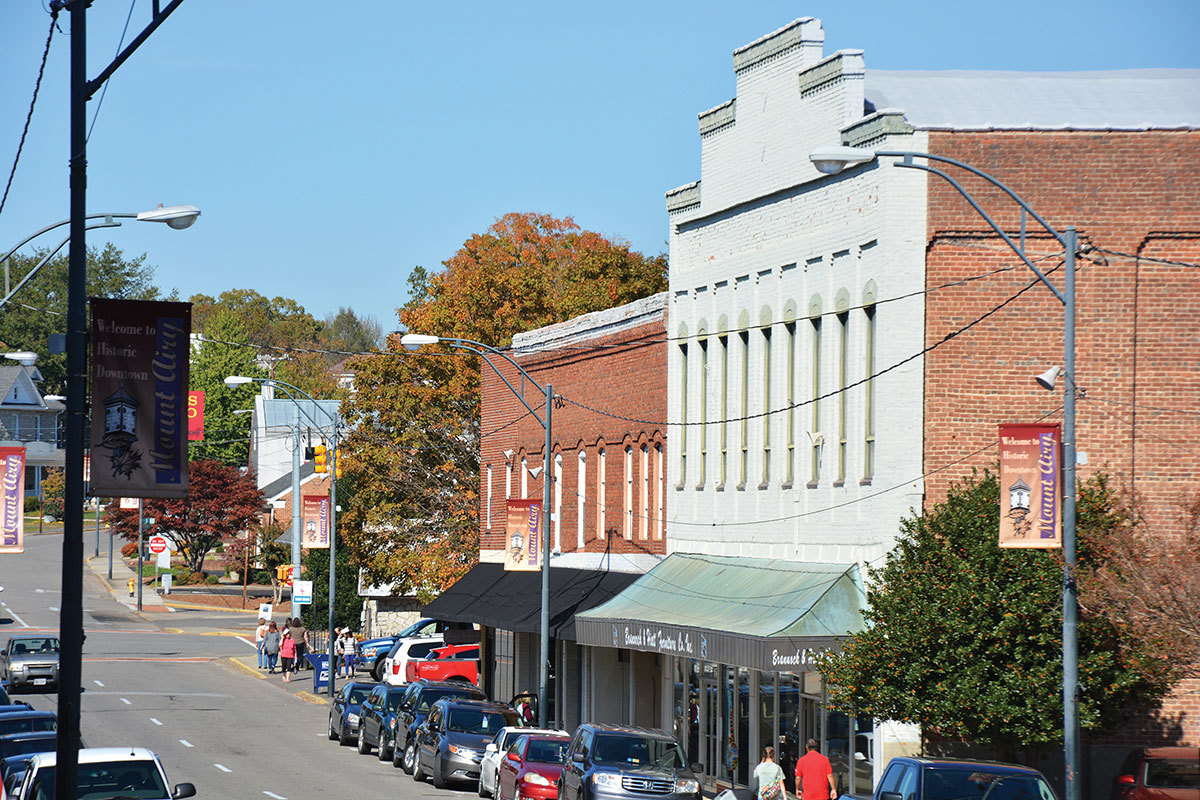 It's not easy finding the right "Driveable Destination" to feature for January, February, and March. Following the excitement of the recent holiday season, everyone's looking for a place that's budget-friendly, not too tiring, and preferably weatherproof for a quick winter weekend getaway. That's why we settled on the warm, cozy comfort of Mayberry – also known as Mount Airy, North Carolina.
The basic facts are these: As the birthplace of Andy Griffith, Mount Airy served as the template for the fictional town of Mayberry in The Andy Griffith Show, a television program that's ranked among the best of all time. The series originally ran on CBS from 1960-1968 and, whether it was Opie's guilt over taking down a bird with his slingshot or Andy pretending to relish Aunt Bee's kerosene pickles, the plotlines consistently emphasized the moral lessons, common sense, and humor found in the real life, mid-century South. This is why churches around the United States still use original episodes as part of their Bible Study programs.
So how does Mount Airy currently fit in? Well, it's demonstrated a stunning ability to recreate Mayberry's signature brand of hospitality. It's like watching a great actor in the role of a lifetime; after a while, you forget it's just a guy playing a part. That's how completely Mount Airy inhabits its retro identity. You can actually walk into Floyd's Barbershop for a haircut, order a pork chop sandwich at Snappy Lunch (reportedly the only local restaurant mentioned by name in an episode of The Andy Griffith Show), or wander Main Street. If you do, you're sure to see the occasional black and white squad car roll past. In fact, for $35 you can pile into one at Wally's Service Station at 625 S. Main Street and take a tour that hits all the local landmarks, from Barney's Café to the small house – now a bed and breakfast – that once was home to young Andy Griffith.
As a practical matter, the drive west to Mount Airy is very manageable. We set off mid-morning with a plan to arrive just around lunchtime. This worked perfectly. Despite some construction traffic around Greensboro and Winston-Salem, travel was smooth, the day was mild, we pulled in when expected, and parking was free. So far so good. But when we set out to find Snappy Lunch for that legendary sandwich (fried pork chop slathered with slaw, mustard, chili, onion, and tomato on a bun) – we had a bit of a shock. The line stretched out the door and down the block. That's how big a deal this little place is. But the owners sure do know how to move a crowd, and we ended up waiting only half an hour for a small booth and a good meal. Service inside was super speedy and the prices were super low. The sandwiches were exactly as advertised. So with our Snappy Lunch lunch under our belts, we headed back out onto the sidewalk to stroll the picturesque downtown.
How to describe the feeling you get while visiting a real town that's doing a very good job of impersonating a Hollywood snapshot of a fictionalized version of its actual past self? To call it "meta" would be an understatement. In Mount Airy, the shops and storefronts look like Mayberry on the outside and are filled with Mayberry merchandise on the inside. Here you can find an endless array of souvenirs, fan art, collectibles, and t-shirts. The variety is smart, nostalgic, and pretty much endless. If you've been searching for any product featuring the likeness, name, or catchphrase of Barney, Gomer, Aunt Bee, or any other indelible character, this is where you'll find it. You'll also find a selection of restaurants, galleries, pet boutiques, and clothing stores that don't identify with the television show but fill a niche for those who wish to mix in a bit of regular browsing, shopping, and dining with the overall Mayberry experience.
As this was a wintertime visit, it's important to mention that one of the best things about Mount Airy is its near perfect combination of outdoor and indoor attractions. Even if your trip falls on a day with a freeze in the forecast, it's still possible to have a good time. First on the list is the Andy Griffith Museum. Just a short walk from Main Street, it continues the total immersion with the world's largest collection of Andy Griffith memorabilia, including family photographs, artifacts, movie posters, costumes, and props that trace Griffith's career from his breakout role in the Broadway and movie versions of No Time for Sergeants, through his years as Sheriff Andy Taylor, and ending with his last television series as a criminal defense attorney in the courtroom drama Matlock. Also at this location is the Andy Griffith Playhouse, which contains two self-guided exhibits. One tells the life story of actress Betty Lynn (known to Mayberry fans as Barney Fife's true sweetheart Thelma Lou); the other is a detailed look at the lives and families of Chang and Eng Bunker, the conjoined twins from Samutsongkram, Siam who toured the world before settling down in Mount Airy in the 1840s, marrying a pair of local sisters, and fathering a combined total of 21 children.
If you're looking for even more local history, Mount Airy is one of the few small towns with multiple museums of exceptionally high quality. The Historic Earle Theater at 142 N. Main Street is a renovated art deco structure that bills itself as the "Home of the Old-Time Music Heritage Hall." It has a collection of artifacts documenting the contributions of local music pioneers, and is also home base for the second longest continuously running live radio broadcast in the nation, "The Merry-Go-Round," which goes on air every Saturday at 11:00 AM. The Mount Airy Museum of Regional History, at 301 N. Main Street, preserves and shares the history and tradition of the settlements that took root at the foot of the Blue Ridge Mountains, showing visitors new interpretations of this unique region's cultural and artistic heritage. Truly, a heritage rich enough to produce a character as memorable and timeless as Andy Taylor is certainly allowed to boast. This is why I can safely say that Mount Airy, aka Mayberry, is well worth the trip.
Mount Airy has a full, year-round schedule of concerts, events, and festivals. The most famous is the annual Mayberry Days Festival each September. For a complete listing, check the website at visitmayberry.com. Mount Airy is 140 miles northwest of Wake Forest via I-40 W to US-52 N.
Jennifer Smart
Senior public information and communications analyst with the City of Durham Department of Water Management.