Driveable Destination
Beaufort's Old Burying Ground And Ghost Walk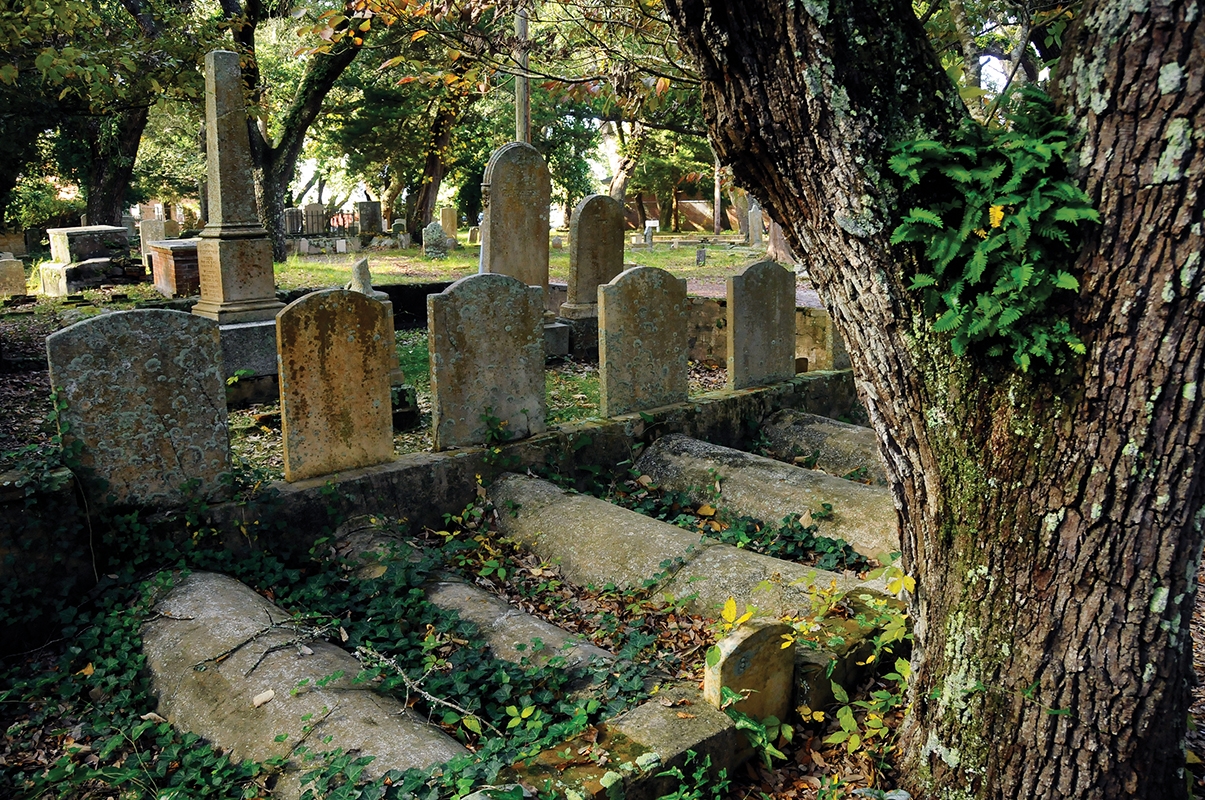 When I moved to North Carolina more than 20 years ago, it seemed everyone was talking about the Old Burying Ground at Beaufort. They waxed eloquent about the British officer who was buried, not lying down, but standing up. Their hearts ached for the young girl whose body was stored in a barrel of rum after she died at sea. And who could forget the sailors who froze to death in the wreck of the Crissie Wright in January 1886, or the yellow fever victim dug up by vandals, only to vanish from her glass-topped casket right before their very eyes?
Dark and spooky stories are one of Beaufort's specialties. Perhaps that's not surprising. For more than 300 years, the town has built quite a backlog of Indian massacres, pirate invasions, lost husbands, heartbroken lovers, seafaring heroes, and Civil War blockade runners. If you enjoy exploring twisted tales, please consider an October trip to this important North Carolina community. You won't be disappointed! (For Christmas in Beaufort, see this issue's December destination on page 38.)
So where do the goosebumps begin? Try the Beaufort Ghost Walk, one of the town's most popular attractions. A pirate guide will lead you down the winding streets while spinning supernatural tales of ghost ships and haunted houses. This experience mixes fact with folklore, is extensively researched, and consistently scores high marks on TripAdvisor where it holds a Certificate of Excellence for its bone-chilling, heart-pounding thrills. But don't worry, it's not too scary! The tour is family-friendly. It's also Instagram-ready. Yes, please take photographs! Guests are encouraged to purchase tickets in advance, arrive early, and dress for the outdoors. The walk will last slightly more than an hour, demand is high, and often several are scheduled per night. Tickets cost $15.95 for adults and $5.95 for children. Find out more at pctourco.com/beaufort-ghost-walk/.
The Old Burying Ground is a stop on the Ghost Walk, but also a top tourist draw as a stand-alone site. Listed on the National Register of Historic Places, this is the cemetery with the "Standing Soldier" and "Girl in the Barrel." Historians believe the graveyard was first established to bury the dead after an Indian massacre in 1711, and a 1992 archaeological survey identified the presence of many unmarked graves which originally would have had shell, brick, or wooden slabs as headstones. The cemetery contains roughly 200 gravesites from the pre-Civil War era. Prepare for your visit by downloading an online map or listening to the free smartphone audio tour available at beauforthistoricsite.org/old-burying-ground/.
If you prefer an expert narrative delivered in person, docents offer on-site guided tours with tickets available for purchase at the Beaufort Historic Site and Visitor Center, a complex of nine buildings that includes the Carteret County Courthouse, the Old Jail, and an original doctor's office and apothecary shop. All are staffed by costumed interpreters and filled with period furnishings. It's a nice place to stop if you plan to spend a full day in Beaufort.
For those who like to walk, the town's 12-block historic district includes some of the region's most beautiful examples of Queen Anne, Greek Revival, and Gothic Revival architecture. And if you're in search of pirate lore, the nearby North Carolina Maritime Museum is packed with artifacts and relics, including those recovered from the undersea wreck of Blackbeard's infamous vessel, the Queen Anne's Revenge. So head to the coast this Halloween – when it's October in Beaufort, there's always something to see!
Photo courtesy of the Beaufort Historic Site (beauforthistoricsite.org).
Jennifer Smart
Assistant director of the Wake Forest Historical Museum.