Driveable Destination
The Town Of Warrenton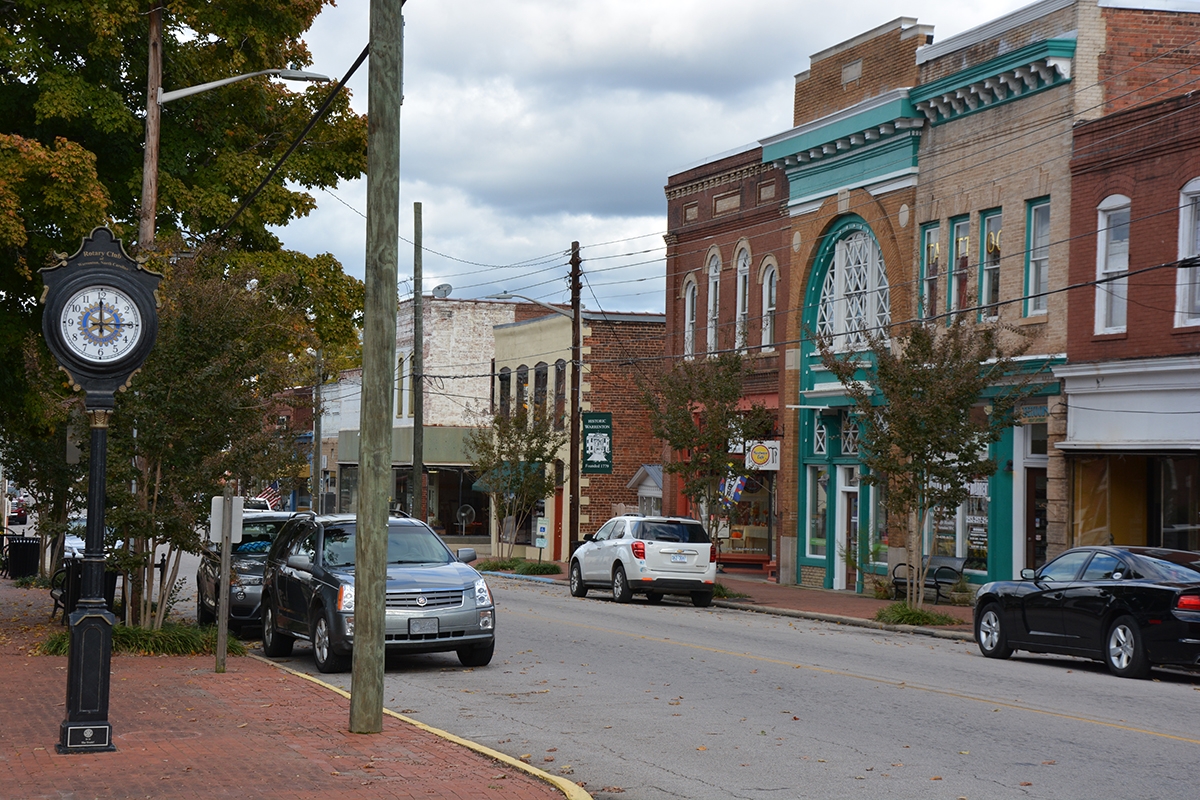 It was the Charlotte of yesteryear! That ringing endorsement – straight from the heart of a professional historian – seems like an extraordinary thing to say about a town that today has just 900 residents. But Wake Forest Historical Museum Executive Director Ed Morris promises that Warrenton is worth it. Nothing about it is ordinary. When the North Carolina State Historic Preservation Office chose it
for their annual field trip last year, the selection was something of a no-brainer. Who wouldn't want to tour a mini-boomtown that's magically trapped in time?
According to Warrenton's listing in the National Register of Historic Places, it's "a small, intensely Southern courthouse town." And an afternoon visit is all the confirmation you'll need. With a clear Virginia influence, the town is home to a gorgeous array of Greek-Revival and Greco-Italianate houses complete with eye-poppingly beautiful details put there by the leading craftsmen of the day. Originally the hub of a thriving plantation economy, Warrenton gave itself a makeover after the Civil War and entered its second act as a regional tobacco market. Its third act, currently humming along quite nicely, establishes it as the little charmer we see here.
But this is the question: What is there to do in Warrenton? Life does move at a slower pace, and the attractions are of the "quality over quantity" variety. For our visit, we began with a leisurely self-guided driving tour of the historic district and surrounding area. More than 100 of the community's notable buildings and homes have white signs in front with information about when they were built and which families owned them. We also cruised 15 minutes outside of town to the tiny community of Inez to visit Cherry Hill Plantation, a stunning antebellum home built in 1858 that was owned by Marina Williams Alston. Marina's sister, Temperance, was married to Dr. Calvin Jones. That's the Calvin Jones who bestowed upon his 615-acre farm in northern Wake County the name "Wake Forest." The Calvin Jones House is now part of the Wake Forest Historical Museum. Cherry Hill is a much grander home than Calvin's. So grand, in fact, it serves as the venue for a series of classical music concerts held year-round on Sunday afternoons. Artists perform in the old-world tradition of private homes rather than concert halls, with guests seated around the grand piano. For those wishing to check the calendar, the first 2019 concerts are scheduled for February 17 and March 24, with more information online at www.cherryhillconcerts.com.
After Cherry Hill, we took a slight detour to sightsee at nearby Lake Gaston. Warrenton is one of several small towns that cater to the residents of that lakeside community. The jaunt took less than an hour, which left us plenty of time to find our way back to Warrenton and walk the historic downtown. It's a nice collection of closely-packed buildings, most constructed after the originals were destroyed in a terrible 1881 fire. Back in those days, the spirited residents were quick to rebuild. Now a new generation is making 21st century improvements. The town recently received a $100,000 grant to turn one of those buildings into a hip and trendy craft brewery.
But don't wait for the brewery to open before planning a visit – Warrenton already offers fantastic options for shopping and dining. One of the highlights is the Hardware Café on Main Street. Beautifully housed in a retro-chic, old-time hardware store complete with vintage floor-to-ceiling interior shelving and a classically painted plate-glass show window, the café is a lunchtime hotspot that specializes in salads and cleverly named gourmet sandwiches. For example, order the Cowbell and you get a thick slice of tender prime rib on a Kaiser roll with horseradish dressing and provolone cheese. If you prefer your sandwich with a kick, go for the Blowtorch. It comes with salami, ham, prosciutto, and pepper jack cheese topped with chipotle mayo. We also enjoyed the antique shops and were thrilled to find a cute boutique called The Scarlet Rooster that had a refrigerated display case stocked with handmade chocolates imported fresh from Meadows of Dan, Virginia. Since we truly enjoy snacking, we purchased three exotically-flavored artisan chocolate truffles – Grand Marnier, Jalapeño, and Peanut Butter Banana – each the size of an egg and gorgeously tinted. They did not disappoint. In fact, they were so delicious we may consider taking our next drive to Meadows of Dan.
Our day in Warrenton ended with a sit-down dinner at Robinson Ferry Restaurant & Spirits at 111 N. Bragg Street. Having heard glowing reports, this was the only stop we had strictly planned. As it turns out, Robinson Ferry is the place to go for locally-sourced dishes with big city pizazz. The team's philosophy is simple: "If we have fun and are inspired by the ingredients, you'll be more than happy with how those ingredients come together on your plate." We can certainly vouch for the fresh fried pork skins with blackened seasoning, Creole nachos with shrimp and chicken, and some very special shrimp and grits. Dishes like these, along with a stylish atmosphere and inventive full bar, make Robinson Ferry a popular regional destination. Reservations are encouraged. You can check out the restaurant online at www.robinsonferrywarrenton.com.
So, yes, we love Warrenton! It's quiet but lively, traditional yet unique. Best of all, it's a calm, peaceful drive that's less than an hour from Wake Forest. And at the end of the road is an extraordinary driveable destination you won't want to miss.
Warrenton is a straight shot from Wake Forest. Follow US-1 North approximately 23 miles to the Warrenton Road exit. Follow Warrenton Road and State Road 1001 to historic downtown Warrenton.
Jennifer Smart
Senior public information and communications analyst with the City of Durham Department of Water Management.