Driveable Destination
Halloween At Oakwood Cemetery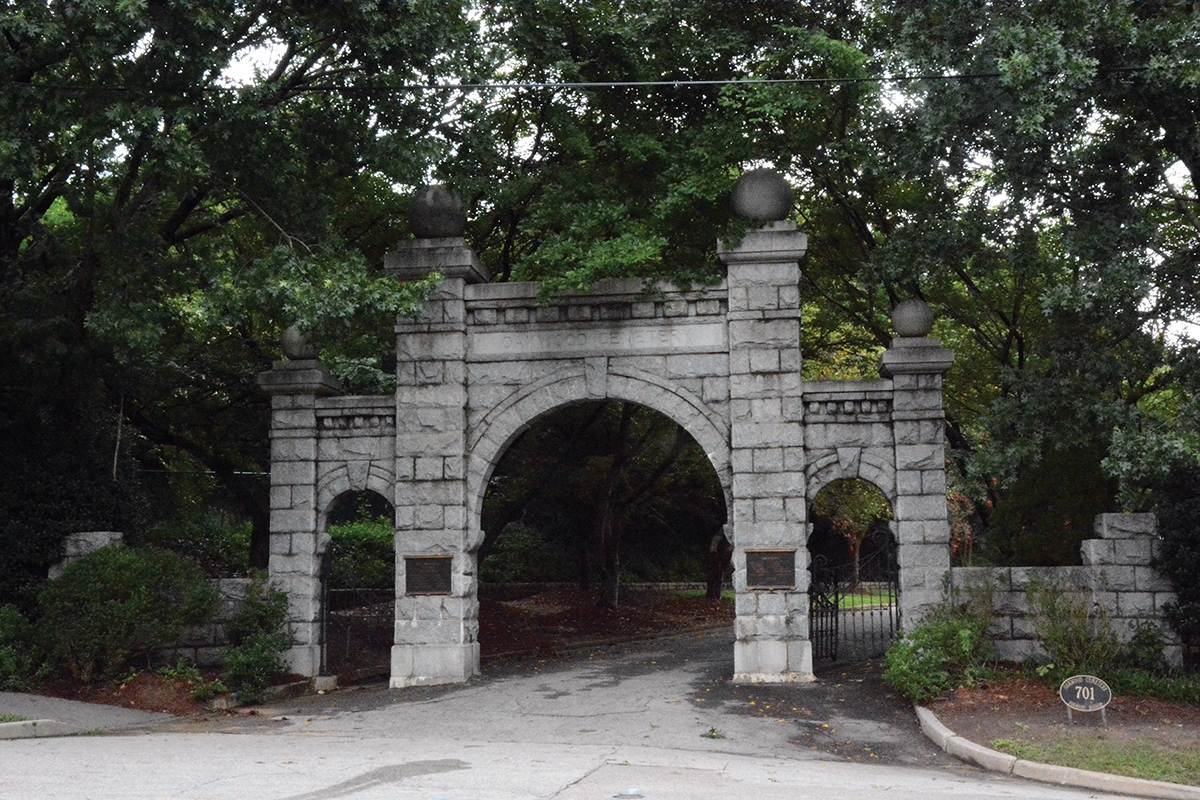 This is a story straight from It's a Wonderful Life, that ever-present Christmas classic about the important ways one life touches so many others. But with no George Bailey to save the day, this particular tale is dark and grim and suited for Halloween. The tragedy happened on October 19, 1908. Ten-month-old Sarah Greason, baby daughter of George Greason, Superintendent of Wake Forest's Glen Royall Cotton Mill, was sick or colicky or cutting teeth. The doctor wrote an ordinary – and safe – prescription. He had no idea what was to come – that the druggist would accidentally send the family home with a mislabeled bottle of morphine. The Greasons gave their daughter a single dose and she immediately went limp. Horror-struck, they raced back to the doctor, but it was already too late. The baby died a few hours later and was buried at Raleigh's historic Oakwood Cemetery.
Whether chilling or mysterious, true accounts like this one continue to fascinate – especially around Halloween. And Oakwood Cemetery, which has more than 22,000 souls at rest within the boundaries of its 102-acre site, is a repository for thousands of stories just waiting to be discovered. So as the calendar has flipped to another October, now is the perfect time to consider visiting the tomb-scattered landscape of this "Driveable Destination."
The historic graveyard dates to the aftermath of the Civil War, when the remains of Confederate soldiers lay moldering in hastily-dug holes all across Wake County. Most had been buried near military or field hospitals, their graves marked with wooden headboards and left untended. This worried the Raleigh women who had lost husbands and sons in the war, so they formed a group to establish a proper cemetery within the city. After receiving a donation of land northeast of the capitol from planter and state legislator Henry Mordecai, a cadre of volunteers collected and reinterred 538 Confederate dead. With additional bodies transported from battlefields as far north as Gettysburg and Virginia, the number of gravesites soon climbed to more than 2,800. The cemetery then expanded to include the general citizenry, and by 1870, it was building a reputation as Raleigh's preeminent resting place.
Of course, the vast majority of cemeteries come with ghost stories – and Oakwood is no different. The most famous is the legend of the Spinning Angel, also known as the Guardian of Oakwood. The monument, which marks the 100-year-old grave of Etta Rebecca White Ratcliffe, is said to spin its head exactly 12 times around each Halloween at midnight. The cemetery holds other ghostly mysteries as well. In 2015, WNCN-TV reporter Steve Sbraccia entered the grounds with paranormal investigators for a tongue-in-cheek piece on neighborhood haunts. But, in his words, the experience turned "a little weird" when he encountered unexplained phenomena including a sudden burst of cold air and an invisible force that pinched the side of his neck, leaving a welt. To see Sbraccia's full report, visit his YouTube channel at youtu.be/kNM3bjY_Uio.
Could it be that spirits are speaking from beyond the grave? If you put aside the shivers and shadows and strange ghostly echoes, what remains are those odd connections that are hard to explain. For instance, Baby Sarah is linked to today's bustling Wake Forest in the most surprising of ways. After her burial at Oakwood Cemetery, the Greason family returned home with their remaining children, among them a son named Murray. Murray Greason went on to attend Wake Forest College where he became a sports hero, then a successful basketball coach whose team won the 1953 Southern Conference Title. In 1956, he was named the Atlantic Coast Conference Coach of the Year. Today Greason's son, Murray Greason, Jr., is a member of the board of the Wake Forest Historical Museum. It's not an exaggeration to say the Greasons helped put Wake Forest on the map. And as Baby Sarah is part of their story, she's also part of ours. So if you feel a presence while visiting Oakwood Cemetery this October, perhaps it's no more than a friendly reminder that, no matter how long or short our time on earth, we're all in this together. However, if a spinning-headed angel pinches your neck, I suggest you run.
Historic Oakwood Cemetery is approximately a half-hour drive from the Wake Forest area. Head south on Capital Boulevard into Raleigh. Turn left onto Crabtree Boulevard. Turn right onto North Raleigh Boulevard, then go about 1.5 miles before turning right onto Oakwood Avenue. The cemetery is on the right at 701 Oakwood Avenue.
Jennifer Smart
Assistant director of the Wake Forest Historical Museum.