Driveable Destination
Cruise On Over To Carolina Beach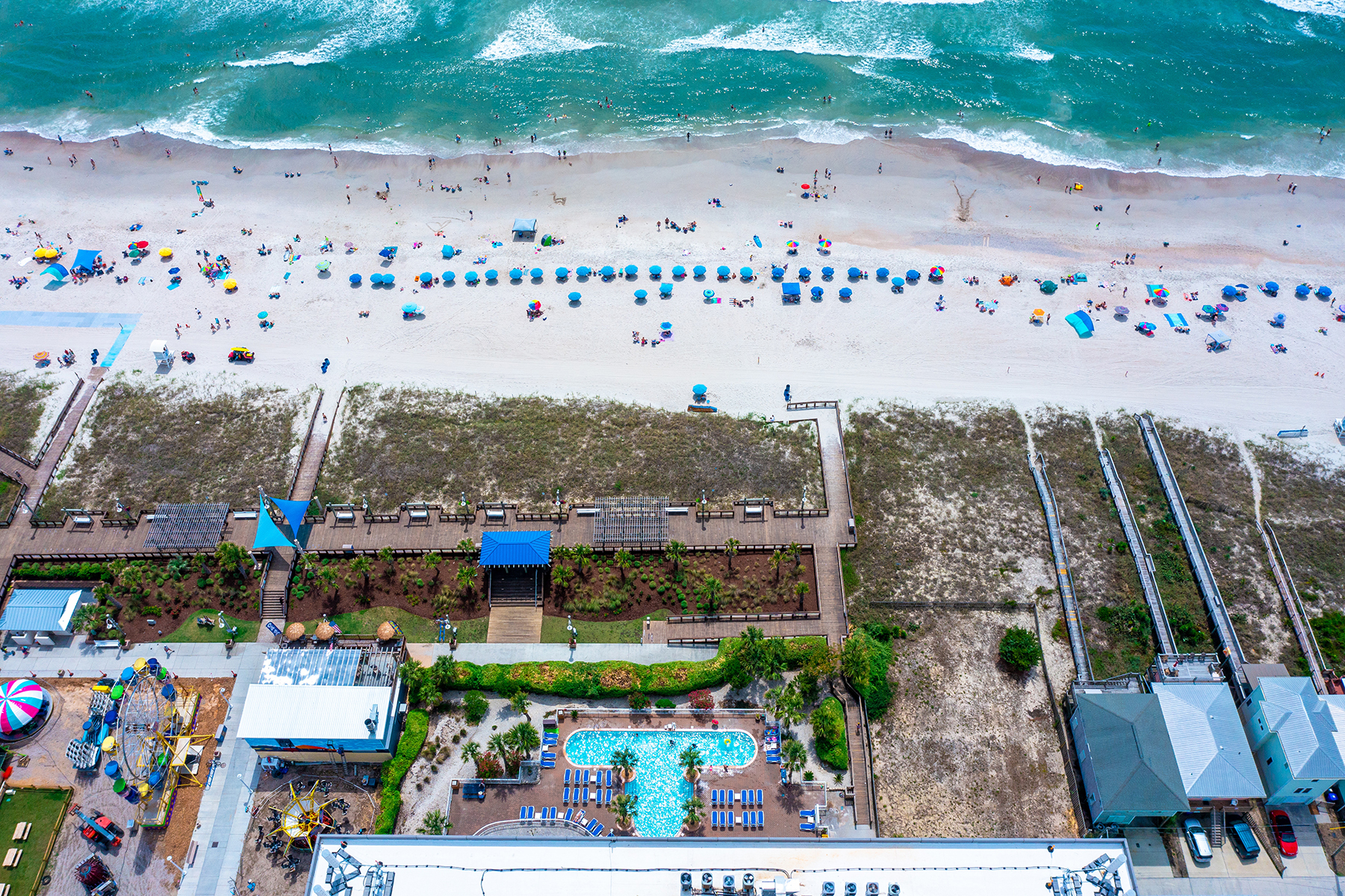 Are you seeking an easy, enjoyable, and local beach destination this summer? Look no further than North Carolina's own Carolina Beach! Located just south of Wilmington, Carolina Beach is a smooth two-and-a-half hour drive from the Triangle area, making it one of the most convenient beaches for quick day trips or longer stays. Filled with a wide array of activities, wildlife, history, and beautiful beach access, you'll definitely want to add Carolina Beach to your list of driveable destinations this summer.
Originally home to groups of Tuscarora peoples, the area now known as Carolina Beach, Wilmington, Wrightsville Beach, etc. was colonized by English settlers in the early 18th century. After the Tuscarora War (1711-1715), the Tuscarora people were dispelled and settlement grew in nearby Wilmington, which began the city's position as an influential port on the Cape Fear River. Carolina Beach's population remained small for awhile, but the addition of a lighthouse in the early 19th century, along with the region's significance in the U.S. Civil War, expanded awareness of the area. The domain's role as a port city was integral in distributing supplies to the south in the Civil War; additionally, the fall of Confederate-held Fort Fisher to the Union in 1865 was a major contributor to the war's end a few months later. After the Civil War, the Army Corps of Engineers built a jetty to improve passability, which still exists today. Furthermore, interest and development in the area expanded substantially as time went on. The addition of a train and ferry system in the late 1800s expanded access to the region, and the turn of the century was met with Carolina Beach's boom. The first half of the 20th century saw new construction of hotels, grocery stores, boardwalks, piers, and homes. It is important to note that like much of the United States, Carolina Beach dealt with segregation during the Jim Crow era; regulations severely limited the presence of African Americans in Carolina Beach, and instead had them occupy Seabreeze, a beach a mere half-mile away, yet separated by laws of the time. Seabreeze became known for its astounding 31 juke joints and numerous visits by prominent African American performers. Seabreeze is now home to Freeman Park, a way to recognize North Carolina's complex history. In 1990, Carolina Beach's famed Boardwalk was rebuilt, leading to the bountiful boardwalk filled with shops, restaurants, and amusement rides that we know today. Carolina Beach holds a rich history and a bright future, so keep reading to learn about the plethora of things to do on your upcoming "driveable destination summer vacation!"
The aforementioned Carolina Beach Boardwalk and Carolina Beach Pier are main attractions of the town, encompassing the variety of restaurants, shops, and amusement rides that will make your visit fun for the whole family. Enjoy the ferris wheel, arcade, and carnival rides for some active fun, and then grab a nationally-known Britt's Donut for a sweet snack. First opened in 1939, Britt's homemade glazed donuts are a delicacy you won't want to miss. Be sure to explore the variety of beach boutiques and locally-owned restaurants as well.
Carolina Beach's array of land activities are also coupled with tons of nature-based and aquatic activities. Enjoy sunbathing, walking, or playing sand games on the beautiful beachfront, or take a dip in the ocean by kayaking, paddleboarding, swimming, surfing, or boating. You can also utilize Carolina Beach's locally-run charter boats, jet ski rentals, and scuba lessons. Also, take advantage of the natural environment that Carolina Beach has to offer. Home to nine sites on the North Carolina Birding Trail, the Carolina Beach community possesses the rich ecosystems of coastal NC, providing habitats for seagulls, coastal birds, sea turtles, fish, alligators, and a vast collection of unique plants like the Venus Flytrap. Engage in some nature appreciation by taking a stroll along the beach or following the white sand trail of Carolina Beach State Park that leads to a nice overlook of the Cape Fear River.
Carolina Beach is home to full-service hotels, rental beach houses, and locally-owned motels, so you'll have plenty of accommodation options if you choose to take a multi-day vacation. Additionally, for an extended stay, you can explore neighboring coastal communities, including Wilmington, Wrightsville Beach, Kure Beach, Southport, Oak Island, Holden Beach, and Bald Head Island. A quick online search will provide you with the information you need to travel between towns, how to spend your time in these destinations, and regulations you should know for each beach community.
I hope you consider visiting Carolina Beach this summer, and year-round! With a great deal of activities awaiting individuals of any age, Carolina Beach makes for a wonderful (and easy) coastal getaway for the whole family.
Grace Lower
A student at UNC-Chapel Hill in the Gillings School of Global Public Health, studying Biology and Environmental Health Sciences. She is an outdoor enthusiast who also enjoys dance, theater, teaching group fitness classes, and writing for CIRCA Magazine.