Driveable Destination
Bound For Brevard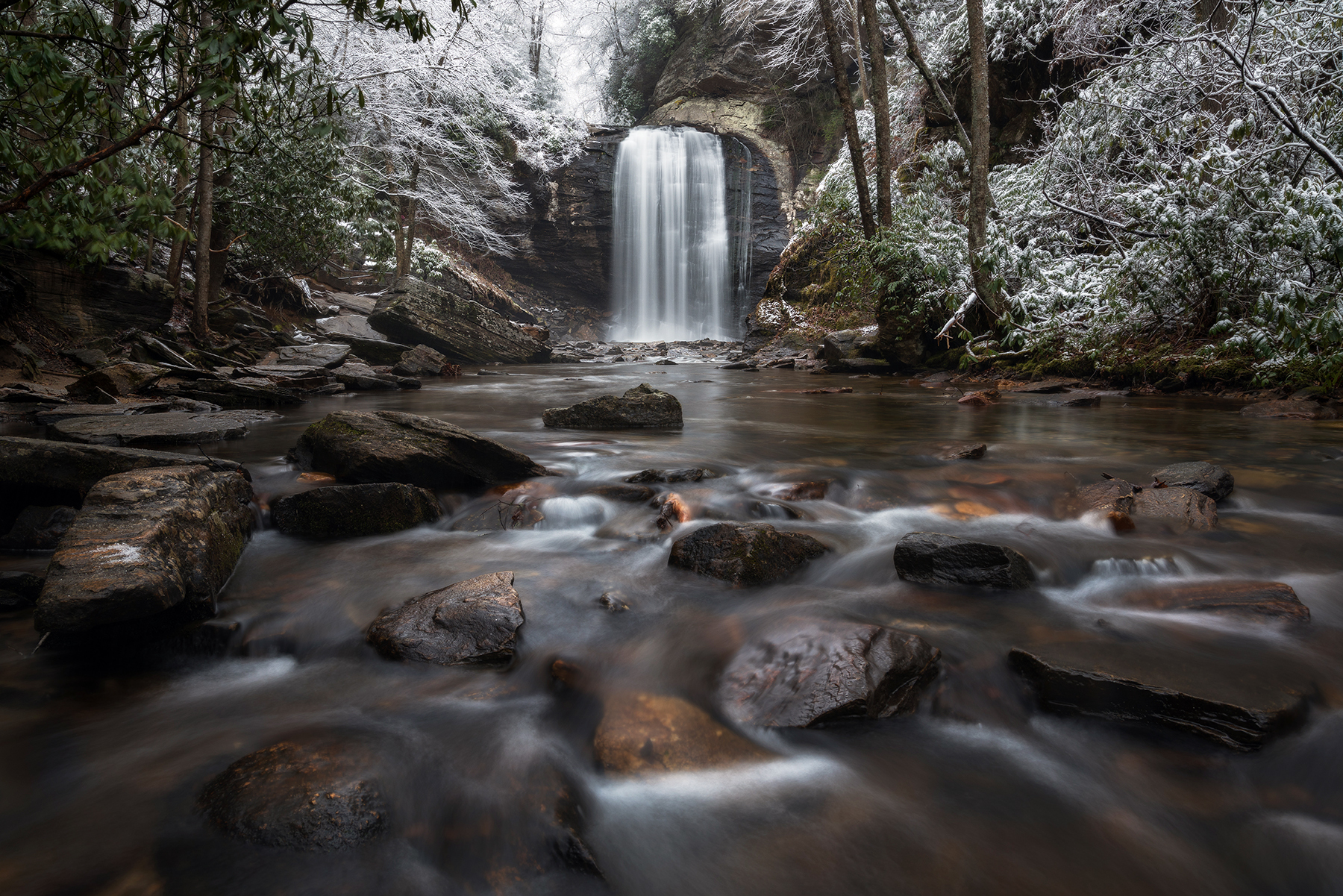 I have a simple but great memory from Brevard, North Carolina – venturing into town during my father-daughter summer camp weekend for a delicious pizza dinner and a bit of walking around shops, followed by some tasty ice cream. When considering places I've visited in our great state for this issue's edition of "Driveable Destination," I contemplated all of the towns I've visited in North Carolina's Appalachian region and my love for the mountains, and remembered this camping excursion – and knew I had to share what I have explored (and have added to my bucket list) in Brevard. Without further ado, read on!
Brevard is a quaint city nestled in the heart of Western North Carolina. Located in Transylvania County, the City of Brevard is known for its prime access to trails and waterfalls, historic downtown, and natural beauty. The city's website (cityofbrevard.com) states that Brevard encompasses a lovely 5.12 square miles, is situated 2,231 feet above sea level, and is about 27 miles from Downtown Asheville and eight miles from the South Carolina border. Originally, 50 acres were designated to establish the town on May 20, 1861 at Transylvania County's first meeting, which was the same day North Carolina seceded from the Union. Because of the Civil War, Brevard's incorporation was postponed until 1868, and the courthouse (which still exists at the intersection of Broad and Main Streets) was built in 1884.
One of the main draws to the city is its premium location in the western part of the state. Surrounded by the Pisgah National Forest, DuPont State Recreational Forest, and Headwaters State Forest, plenty of hiking and biking trails, waterfalls, mountain views, and outdoor appreciation await your visit. Bracken Preserve hosts six miles of natural surface trails, and connects to US Forest Service Road 475-C, the Art Loeb Trail, and the Pisgah Center for Wildlife Education in Pisgah National Forest (cityofbrevard.com). Pisgah National Forest contains a plethora of trails, wildlife, and gorgeous sights. For instance, Rainbow Falls is a 150-foot cascade, with a three-mile round trip trail (starting in Grassy Ridge Parking Area in Gorges State Park, but most of the trail is actually in Pisgah!), or continue on Horsepasture River to Turtle Back Falls and Drift Falls. Whitewater Falls is a 411-foot beauty with several layers, while Looking Glass Falls (pictured) has a more challenging hike at about six-and-a-half miles with a 1,700 foot climb to reach a stunning view and 60-foot waterfall. Additionally, Brevard maintains 22 miles of greenways to explore the area's natural environment and walk around town. You can also take a scenic drive on the Blue Ridge Parkway for beautiful views and lookouts, or visit the famous Sliding Rock in the warmer months for a whimsical water slide provided by nature itself. (Special thanks to the City of Brevard and the Transylvania Tourism Development Authority for this information.)
In addition to its vast outdoor opportunities, Brevard is home to an adorable downtown with plenty to do for the whole family. Visit the Brevard Music Center for a show, check out the Transylvania Heritage Museum, and the Veterans History Museum of the Carolinas, stop by the number of downtown art galleries for a bit of learning, or explore the variety of eateries, coffee shops, wine shops, and breweries for some tasty treats (for kids and adults alike).
If you're looking to visit Brevard from the Triangle area, expect to drive about four to four-and-a-half hours, depending on your location. This makes for an easy weekend or several-day getaway; you can also check out one of the surrounding towns for excursions or daytrips once there. Visit neighboring Asheville – a unique, medium-sized city with a small-town vibe – for neat shops, restaurants, art, and more. Also, check out the famous Biltmore House for a glimpse into history and nature. Other nearby towns include Hendersonville, Cashiers, and Waynesville, North Carolina; Greenville, South Carolina; and more.
I hope you'll feel drawn to Brevard and the many marvelous mountain towns in North Carolina for your winter getaway. With lots to do – history to learn, restaurants to try, trails to track, and sights to see – I hope you'll take time to enjoy all that Brevard has to offer!
Like what you read and considering a trip to this "Driveable Destination?" Check out the City of Brevard's website at cityof-brevard.org and the Transylvania County Tourism Development Authority's/Explore Brevard's website at explorebrevard.com.
Grace Lower
A student at UNC-Chapel Hill in the Gillings School of Global Public Health, studying Biology and Environmental Health Sciences. She is an outdoor enthusiast who also enjoys dance, theater, teaching group fitness classes, and writing for CIRCA Magazine.