Driveable Destination
The Charm Of Chapel Hill And Carrboro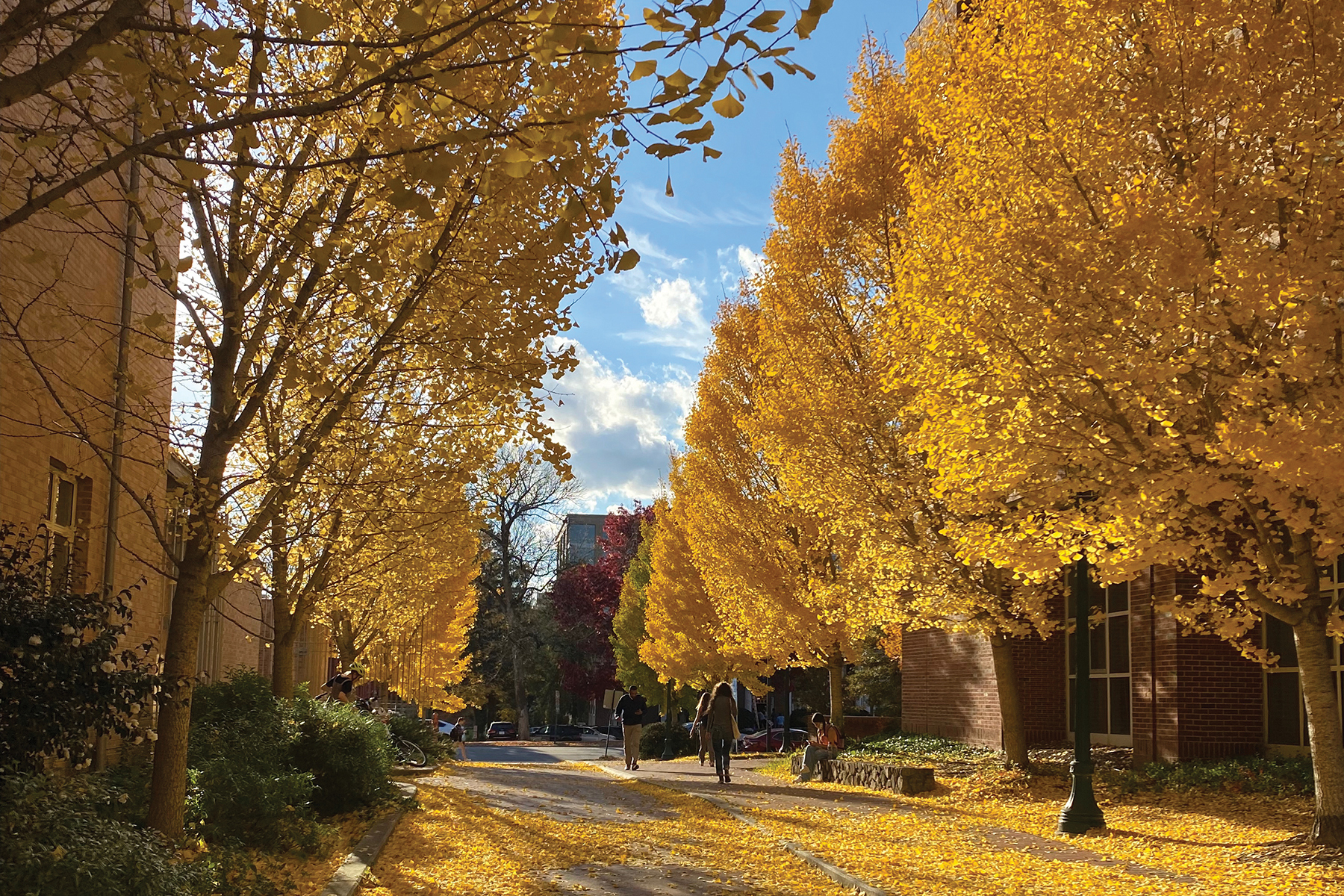 Located in Orange County and just a short 45-minute drive from the greater Wake Forest area, the towns of Chapel Hill and Carrboro can be considered neighbors to Wake County. But their close proximity, plentiful activities, and eclectic vibes make for an easy and fun day or weekend trip. Home to the University of North Carolina at Chapel Hill, the Town of Chapel Hill is bursting with energy and school spirit, and just down the street, Carrboro booms with artsy camaraderie and commerce. And as a current student at UNC Chapel Hill, I can say firsthand that the fall/holiday season is my favorite season here – the breathtaking autumnal foliage, excitement of football games on the weekends, variety of holiday happenings, and bustling community are enough to make anyone want to visit. Read on to learn about all that Chapel Hill and Carrboro have to offer this season.
On any day of the year, you'll find numerous things to do, food to eat, and places to shop on Chapel Hill's iconic Franklin Street – the street I got to rush this past spring as UNC beat Duke in the NCAA Final Four basketball game (I'll go ahead and apologize to any Duke fans here … but as a UNC student, I'm obligated to mention that in this article!). Beyond the energy of the university, Franklin Street offers a multitude of diverse restaurants, boutiques, locally-sanctioned murals, and more, in-cluding the newly renovated Morehead Planetarium and Science Center. Down the road, Carrboro offers another collection of eateries and shops to explore. The Carr Mill Mall, University Place, and the Carrboro Farmers Market also host locally-owned and unique shopping and dining options. Visit the towns' websites (townofchapelhill.org and townofcarrboro.org), as well as carolinachamber.org for more information on local commerce.
Another one of my favorite aspects of the area is its luscious flora and fauna. On a relaxing autumn day, enjoy fresh air and see some gorgeous sights by taking a stroll through UNC's campus once the foliage changes to vibrant reds, oranges, and yellows. While doing so, be sure to take in the magnificence of the Old Well (a campus focal point since the University opened) and the Morehead-Patterson Bell Tower, as well as the many incredible sculptures, murals, and other art installments from the area's local artistic talent that dot the landscape. (For more local and global art, visit the Ackland Art Museum for ever-evolving collections of inspiring work.) To continue, bask in the beautiful autumnal weather by enjoying walks / hikes with the whole family; check out the North Carolina Botanical Garden, Battle Park and the Forest Theatre, Bolin Creek and Morgan Creek Trails, Umstead Park, and so many more nature reserves for tons of outdoor fun.
As I mentioned previously, fall is my favorite season in this area. Not only does the natural environment present exquisite views and comfortable temperatures, the community hosts numerous events to savor the charm of the holiday season. Attend the Carrboro Farmers' Market's Thanksgiving Market (November 22) and Holiday Farmers Market (December 22), the Christmas Holiday Shoppe (St. Thomas More Catholic School, December 3), the Chapel Hill – Carrboro Community Parade (December 3), or the Carrboro Holiday Tree Lighting (Carrboro Town Hall, December 9).
Additionally, nightlife and live music bring lots of liveliness to the area. See a concert at Cat's Cradle, an intimate-yet-vivacious venue hosting artists from the local to international scale. Also, restaurants, bars, and other establishments feature live bands frequently for fun nights out. Lastly, numerous student-led and professional performing arts groups host performances throughout the year that are sure to pro-vide an entertaining show.
While the close distance from Wake County makes day trips a breeze, consider the historic Carolina Inn (which also offers delicious dining options) or one of the many hotel or rental options for an overnight getaway. Speaking of historic – being the nation's oldest public university (1789), UNC Chapel Hill and the surrounding area maintains a vast history, so learning and understanding the significance of the historical buildings, monuments, and displays of the area is an essential part of the experience. More information on the area's history can be found on the Town of Chapel Hill's and the University's websites (unc.edu).
If I haven't made it clear already, I adore the small-town charm, vibrant community, and energetic spirit of the Chapel Hill – Carrboro area. Add these terrific towns to your list of driveable destinations this autumn / holiday season, and you are guaranteed to find a fun time.
Grace Lower
A student at UNC-Chapel Hill in the Gillings School of Global Public Health, studying Biology and Environmental Health Sciences. She is an outdoor enthusiast who also enjoys dance, theater, teaching group fitness classes, and writing for CIRCA Magazine.