Driveable Destination
Salubrious Southport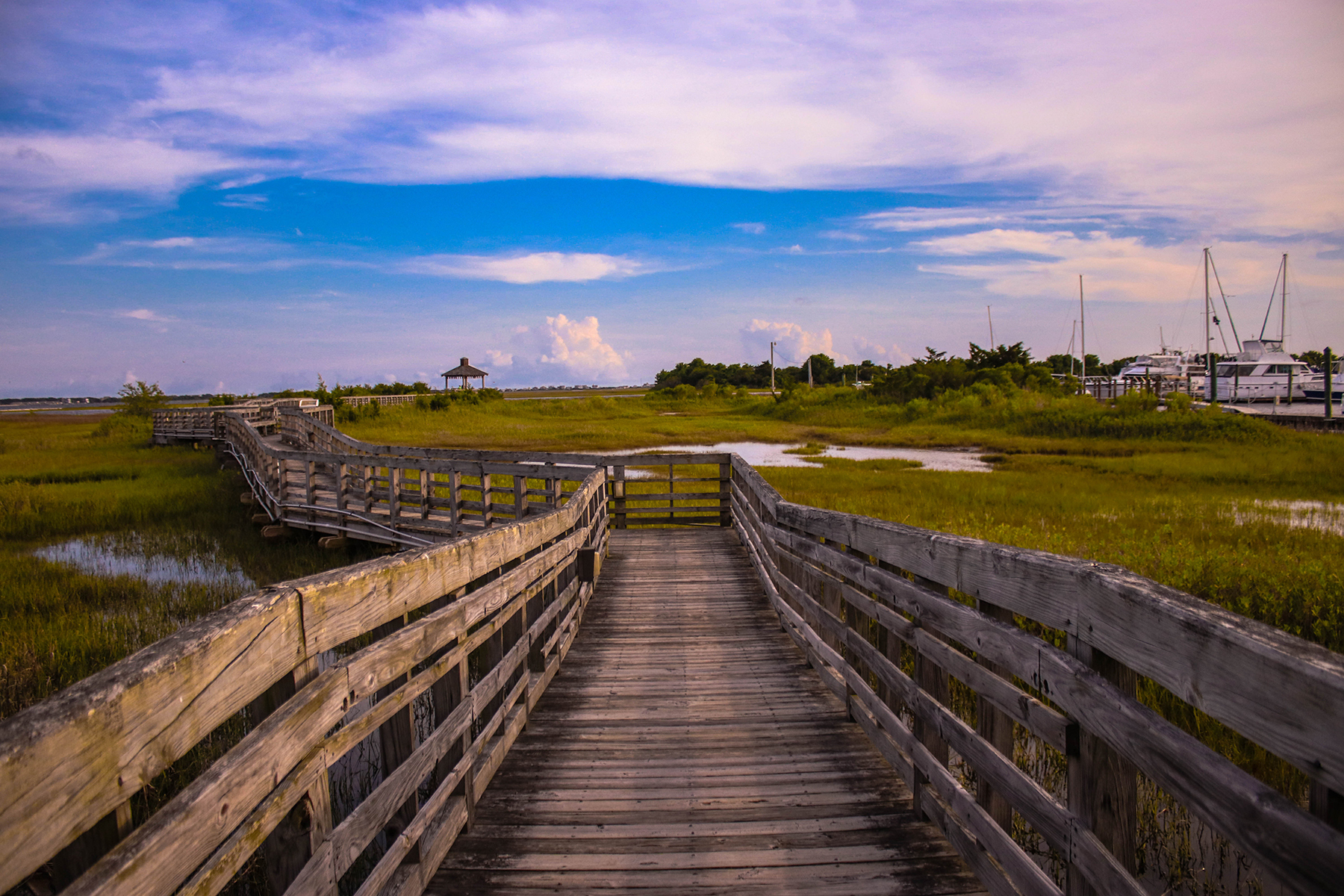 Southport, North Carolina is a picturesque town known for its "salubrious sea breezes," as described by the city's web-site, cityofsouthport.com. (Salubrious means good for health and well-being. In other words, Southport's sweet sea breezes are good for the soul!).
Located on the Cape Fear River near the southern tip of North Carolina's coast, Southport is a vibrant community blooming with shops, restaurants, and history. According to the Brunswick, NC Visitors Guide, the Cape Fear region was first explored by the Spanish in 1521 and 1526, but the first settlement, Brunswick Town (located up the river), was not established until 1726 (ncbrunswick.com). The town was officially commissioned in 1792, and was named Smithville after Revolutionary War veteran and future Governor of North Carolina Benjamin Smith. The town developed upon fishing and military presence with Fort Johnston, which is still active today. Smithville became Southport after the Civil War, as part of an effort to grow the town's presence as a port of the south (hence the name Southport). Since then, the City of Southport has become a quaint yet lively community with a growing tourism industry, boasting a variety of activities and attractions.
Not to mention, Southport is an integral part of North Carolina's coveted film industry. Did you know that our state is ranked third for film production in the United States? Much of that ranking is owed to our state's picturesque coastal communities, like Southport. The city's film and television credits include Dawson's Creek (1998-2003), Safe Haven (2013), The Secret Life of Bees (2008), I Know What You Did Last Summer (1997), A Walk to Remember (2002), and more. Be sure to cross "Hollywood-hunting" off your bucket list by checking out the numerous locations around Southport that have been featured in films and TV.
Other fun activities to do in Southport include: visiting the Southport Summer Market, featuring fresh produce, artisan crafts, baked goods, and more (see downtownsouthport.org/southport-summer-market/ for more info); touring Fort Johnston and other historical locations; paddling on one of the local rivers, creeks, or lakes; exploring the Southport Pier and Riverwalk and Downtown Southport; taking a ride on the Fort Fisher / Southport Ferry to the Fort Fisher State Recreation Area; and dining at one of the many delicious local restaurants and waterfront eateries (information courtesy of the Brunswick, NC Visitors Guide).
Additionally, Historic Downtown Southport and Oak Island have been home to the Official North Carolina 4th of July Festival and Fireworks for over 220 years. The festivities begin July 1st, and the week following has a variety of awesome events for the whole family. If you weren't able to make it to this year's festival, plan a fun trip to look forward to for next year's Independence Day. Check out nc4thofjuly.com for more information.
When it comes to choosing a place to stay, select an area hotel, inn, motel, or rental house for a convenient and cost-effective option. If you're looking for a bit of a longer stay and want to visit other nearby beach towns for some fun day-trips, check out Wilmington, Wrightsville Beach, Bald Head Island, Oak Island, Kure Beach, Carolina Beach, or one of the many other charming coastal communities in the area.
With a plethora of things to do and places to see, Southport is sure to provide an enjoyable vacation for all. And when you visit, don't forget to take in all those salubrious sea breezes!
Grace Lower
Grace Lower is a sophomore at UNC-Chapel Hill. She is studying Biology and Environmental Science, and also enjoys dance, theater, and writing for CIRCA Magazine.