Driveable Destination
The Sandhills ... Not Just A Golfer's Paradise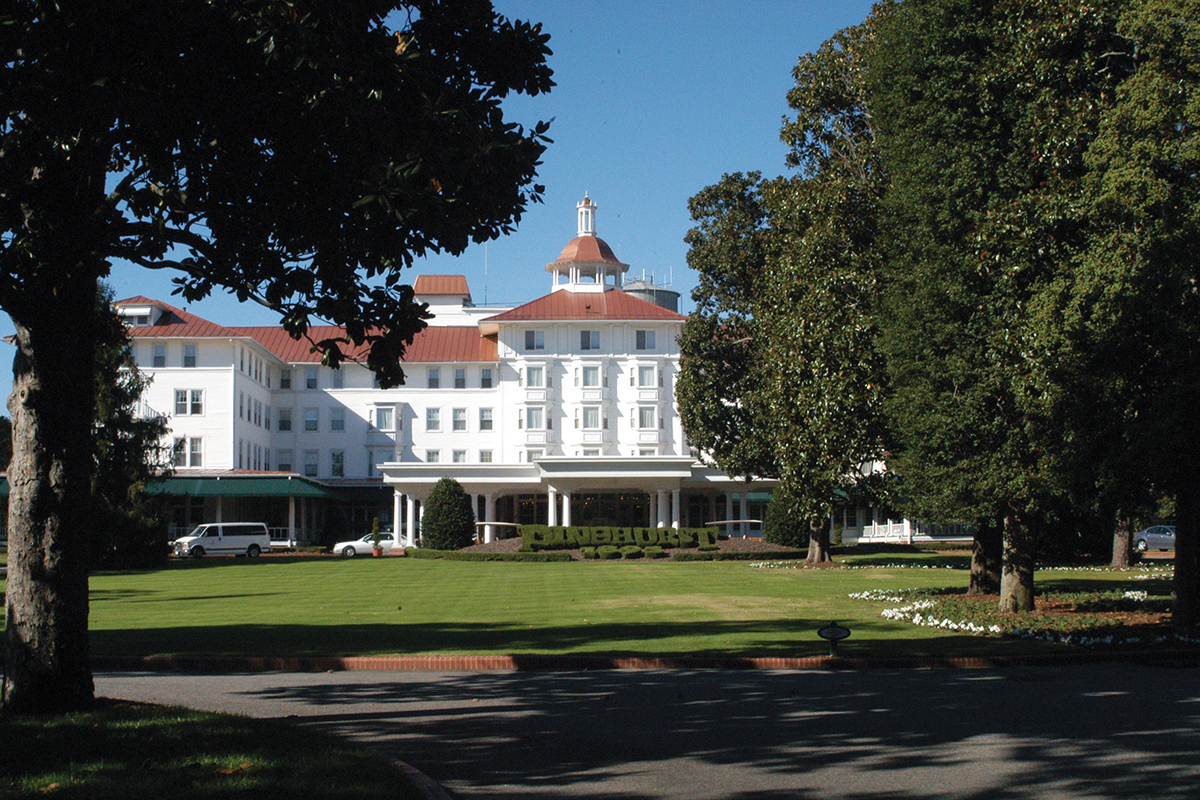 If you live in North Carolina, you've surely heard of Pinehurst, known for its world-renowned golf facilities that have hosted numerous prestigious golf tournaments. The Pinehurst Resort is a stunning retreat, founded in 1895 by James Tufts, and was central in the development of the area. Amen-ities include a staggering nine golf courses, a spa, delicious dining, and various fitness activities. However, Pinehurst and its neighbor, Southern Pines, boast an array of other attractions, lending the area known as the Sandhills to be this edition's "Driveable Destination." Ranging from relaxing resorts to historic houses, small-business shopping to radiant restaurants, and awe-inspiring archives to notable nature preserves, Pinehurst, Southern Pines, and the Sandhills have it all.
Located in Moore County, North Carolina, Pinehurst and Southern Pines are next-door neighbors, and are an easy drive from Wake Forest at less than two hours. This makes the area the perfect destination for a quick day or weekend trip. Or, if you're looking for a longer stay, you can also take advantage of the various nearby excursions the Sandhills region has to offer.
As I mentioned, Southern Pines and Pinehurst have a long list of attractions that ensures enjoyment for the whole family. Parents and kids alike can appreciate the beauty of the Weymouth Woods
Sandhills Nature Preserve, which is home to short and easy ranger-led hikes, hundreds-of-years-old pine trees, unique ecology, and fun seasonal events (check out ncparks.gov for more information). Interested in the history of Pinehurst? Visit the Tufts Archives, located in the Pinehurst Resort. James Tufts founded Pinehurst in 1895, and also patented the first soda fountain in 1883, calling his invention the Arctic Soda Apparatus. The resort shares that the archives display "original maps of Donald Ross's [golf] courses, photos of The Village since 1895 and various artifacts from the founders of the Village. Visitors will also find James W. Tufts' original marble and silver 19th century Soda Fountain machine and more than 125,000 historic images." Another interesting glimpse into the area's history is the Campbell House. The Arts Council of Moore County explains that the house was initially part of the Boyd Mansion, owned by James Boyd, Sr., a railroad and steel tycoon from Pennsylvania. In the 1920s, the Campbell House was salvaged and relocated across the street after the older mansion caught fire. Boyd's grandson, Jackson Boyd, lived in the home, which was later bought and thoroughly renovated by Major W.D. Campbell in 1946. In 1966, the Campbell family donated the historic home to Southern Pines for community use. Since then, the Campbell House has maintained a position as a town staple, showcasing art galleries, weddings, events, and more.
To continue, the Southern Pines Business Association shares that "Southern Pines is known for its vibrant downtown area with many shops, restaurants, and entertainment. The main streets are the two sides of Broad Street, divided by railroad tracks offering many unique businesses, beautiful parks, and the idyllic downtown scene." Additionally, Pinehurst Business Partners highlights area businesses and events that make the Village of Pinehurst special, including the Holly Arts & Crafts Marketplace and the Pinehurst Harness Track, a horse racing center founded by Leonard Tufts (son of James Tufts) in 1915.
Beyond Pinehurst and Southern Pines, the Sandhills region possesses a plethora of enticing elements that are easily accessible from either of these two towns. Visit the famed Seagrove Pottery and antique shops in the Cameron Historic District. Seagrove Potters, established in 1781, is the largest concentration of working potters in the United States, according to their website (discoverseagrove.com). With a rich history and beautiful creations, you'll love every minute of your visit to Seagrove. You can also take a trip to the Temple Theatre, located in Sanford, NC. Built in 1925, the historic theater was initially a Vaudeville house, but changed occupations several times to accommodate for the needs of the community. However, with help from the son of the theater's original owner, Temple was named a National Historic Site, and was renovated and reopened in 1984. Catch a show while you're there (templeshows.com). Lastly, take a trip to the U.S. Army Airborne & Special Operations Museum in Fayetteville. According to the website (asomf.org), the museum was established in August 2000, and "celebrates over 80 years of Army Airborne and Special Operations history and honors our nation's Soldiers – past, present, and future."
Rich history coupled with modern-day accommodations makes the Sandhills a lovely "Driveable Destination." Whether you choose to take advantage of the amenities at the acclaimed Pinehurst Resort, or you travel to the region's towns for their other exciting attractions and unique historical appreciation, you are guaranteed to have a wonderful vacation. So, without further ado, I wish you a splendid stay in the Sandhills!
Grace Lower
Grace Lower is a recent graduate of Heritage High School, and will be attending UNC-Chapel Hill in the fall. Grace enjoys dance, theater, science, and all things outdoors.