Driveable Destination
The Edenton Experience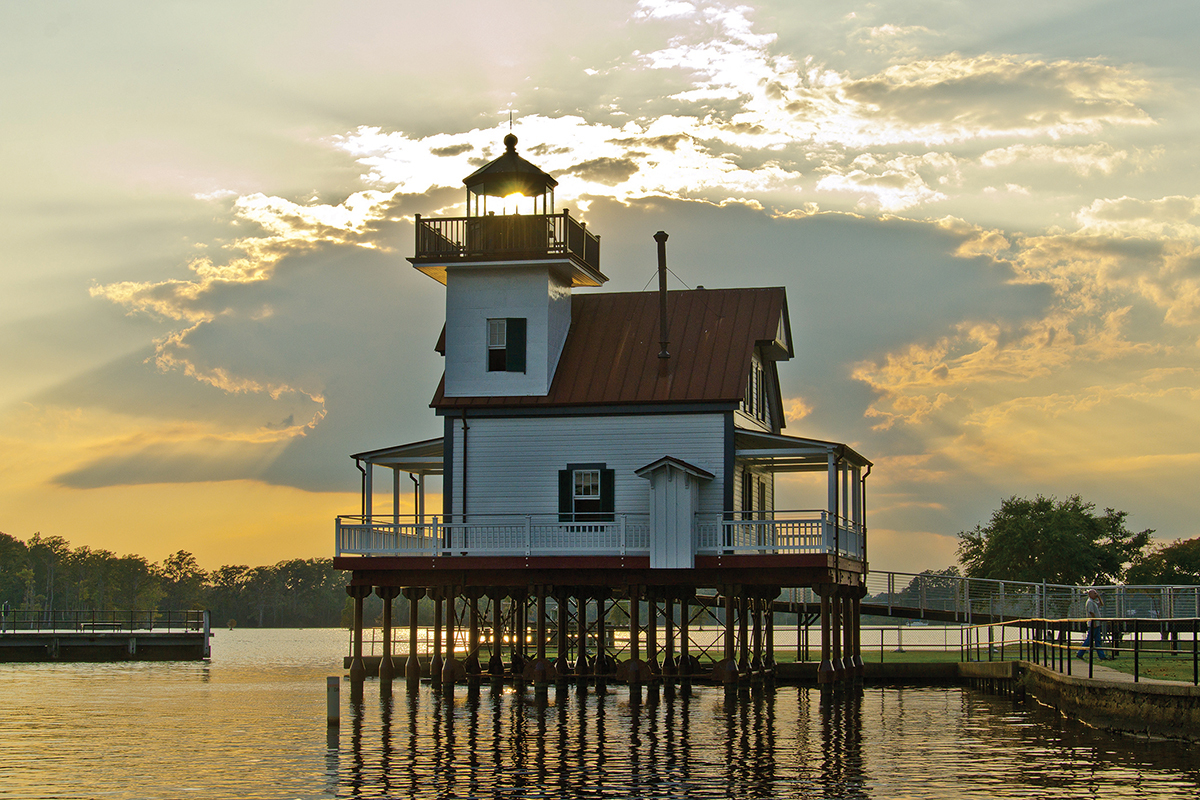 Edenton, North Carolina – the prettiest small town in the South. Home to amazing architecture, long-standing lighthouses, historic homesites, and more, Edenton is surely a sight to behold. Located in Chowan County, Edenton has played a thorough role in North Carolina's vast history.
While Chowan County is NC's smallest geographical county at only 233 square miles, its position as "the cradle of the colony," as well as its many modern-day attractions, exemplify quality over quantity. Visit Edenton shares that Chowan County was founded in 1668 by English settlers, and was originally named Shaftesbury Precinct of Albemarle County. Around 1681, the area was given the name the Chowan Precinct, after the Chowan River and Chowanoac Indians native to the region (alongside the Weapemeoc Indians). Edenton, the seat of the county, was initially known as Roanoke and later the Town of Queen Anne's Creek; finally, it was renamed Edenton after NC Governor Charles Eden when the town was incorporated in 1722.
The picturesque waterfront town played a major role in colonial America, as it was home to many famous patriots and revolutionaries, as well as important figures in state and national government. A distinguishable historical event is the Edenton Tea Party of October 1774. Fifty-one women conducted the protest against taxation without representation. Penelope Barker is credited with gathering the women and information needed to organize the event; today, the Penelope Barker house is a landmark and welcome center. Visit the building for maps, trolley and tour information, and a gift and book shop. In addition to the beautiful Barker House, other historic sites include:
– 1767 Chowan County Courthouse, described as the most intact colonial courthouse in the U.S.;
– 1886 Roanoke River Lighthouse, which operated from 1887 to 1941;
– Cupola House, built in 1758 by Francis Corbin, an agent of Lord Granville (one of eight Lords Proprietors);
– Iredell House Homesite, home of NC Superior Court Judge, American Revolution Attorney General, and Associate Justice of the first US Supreme Court James Iredell, and birthplace of son NC Governor James Iredell Jr.;
– St. Paul's Episcopal Church, the second oldest church in North Carolina, with a historic cemetery;
– Civil war sites, including: War on the Chowan River/Buffalo, Battle of the Albemarle Sound on Edenton Harbor, and the Edenton Bell Battery;
– Edenton Cotton Mill Historic District, consisting of 57 mill houses, office and industrial buildings, and First Christian Church, all dating to the late 1800s/early 1900s;
– Maritime Underground Railroad, which helped enslaved people escape via ships. Abolitionist Harriet Jacobs' escape from slavery in 1842 is one of very few written accounts.
With its multitudinous must-sees, Edenton is guaranteed to provide an enjoyable and educational experience. However, not only does the quaint town have wonderful sights, it has plenty of activity to keep you moving. Put on your walking shoes and partake in a guided or self-guided tour, or travel on a tranquil trolley ride. Absorb the peaceful ambience of Edenton through birdwatching, golfing, or exploring luscious walking trails. Looking for something with a little thrill? Kayaking, canoeing, stand-up paddleboarding, fishing, boating, and sailing in the Chowan River and Albemarle Sound are great fun for the whole family. (Watersport gear is available for rent through Edenton Town Harbor.) And the outdoor enthusiast might try camping at Bennett's Millpond, or Holladay's Island or John's Island Camping Platforms. Also, the Wharf Landing Marina is a full-service marina with many accommodations available, including slip rentals.
It is evident that Edenton has plenty to keep visitors entertained. To make the trip comfortable and easy all-around, the town hosts a variety of places to stay. Choose from one of the stunning historic inns, or reserve a lovely vacation rental. Additionally, hotels, motels, boat slips, and RV campgrounds are available as well. As for dining, Edenton has a large selection of local coffee shops, luncheonettes, restaurants, and fine dining facilities for any occasion you desire. Not to mention, Edenton is a short two-hour drive from Wake Forest via US-64 E, making it a great destination for weekend getaways and weeklong trips alike.
All in all, Edenton's presence as a picturesque yet prominent community is sure to provide a memorable visit. The vast historical significance of the town, coupled with its modern amenities and activities, makes the Edenton experience a perfect "Driveable Destination."
Many thanks to Visit Edenton and the Edenton-Chowan County Tourism Development Authority (visitedenton.com) for providing much of the information included in this article, and to Kip Shaw Photography for the featured photos.

Grace Lower
Grace Lower is a senior at Heritage High School, and is part of the CIRCA family by birth, and now by interning. Grace enjoys dance, theater, science, and all things outdoors.