Driveable Destination
The Beauty Of Blowing Rock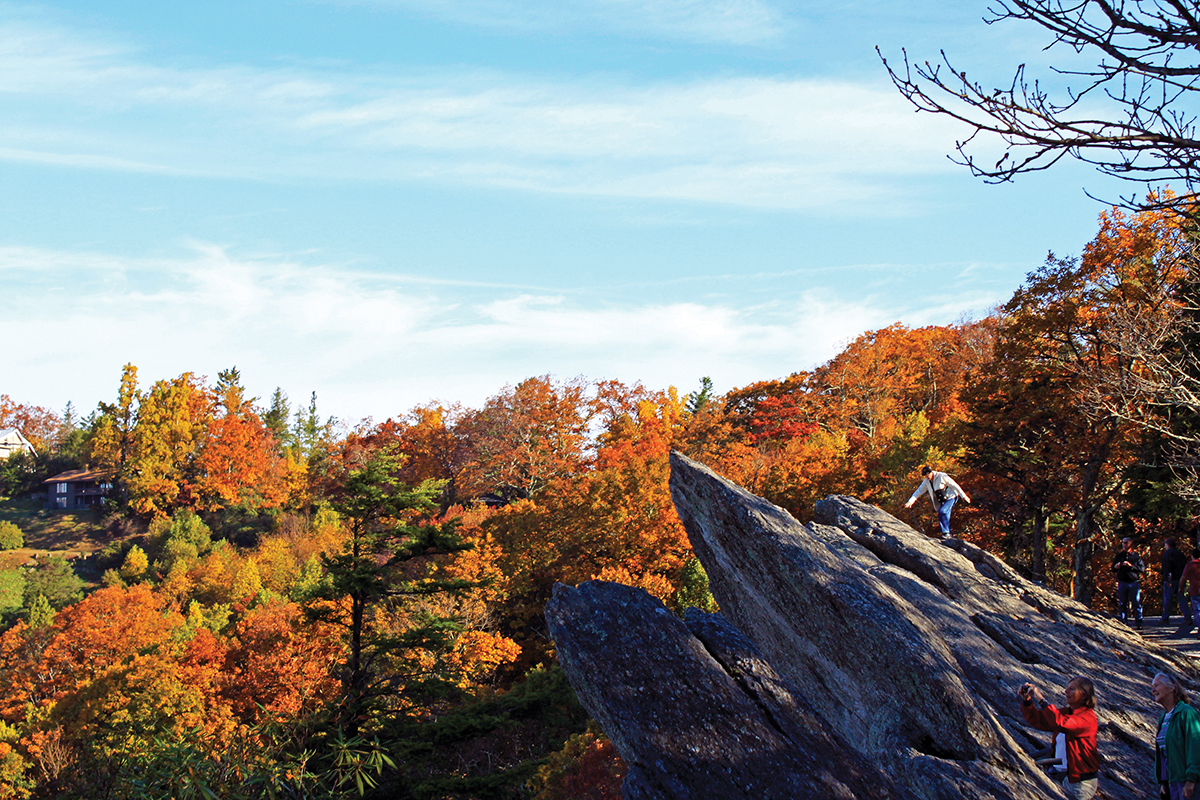 When I picture autumn, I envision hues of orange, red, and yellow sweeping across breathtaking landscapes. I imagine the bite of a crisp fall breeze on my cheeks, and a pep in my step as I hike a scenic trail through the woods. I smell the scrumptious scent of a freshly-baked apple pie wafting in from the kitchen. I feel the warmth of decadent hot chocolate in my hands as I'm wrapped in a cozy blanket, seated with my loved ones around a blazing campfire. Visualizing sanguine scenes of autumn brings a sense of tranquility, and what's special is that each of these scenes can be found in a lovely little town in the mountains of North Carolina: the beautiful town of Blowing Rock.
Blowing Rock is one of my absolute favorite places to visit. I have traveled to the mountains of North Carolina annually since elementary school, and of all the picturesque cities and towns I've visited, which have each provided memorable experiences, Blowing Rock just feels like a home away from home. Combine gorgeous autumnal scenery, friendly residents, a delightful downtown, and fun for the whole family, and Blowing Rock is a most delightful driveable destination for fall.
Located about three hours from Raleigh, Blowing Rock is situated in North Carolina's High Country, a bountiful region that exhibits rich history and stunning views. Not to mention, the activities the town has to offer are endless. I have always been drawn to Blowing Rock for its essence – the history, the people, the charm. Speaking of history, one of the most interesting parts of Blowing Rock is the town's namesake – The Blowing Rock. The legend of The Blowing Rock is an integral part of the region's history, and goes as follows: Settlers began arriving in the region, and a Chickasaw chieftain grew apprehensive as a settler took a liking to his daughter; so the chieftain and his daughter traveled from their home in the plains to what is now known as the High Country. The Chickasaw daughter subsequently fell in love with a Cherokee man. One day, the lovers were drawn to a cliff as the sky produced a radiant red. The man perceived the fiery sky as a warning to return to his Cherokee tribe. However, he was torn – should he leave the woman he loved and go back to his home? Overcome by indecision, he chose instead to leap off the sky-high cliff, into the deep valley. The Chickasaw woman prayed each day to the Great Spirit, hoping that the man would rise from below. One day, to her delight, the man was lifted upward by a gust of wind from the valley, landing upon the rock. It is said that an upward wind has blown there ever since – hence, "The Blowing Rock." (Information courtesy of theblowingrock.com.)
The legend of The Blowing Rock is just one of the important facets of the town's unique history. To learn more about legends, history, wildlife, and geology of The Blowing Rock, be sure to add it to your list of attractions to visit. Along with stunning skylines and a great learning experience for both parents and kiddos, the property has walking trails, observation towers, and a waterfall. Weddings, events, and school / group tours can be hosted as well. See theblowingrock.com for more information.
In addition to maintaining a rich history, the town of Blowing Rock is a lovely driveable destination that has something for visitors of all ages and interests. Young children and seniors alike can enjoy a charming downtown, adorned with ambient lights and friendly locals. As you stroll through downtown Blowing Rock, you'll smell delicious scents floating from yummy restaurants, hear sounds of laughter from children enjoying Broyhill Park's playgrounds, and see adorable items placed neatly in the windows of local shops. Once you walk down the main strip, you'll know exactly what I mean when I say that Blowing Rock feels like a home away from home. Head to the town's Chamber of Commerce website for a comprehensive list of restaurants and shops to visit.
Not only does Blowing Rock possess a bountiful yet quaint downtown, there are also plenty of activities to venture out and experience. Throughout the year, thrill-seekers can enjoy ziplining over the Blue Ridge Mountains' beautiful landscapes and mountain biking on the countless scenic trails of the region. When temperatures are warm, whitewater rafting is a popular activity as well. Fall and winter in the Blue Ridge Mountains expand the list of activities even more, for snow tubing and skiing ramp up as temperatures go down. As a nature-lover, my ideal activity when visiting the mountains – especially Blowing Rock – is hiking. And the best part of hiking is that it's customizable to the needs and wants of your group. One of my favorites, the Glen Burney Trail, is a moderately-strenuous hike located directly off the main downtown strip. According to FalconGuides Hiking North Carolina, (which I bought in a store in Blowing Rock!), the path is several centuries old and was initially used for timber transportation and logging. The trail also features the Cascades, a splendid cascading waterfall, as the name suggests. Other trails in the area include Green Knob Trail, Boone Fork Trail, and Price Lake Trail, all located at Julian Price Memorial Park – a treasure located just four miles outside of Blowing Rock. Additionally, Moses H. Cone Memorial Park houses a variety of trails and a fascinating history, so be sure to check it out, too. This list is certainly not comprehensive, as North Carolina's High Country is littered with extraordinary trails, peaks, waterfalls, and scenic views. Take my suggestions and use them as inspiration when researching which of the many awesome trails you'd like to try.
Other attractions that make Blowing Rock so special include gem mining, museums, the magic of Mystery Hill, art galleries, fishing ponds, horseback riding, and of course, Tweetsie Railroad (which was closed as of press time, but is a must to visit when it reopens). If you've got the time, I recommend any and all activities you can squeeze in, as each provides unique and lifelong memories. One of the most grand features you'll need to visit is the magnificent Grandfather Mountain and Mile High Swinging Bridge. I've crossed the bridge several times, and believe me, it's an adventure like no other. Another great aspect of Blowing Rock is its central location. Day trips to neighboring towns like Boone, Banner Elk, Valle Crucis, Sugar Mountain, and Beech Mountain (and so many more) are fairly easy, and allow you to get the whole High Country experience. Check out nearby Linville Falls for nice trail hikes and one of the most jaw-dropping views of the region. Be sure to look for local roadside restaurants and produce markets, too. And when it comes to housing, Blowing Rock offers a plethora of options, including cabin rentals, inns, local hotels/lodges, and even camping for those outdoor enthusiasts!
I must mention Blowing Rock's fabulous holiday happenings. Simply driving through the town around the holidays brings cheer and jolly feelings. You won't want to miss Blowing Rock's annual "Christmas In The Park" and "Lighting of The Town". According to the Chamber of Commerce, the festival occurs the Friday after Thanksgiving, with a parade on Saturday. You're guaranteed an entertaining introduction to the holiday season for the whole gang. Also, my family has formed a gratifying tradition in which we travel to the mountains for a "Choose and Cut" Christmas tree from one of the many tree farms – it's a great way to support local businesses and our state's economy, too!
It's not difficult to see that Blowing Rock has something for everyone. I've said it before, and I'll say it again – Blowing Rock truly feels like a home away from home. With welcoming locals, intriguing historical happenings, and activities for all ages, the town is definitely something special. I cannot wait for my next visit, and I hope you'll enjoy your vacation at this delightful "Driveable Destination!"
Due to the governor's current orders issued in response to the COVID-19 coronavirus, it is highly recommended to call or visit the websites or social media platforms of businesses and attractions before your visit to ensure they are open, their hours, etc.
Photo of fall foliage at The Blowing Rock attraction courtesy of Amanda Lugenbell.
Grace Lower
Grace Lower is a recent graduate of Heritage High School, and will be attending UNC-Chapel Hill in the fall. Grace enjoys dance, theater, science, and all things outdoors.