Driveable Destination
Up The Road In Granville County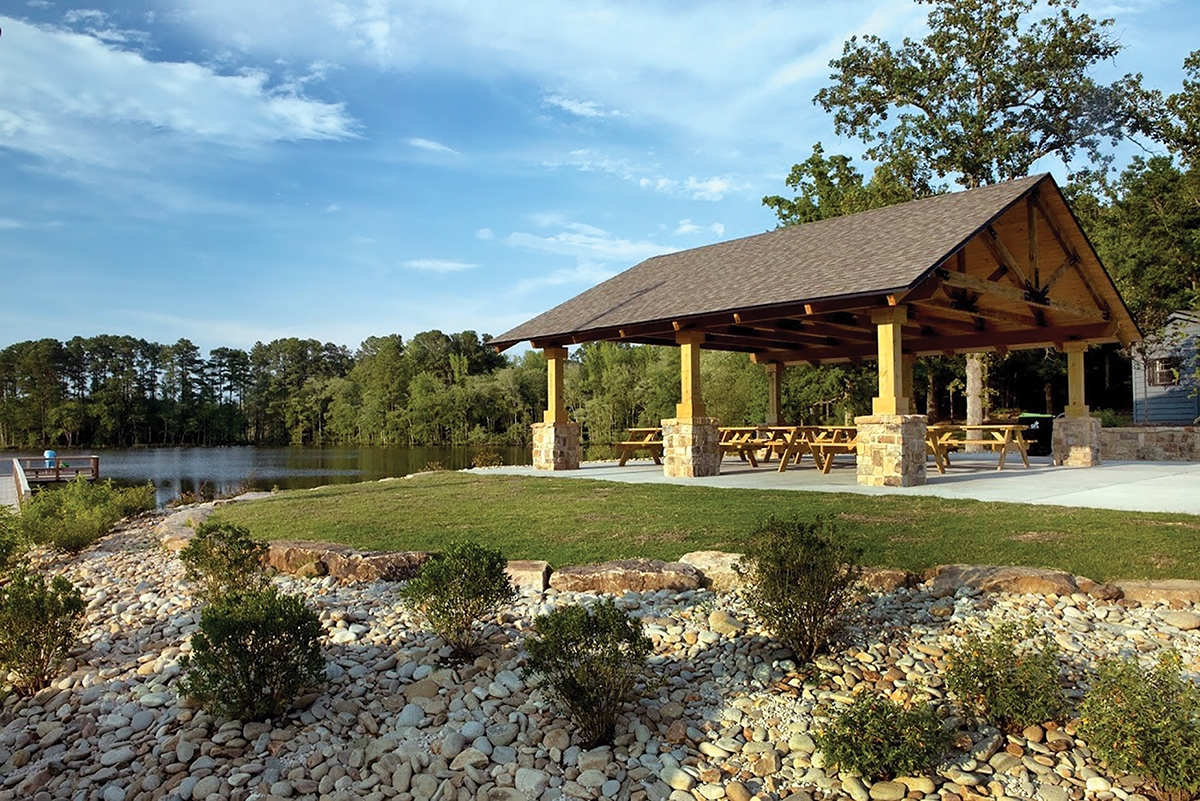 Winter is finally over, and while it wasn't the coldest one on record, we certainly had our share of wet, chilly, yucky days. Spring in North Carolina is the perfect time to get out of the house for some fun.
You don't have to go far for day-tripping activities. Head west on N.C. 98 and north on N.C. 50 and you'll find yourself in this issue's "Driveable Destination" – southern Granville County. It's a pleasant drive through the countryside and along Falls Lake.
Not far from the county line at 1150 Fleming Road is Cedar Creek Gallery, a hideaway den for artists and artisans. Their indoor-outdoor studios cluster around the gallery proper, which is full of wonderful and beautiful pottery, handmade glassware, and metal-worked object d'art. Anytime is a good time to visit the gallery, but it'll be in full swing for the annual Spring Pottery and Glass Festival on the first two weekends in April. Also of note is the gallery's National Tea Pot Show from May 16 - September 7. Held every third year, the tea pot emporium will showcase 200 tea pots made by more than 150 of the most accomplished North American artisans, many of whom will be in attendance opening day to introduce their selections and discuss their motivation.
"Our products and approach are focused more on 'crafts' than pieces of 'art,'" says Jennifer Dolan, general manager of Cedar Creek. "We can see how someone holds the piece and tell if they are buying it for themselves or as a gift. They almost cradle it ... wanting to hold it dear."
Motor on up N.C. 50 and you'll get into Creedmoor proper. One of those Triangle towns that's growing with the times but still hasn't gone the way of the suburb, Creedmoor has a few destinations worth checking out. One of those is the Owl House Café, a French-American family-owned shop right downtown at 209 N. Main Street. The café features subs and burgers, espressos, and all-day breakfast, and is getting a reputation for its pastries and sweets. Think mouth-watering crepes, macarons, eclairs, cannolis, chocolate lava muffins, cheesecakes, homemade ice cream, and 14 kinds of shakes. "The desserts are delicious," notes Nany Velez in an online review.
Once you've caloried-up, consider getting in a little exercise and scenery at Lake Rogers Park. Located on 175 acres just northwest of downtown Creedmoor, the park has just undergone a massive renovation and includes a fishing deck, boat launch, and a new scenic walking trial. "It's a great place to go paddle boating," says Angela Allen, executive director for the Granville Tourism Development Authority. "You can put your kayak out there and have a picnic. On First Fridays in Creedmoor, there are movies at the lake."
Just southeast of town is The Gauntlet, for those with a mind for more serious physical fitness. Situated at 2186 Brassfield Road, the public trail houses fitness stations including log hurdles, jumping box steps, a sit-up bench, vault bar, and the like, on a 1.1-mile run.
If you're in the mood for a little berry picking, check out Lyon Farms, at 1544 Munns Road, southwest of Creedmoor. Its strawberry season opens April 20, and the kickoff celebration that day boasts pre-picked and pick-your-own strawberries, strawberry ice cream, and strawberry bread. Yum!
From Creedmoor, head west on N.C. 56 and you'll be in Butner in no time. While its proximity to I-85 has made Butner ideal for manufacturing and other employers, its quaint downtown is the setting for the most serious business of all – seeing which local group can lay claim to making the absolute best BBQ chicken during the town's annual Chicken Pickin' festival. "It's held under these big oak trees in Gazebo Park. You can literally bring a lawn chair, set it down, and stay all day," says Allen. This year's event takes place June 6, and in addition to the cook-off at 11:30 AM, includes bands, a car and tractor show, kiddie rides, and of course, lots of barbecue chicken. Kinda hard to wait, isn't it?
Twenty minutes north of Creedmoor is Oxford, the Granville county seat. The town has two farmers markets, a historic home walking tour, and an annual hot sauce festival in the fall. Nearby are Lake Devin, a tranquil site for fishing and boating, and Wilton Slopes Park, which is the starting point for the Tar River Paddle Trail.
There's one place in downtown Oxford that's a must-not miss – Tobacco Wood Brewing Company, the state's first female veteran-owned brewery, at 117 Wall Street. There they feature a number of their own craft beers, including the militaristically named Bulletstopper Ale, 565 Red Ale, Marvin the Marzen, Eskimo Brothers Porter, and Not For Nothin' Triple IPA, among others. Seven of their beers won awards at the Carolinas Championship of Beer, and they took a silver in Amber Ales at the NC Brewer's Cup.
U.S. Army vet Mara Shelton, known as "CO" at the brewery, runs the place with her husband Paul. "Our command structure very much reflects the military, everyone knowing not only their job, but the responsibilities of those around them as well," she describes. Her kitchen team includes her "XO" Stephanie Kluttz, a former Navy Petty Officer with experience in scheduling and supervision, and brewmaster Matt Bisceglia. But lest we take that metaphor too far, note that the food is nothing like Army fare. They specialize in traditional barbecue, flatbread, eggrolls, and loaded potatoes, among other food. Modeled after pubs in England, Tobacco Wood is a gathering place. You may see children playing oversized Connect Four and other board games while their parents finish their meal and enjoy a casual glass of beer. Little League teams (some sponsored by the brewery) come in after games. "We chose here because of the people and the beautiful downtown which has endless potential," Shelton adds. "Our mission is to not just to have a business, but to contribute to the charm and growth of Oxford."
Sounds like just the place to end a good day in Granville County.
Photo courtesy of Granville Tourism Development Authority.

David Leone
A former newsman who still very much enjoys writing, reading, and photography. He currently works at Page 158 Books and Play4Life Comics, both in downtown Wake Forest.