Driveable Destination
Granville Haunt Farm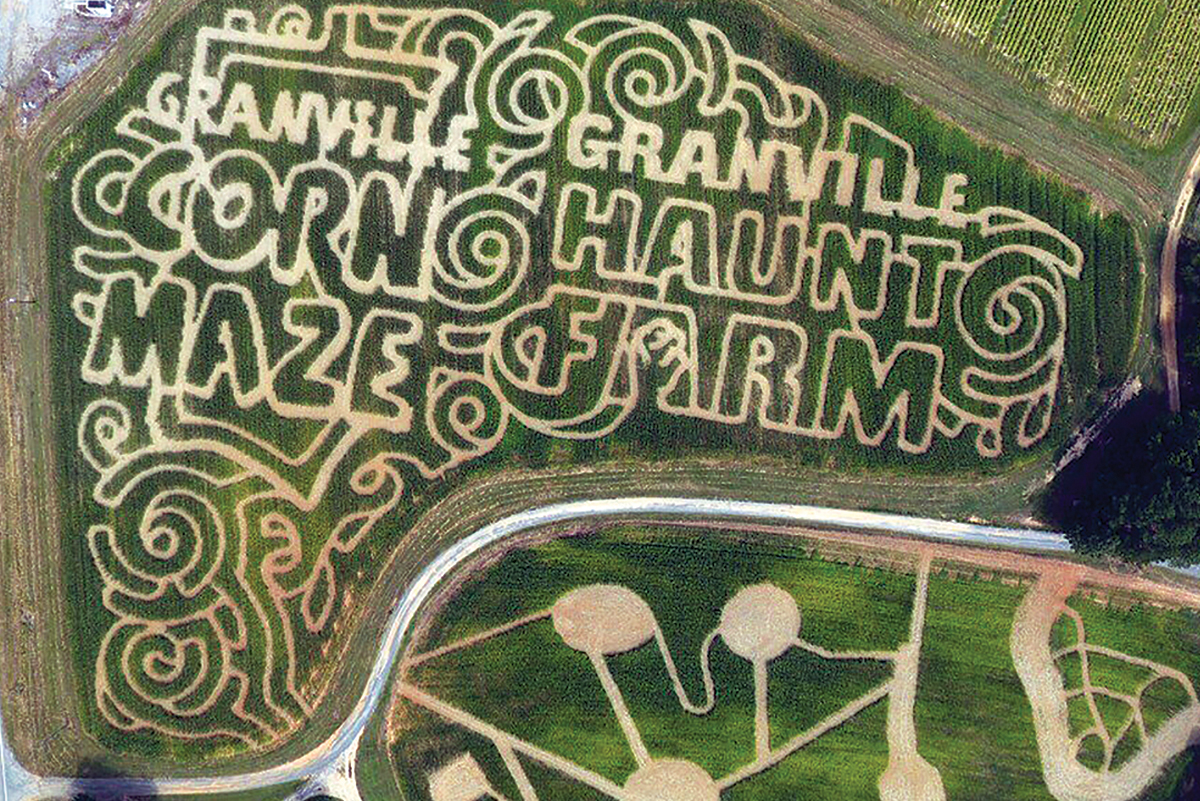 From haunted houses to corn mazes, central North Carolina has a fine selection of spooky Halloween experiences from which to choose. This time around we're featuring one of the newer offerings. Granville Haunt Farm, located just outside Oxford in Granville County, is embarking on its third year in the scare business and is definitely worth a visit. This is a place where the hosts take the usual mix of ghosts, zombies, and darkness, and toss in a few unexpected twists to create an expertly customized outdoor experience.
For instance, the Granville Haunt Farm doesn't provide an ordinary hayride. Instead, visitors climb aboard a "Zombie Attack Vehicle" outfitted with paintball guns mounted on both sides. Each rider receives 150 paintballs before the ride ventures into deep zombie territory on a mission to save the world from an invasion of the living dead. A fan favorite in 2016, this year's event has added one more vehicle and implemented a plan for timed ticketing to prevent extended wait periods. Visitors are also allowed to purchase additional paintballs for extra zombie extermination power. Another new development this year is the total transformation of a five-acre corn field into a Haunted Trail packed with scenes, actors, and props designed to provoke even more spine-tingling chills. And for those who prefer their corn without the ghouls, there's a separate, self-guided maze in a seven-acre section apart from the other attractions. Here you can hunt for checkpoints or search for clues in the "Monster Mystery" game.
Social media is typically a good gauge of how well these events are pulled off, and this time is no different. Fans rate the Granville Haunt Farm as "moderately scary" and appropriate for ages 11 and up. (Children under 12 must be accompanied by an adult.) Past visitors were impressed by the significant improvements between years one and two, and can't wait for the changes promised for this new Halloween season. Reviewers also comment favorably on the farm's attention to amenities. There are friendly ticket attendants, a well-stocked concession stand with hot chocolate and snacks, and adequate parking.
The Granville Haunt Farm kicks off its seasonal hours on October 7 and is open throughout the month on Friday and Saturday nights from sunset to 11:00 PM. Nighttime hours also include the run-up to Halloween on October 29, 30, and 31. Daytime hours begin on October 7 and extend from 10:00 AM to 2:00 PM on Saturdays and Sundays. Guests can pay to experience their scares one at a time for fees that range largely from $10 to $15 per attraction, or can opt for a combined ticket that covers the full event for $20. Considerably lower rates are offered if you purchase your tickets in advance at www.granvillehauntfarm.com. Group discounts are also available. So go ahead and get your tickets, and this Halloween season, head on up the road and check out Granville Haunt Farm ... if you dare.
To reach the Granville Haunt Farm from the Wake Forest area, head west on Highway 98 and take the Highway 50 exit heading north through Creedmoor. Merge onto Highway 15 and continue north approximately 10 miles. The farm will be on the right just before the Oxford city limits.
Jennifer Smart
Senior public information and communications analyst with the City of Durham Department of Water Management.