DIY And Springtime
Two Peas In A Pod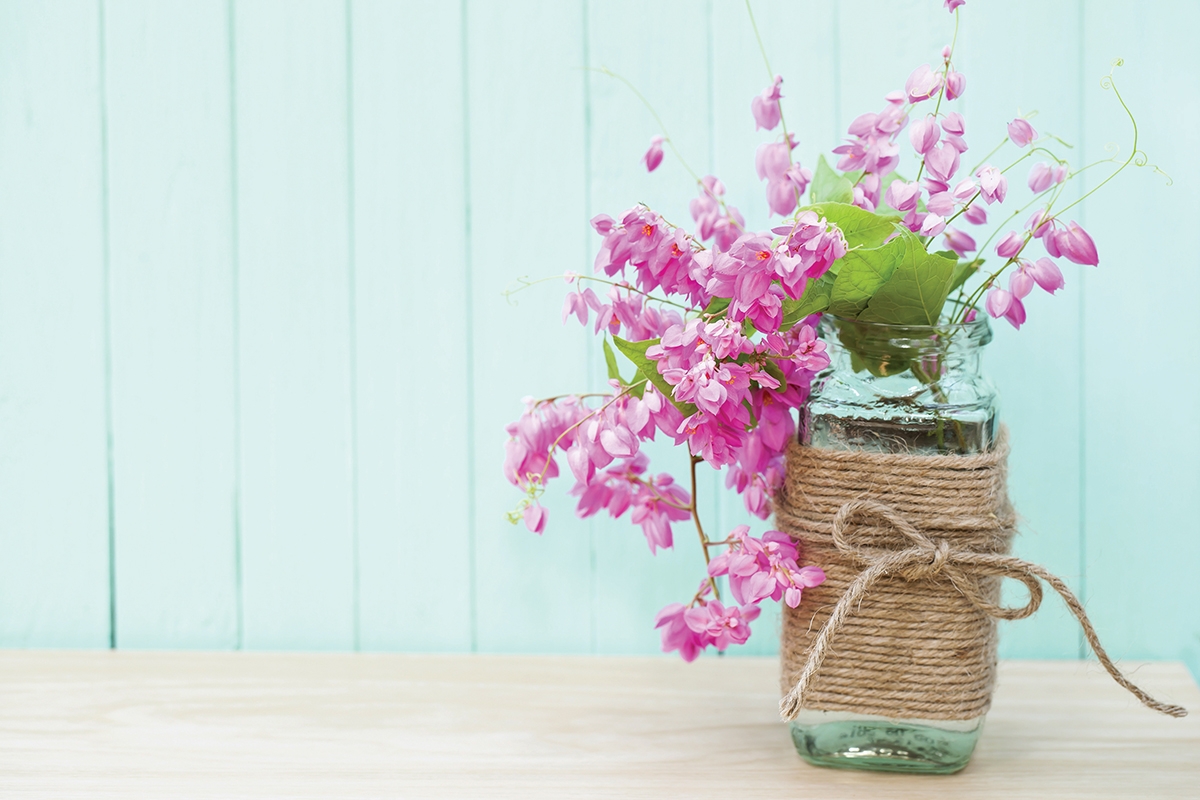 Spring is such a splendid season that breathes new life into everything around us. Flowers poke their heads up from the ground to fill our yards with vibrant colors. Beautiful leaves begin to fill the trees (we won't talk about the pollen, though – just happy thoughts.) Neighborhoods become alive again as we all venture outside after our winter hibernation. And our homes crave a good, deep spring cleaning and some fresh, fun seasonal décor to brighten and lighten them.
This is a time of year when handy crafters jump into the DIY scene and create their own seasonal décor. If you're feeling the urge to tackle your own DIY springtime projects, there are many quick, easy, and creative options for you to make. In fact, Pinterest is full of them. So to narrow the idea search just a bit, I'm here to share just a few to help get you started.
We all have mason or empty glass jars in our kitchen cabinets. These items can easily be spruced up and are so simple to decorate with. All you have to do is pick up some chalk paint at your favorite craft store; grab those jars, the paint, and a paint brush (foam brushes are great for this project, and are cheap as well); slap a couple coats of paint on the jars; and allow them to dry thoroughly. To give them the very popular and trendy shabby chic look, use a small piece of sandpaper to lightly sand the paint in several areas. Seal the painted jars with a spray polyurethane sealant. Tie a little jute cord around the neck of the jar; add fresh, fragrant flowers; and now you have created a sweet vase to add beauty and a pop of color to any space. Or for a more natural texture, simply wrap the jar in twine, tied neatly in a bow, and again grace your creation with a beautiful spring bloom. Group several together for a cheerful centerpiece.
There are so many different DIY decorations you can create with clay pots. Simply pick up some acrylic or patio paint to cover the "red" clay, and start painting. Then with a foam pouncer or two, add polka dots all around the pot, using different sizes and colors. After the paint has dried, be sure to use the previously mentioned polyurethane sealer. Add some bright ribbon or go the more natural route with jute twine tied around the rim; or maybe adhere a few buttons at the top for a little added whimsy. Fill your colorful clay pot with candy or plant a pretty flower in it. These make great end-of-year teacher gifts to show your gratitude for all they do. You can also use several different colors of paint on different sizes of pots, plant brightly colored flowers, and group them on your front porch or patio. What a beautiful and welcoming addition that will add personality to your outdoor living space when the weather is warm.
For an adorable Easter egg garland that will brighten and enhance your Easter décor – as well as provide an opportunity for you and your little ones to spend precious time together – you will need a dozen glitter eggs with ribbon at the top and a dozen glitter mini clothespins and baker's twine in three happy colors. Measure the length of your mantel or the area where you wish to hang it. When determining the length of the twine, keep in mind that the weight of the eggs and clothespins will cause it to hang lower. Attach the twine to no-damage hooks or small nails if you have these already on your mantel. Decide on your spacing and pattern, and simply clothespin the eggs to the baker's twine. You and your children will have a great time making this super cute decoration together.
There are so many more fun and beautiful DIY ideas out there. These are just a few quick and easy ones that you can do in only an hour or two. Borrow ideas from Pinterest and the Internet. Be bold and try something new and different. Just remember to embrace your creative side and enjoy these beautiful spring days.
Dolores Riggins
Co-owner of Southern Suds & Gifts, featuring over 35 craftsmen and artists.