Design Trends
What's Hot And What's Not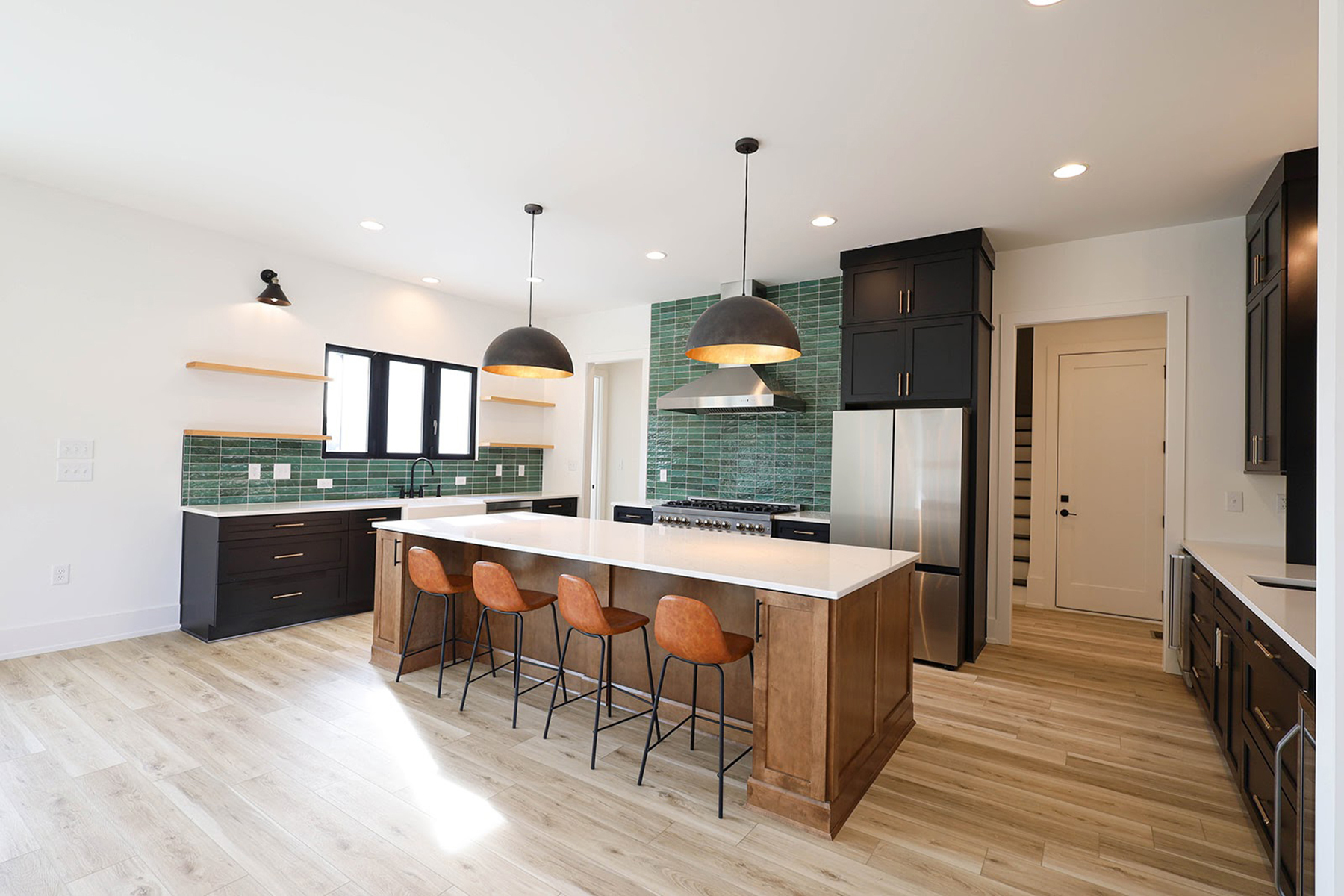 Trends may come and go, but home is forever. However, if you're searching for design trends to upgrade your new home or bring your current interior up-to-date, look no further. We're taking a peek at what trends are gaining popularity, what's on the way out, and what's here to stay.
Natural Influences
If you're scouting for truly trendy inspiration, look no further than your backyard. Natural elements, colors, and textures are rapidly gaining popularity in home decor. Warmer neutrals are taking the place of stark whites. And earth tones such as Sherwin Williams' color of the year, Redend Point, are having a moment. According to Carolina Hewitt, the interior designer for H|W Custom Homes, "Natural warm and earthy tones like terracotta, olive green, and burnt orange are becoming popular for wall colors and furniture upholstery, reflecting a desire for a grounded and calming environment."
On a larger scale, we're seeing an increase in desire for outdoor living spaces, with many new home designs and renovations featuring indoor-to-outdoor living. Screened-in porches, three-season rooms, outdoor kitchens, and outdoor entertainment areas have become highly attractive, particularly among luxury home buyers and owners.
To incorporate this trend into your home decor, bring in warmer colors, add cozy textures, and try a few house plants for greenery (and I promise I won't tell anyone if they're fake).
Rounded Edges And Arches
Harsh lines and sharp edges are on their way out and we're sure to see more rounded design elements this year. Utilizing these rounder elements creates a softer, more welcoming environment. As with many other trends that are rising in popularity, people are turning to more comfortable designs over the stark aesthetics of previous years – think overstuffed, cozy sofas rather than boxier, more rigid designs.
From an architectural standpoint, you can expect to see the incorporation of porthole or arched windows, arched doors, and even archways connecting areas of the home. This will also be seen in furniture and decor with a return to more mid-century modern styles.
Bold Pops of Color
Minimalism is taking a backseat this year. While the last few years saw home designs lean toward bright whites and neutrals to create a "clean" visual, we are currently shifting to the other end of the spectrum. "People are seeking bolder and more diverse color palettes to add personality and warmth to their living spaces," says Hewitt.
For example, paint companies and interior design experts are highlighting this shift in this year's top colors. From Pantone, we have "Viva Magenta," a vivid pink-red shade. Benjamin Moore's pick is "Raspberry Blush," a saturated red-orange. And from Glidden we have "Vining Ivy," a jewel-toned blue-green.
But this doesn't imply that you must repaint your entire home or throw out that all-white sofa you bought last year. Experiment with these fun hues by creating an accent wall, playing with removable wallpaper, or adding some pops of color with throw pillows or accent rugs.
Statement Ceilings
Speaking of which, accent walls are one trend we're continuing to see. But home design experts and builders aren't stopping at walls … we're even seeing a rise in statement ceilings. Particularly in luxury home building, we've seen an increase in exposed wood beams, coffered ceilings, tray ceilings, and wood paneling. These trends are also making way for more playful styles. Expect to see interior design and decor experts experimenting with painting ceilings, adding wallpaper for splashes of color, introducing texture with ceiling tiles, or creating a design with wood trim.
Going Out: Grays
Back to color ... when discussing popular color trends for this year, Hewitt also says that "Gray has also seen a drop in popularity, especially when it comes to flooring. It's cool minimalistic tones are making way for warmer more organic shades." This comes with little surprise as people gravitate towards the aforementioned warmer, welcoming aesthetics. Even within cool tones like blue and green, people are now opting for saturated and vivid shades over neutral grays. With home exteriors, expect to see more warmer whites and natural brick rather than gray and stone to emphasize a cozier vibe.
Here to Stay: Open Floor Plans
One design trend that doesn't seem to be going anywhere soon is open-concept floor plans. "Open-concept designs are popular due to their ability to promote social interaction, enhance natural light flow, and create a sense of airiness and freedom within the home," says Hewitt. It's something buyers in the real estate market have gravitated toward consistently in recent years. Homebuyers are seeking spaces that flow and allow flexibility. And the term "open-concept" isn't limited to fewer walls … many buyers are also drawn to higher ceilings that give the illusion of a larger, brighter space. Space that flows is a design trend that is expected to stick around for a while.
Alicia Arritt
A real estate agent and marketing director with the Morgan Womble Group at Compass. For more information, follow her on Instagram @themillennialrelestateagent and @morganwomblegroup.