Decorating A Winter Wonderland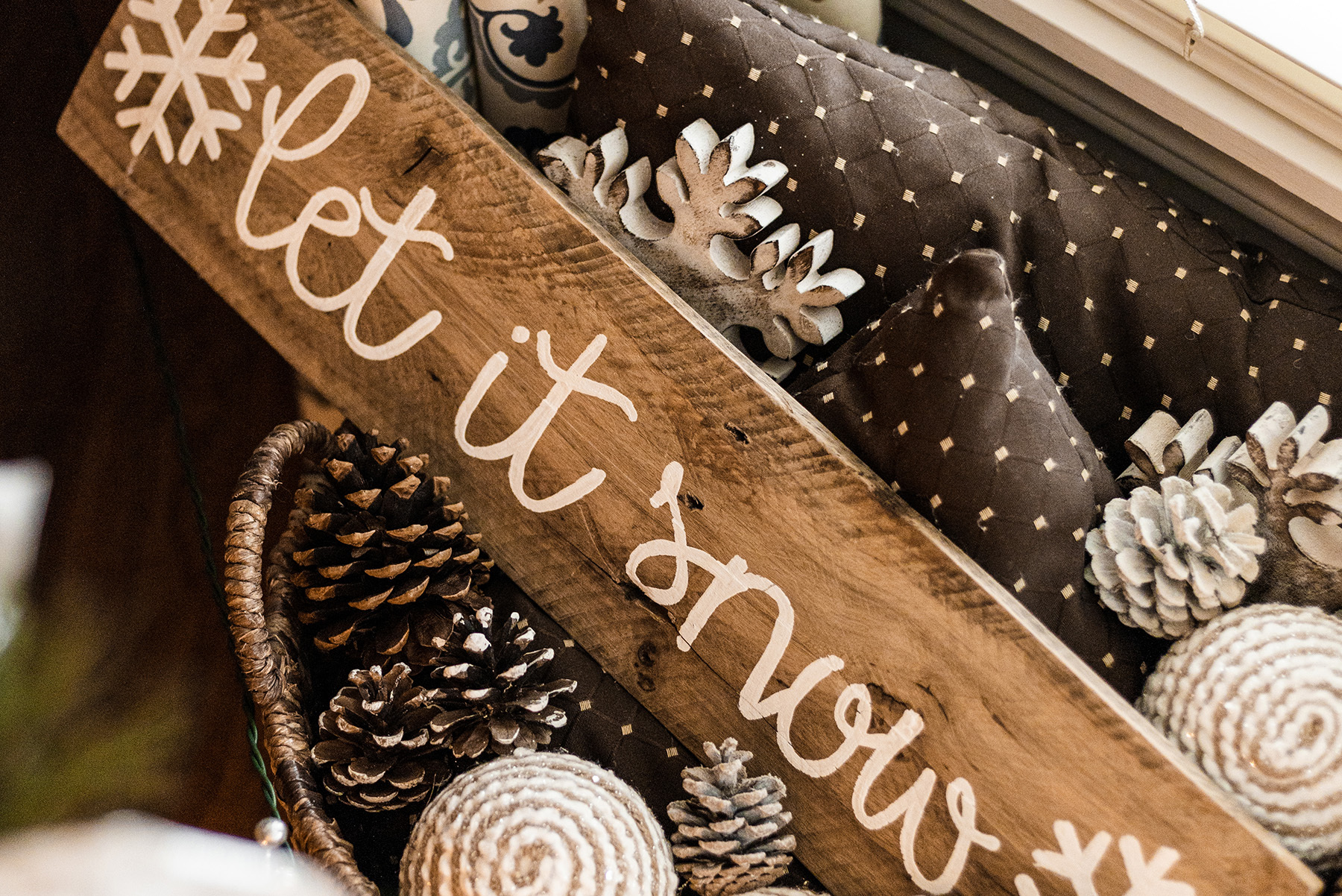 It's a new year and the hustle and bustle of Christmas is over – which means that the holiday decorations have been safely stored away in hibernation. But wait … maybe consider pulling those crates back out for just a bit. Why? Because within them are some decorating items that will seamlessly transition through the winter season, creating a cozy and warm vibe and help keep the winter blues at bay.
Reusing traditional holiday elements such as garland, wreaths, faux trees, lanterns, and candles, as well as adding additional easy-to-decorate-with items such as wood, mirrors, blankets, and baskets can allow you to transform your post-Christmas blank canvas into a winter wonderland.
During the chilly winter months, the fireplace is often the star of the living space. Highlight it by draping garland or other seasonal greenery (think eucalyptus, pine, balsam, juniper, etc.), perhaps with a hint of white, atop the mantel – a great way to bring the outdoors in when the temps are low. Add twinkling lights for a bit of sophistication or pinecones for a more organic look (flocked ones will add a pop of white and softness to your winter mantel). Place white candles in gold or wood candlesticks against the stunning leaves – nothing creates a warm winter glow more. Display a large mirror in a warm-toned metal such as brass, copper, or gold above the mantel to instantly elevate the fireplace to its seasonal focal-point status. This will also allow light to reflect throughout your room, helping to brighten it on those dreary winter days. Or opt for a large wooden snowflake propped on top of the mantel to further welcome winter into your space. A framed chalkboard featuring hand-drawn snowflakes in January and swapped for hearts for Valentine's Day in February, or your favorite winter quote beautifully hand scripted, is a simple way to add that special seasonal flair. Artwork depicting a cozy winter scene is another option. Any type of green, white, or natural wreath can be used to beautifully decorate a winter mantel. Breathe new life into yours by removing all signs of its former holiday life, and embrace its resulting simplicity – when hung above the mantel, it gives a living room instant winter wonder.
When decorating for winter, don't forget the hearth! Place those large lanterns that had previously been boasting brightly colored Christmas balls alongside the fireplace – but now, stuff them with pinecones. Or set out a large basket filled with white birch logs, nestled among white, gray, or natural colored animal decorating items, or pinecones, wooden snowflakes, and a sign manifesting your wish for Mother Nature to "Let It Snow." Lean that old sled or those antique skis you displayed during the holidays by the fireplace next to several white birch branches for a natural element and some vintage charm. Recycle small faux Christmas trees by removing the lights and ornaments and placing them in burlap wrappers – a perfect way to reuse items you already have on hand while inviting fabric and texture into your décor.
Further celebrate this time of year by incorporating winter-themed items throughout the rest of your living space. Place snowflake ornaments that had previously been hung on Christmas tree branches in a clear jar on your coffee table. Display pinecones, fir clippings, or artificial flocked green stems in a neutral wood bowl atop your kitchen table. Chunky blankets draped on an old ladder propped against the wall introduces a cozy and comfy vibe. Or toss a cable-knit throw in a deep and rich winter hue over the sofa or anywhere else you like to relax – not only does it add extra color and texture, it can also easily be accessed when you want to snuggle up with your favorite winter beverage and a good book. Layer white or neutral colored fluffy or fuzzy pillows to your couch or side chair for added warmth, making your space feel clean and inviting. Or if you're craving some cheer to avoid the winter blues, infuse your space with pops of bright color. A few boldly hued pillows will help ensure your neutral spaces don't feel cold and stark like the weather outside. Plus, these elements can help you quickly and easily transition into spring when the temperatures eventually start to climb.
Decor and accessories are great for cozying up your home for winter. But don't forget to set the mood with seasonal fragrances – think relaxing aromas such as eucalyptus, pine, sage, lavender, cinnamon, vanilla, and coffee that will instantly amp up the winter coziness of your home. A large scented candle that slowly melts away as the winter season passes, potpourri placed on tables, flavored water with simple pantry ingredients simmering on the stove top, and essential oils in a diffuser can complete the comforting feel in your home during these chilly months.
Creating a warm, calming, and cozy space to savor during the winter months – especially after the chaos of the holiday season – doesn't have to be a daunting task. With a little imagination, it's easy to create a seasonal sanctuary that will have you embracing Ol' Man Winter's arrival, even if you aren't a cold weather fan.
Miriam Grueneich
Owner of archer + pratt, which offers locally handmade goods.