Decor Dilemma?
Design Tips, Tricks, And Helpful Hints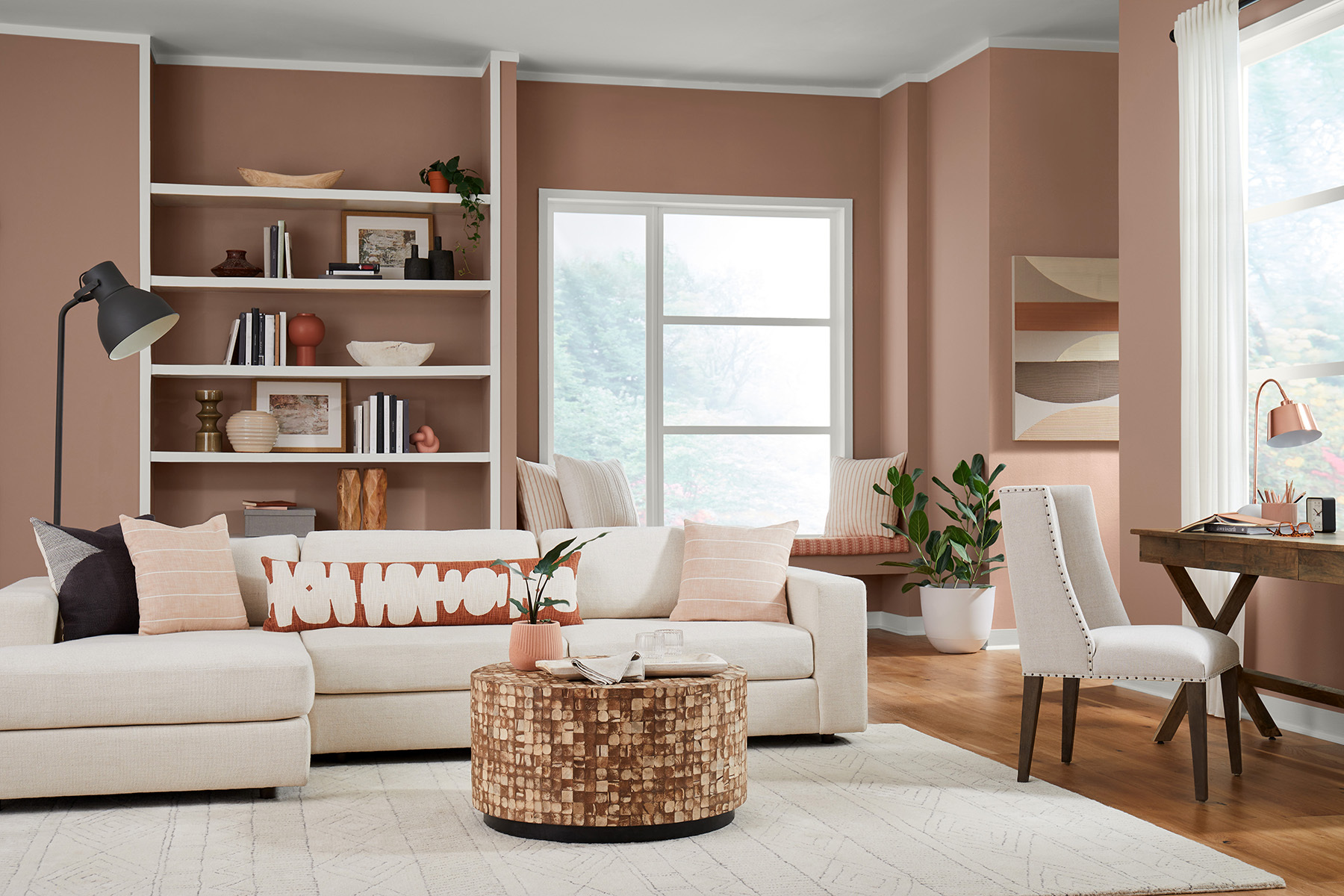 Wintertime often has us envisioning a warm and cozy home. Since the season brings with it cold and sometimes damp weather, we want our indoor spaces to feel like an escape from the outdoor elements. However, a couple of our readers feel like their homes are missing that warmth. If you too would like to create a comfy space, read on while cozying up with a hot beverage to see what you can do to your home to make it a place where everyone feels warm and welcome.
Q: My home has a monochromatic scheme of creams with wood elements, but I worry it feels cold and uninviting. How can I keep the monochromatic scheme that I love but make it feel cozier?
A: When you have a single tone in your home, it is important to bring in many textures. This gives a much-needed decorating splash since you don't have pops of color. For example, if your sofa is a chenille fabric, toss wool, cotton, and embroidered pillows atop it. The chairs in the room can be in the same color scheme, but maybe opt for a tone-on-tone pattern for a little interest. Leather and velvet will add to the textures, making the space even more inviting. And don't forget the rug! This is a great way to add even more texture – perhaps go for a wool or sisal-type. For accessories, embrace some of the wood elements that are in your home and disperse them throughout. Bringing the outdoors in is always a great way to soften a space. Floral pieces – real or faux – can stay in your cream color scheme, but choose different varieties and incorporate bark or sticks that are creamy in color for added dimension. They do not have to be perfectly arranged; remember, nature is natural and not forced.
Q: With the new year upon us, I'm finding myself wanting to kickstart it with updated art and accessories – I'm so tired of the same items I've had for years. But I don't want to spend a ton of money. Any suggestions on how I can breathe new life into my space without breaking the bank?
A: This question always arises when I am helping clients downsize. I get the privilege of going through other people's things with a fresh eye. We all get so accustomed to items in certain spaces that we cannot envision them anywhere else. This year, look at your items from a new perspective. Give the accessories that have been living in your bedroom a new home in your family room. Display that piece of art that is way too small for the wall upon which it is currently hung on a stand on a bookshelf or credenza. If you have faux florals, replace them with a few new stems that are updated and fresh. This is also a great time to update family pictures that you have displayed around the house. We all love that child picture from 20 years ago, but maybe it's time to feature a more current photo. Swapping out outdated frames can instantly update a space. Don't be afraid to spray paint them for an easy and instant facelift. The art or photos will look completely different in a new or freshly painted black frame versus its old, outdated gold one. Just a few tweaks and forgetting where the items were previously displayed can give your living spaces a whole new look, and allow you to kick off 2023 with a decorating bang.
Q: What design trends are emerging for 2023 that can easily transition from winter to spring?
A: There are some exciting decorating trends on the horizon, ranging from windows to nature-inspired designs to statement rugs and more that will carry you from one season to the next. When it comes to windows, sheer, cotton, silk, and linen curtains in light and dusty or neutral colors are all the rage right now – this is a great way to add texture while also lightening up a space. Patterned window treatments are also trending, as long as they aren't too busy and detract from the rest of the room. Statement rugs are making quite the statement right now as well. While neutral rugs are always a safe decorating bet, rugs that also serve as floor art are quite popular right now – this is an easy way to take a design risk without breaking the bank, so you can swap them out as the temperatures start to climb again. Biophilic – or nature-inspired design – continues to be hot, as people favor a more sustainable, eco-conscious way of living. This year, expect to see natural accents like bamboo, rattan, and stone. Display fresh-cut branches throughout your home to bring the outdoors in during the colder months, such as in a wicker or rattan basket on your hearth, or a clear vase filled with small stones atop your kitchen table. Replace with fresh flowers when spring blooms arrive for a great pop of color (and lovely fresh scent as a bonus).
If you feel like taking a bigger decorating leap this year that will completely transform a space, perhaps opt for a new wall color. The new year always ushers in new hues. Sherwin Williams' 2023 color of the year is "Redend Point," (pictured) described on their website as minimal, calming, intriguing, and versatile. It further elaborates, "Minimal yet cozy, this color creates a comforting backdrop for the everyday moments that matter" and is a "thoughtful hue that knows how to reinvent a space in the warmest of ways." Pantone's color of the year is PANTONE 18-750 Viva Magenta, which, as the company describes, "injects excitement and drama into home interiors, energizing any environment with its dynamic vibrancy. Imbued with vim and vigor, a nuanced crimson red that encourages self-expression ... [it] is suited to an array of different materials, textures, and surfaces. Invoking the spirit of nature, a carmine red that does not boldly dominate but instead creates a beguiling presence, whether introduced through a painted wall, art, accent furniture, or home décor, or acting as a bold accent in a pattern."
Photo courtesy of Sherwin Williams.
Rhonda Benvie Plummer
The owner of Help Me Rhonda Interiors and Open Door Furniture & Accents, a furniture and accessories store, in Raleigh. Visit www.helpmerhondainteriors.com or www.opendoorfurnitureandaccents.com, or call 919-263-9054.