Decor Dilemma?
Design Tips, Tricks, And Helpful Hints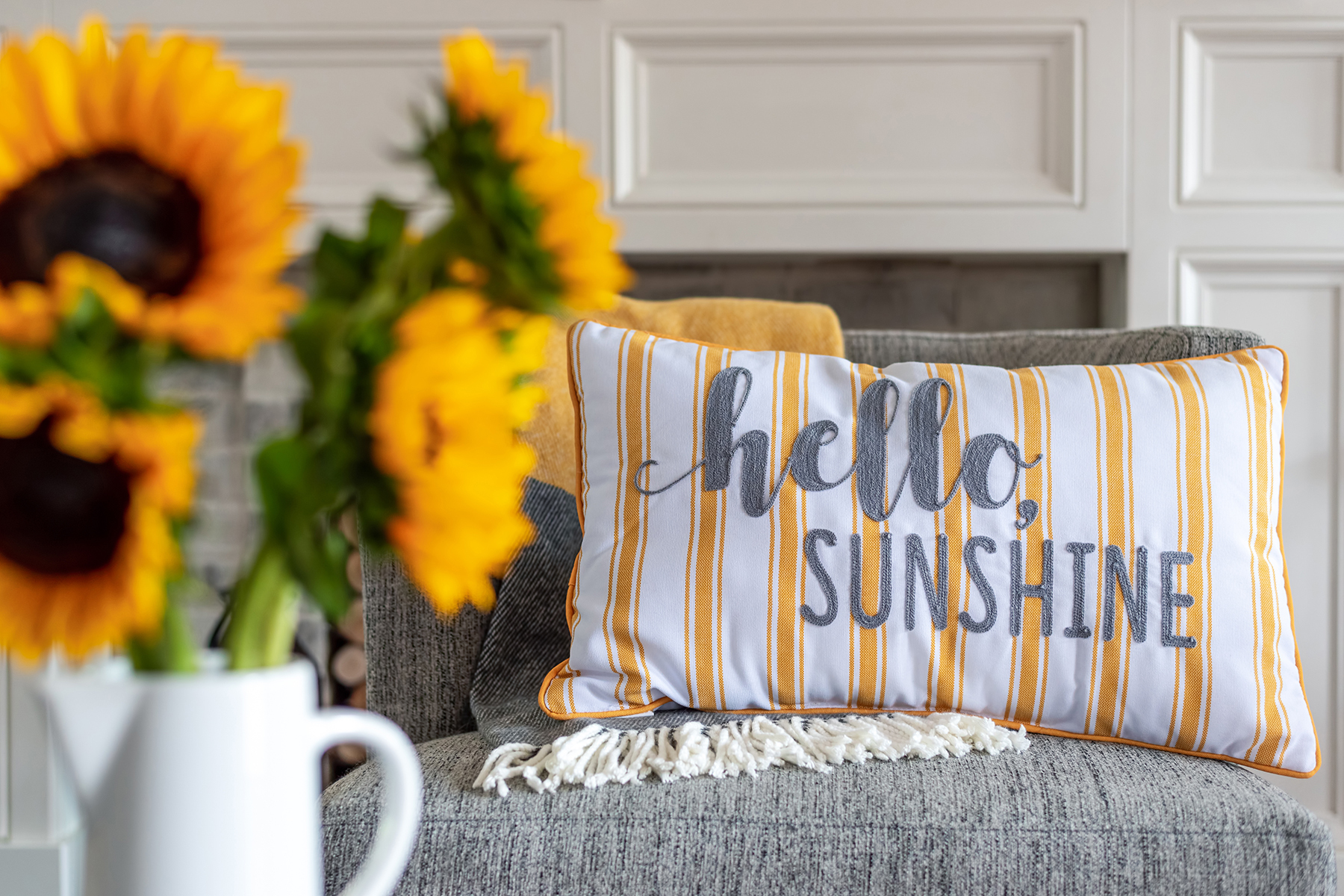 Sweet summertime! A break from school, beach vacations, and afternoons at the pool are what summer is made of. And so are lazy mornings and peaceful evenings lounging on your front porch or back patio. Until that leisure is spoiled as you notice that your home's exterior is in need of a makeover. Or maybe you dread heading back inside because your indoor living space isn't nearly as cheery as your outdoor one. If you fit into either of these scenarios, you aren't alone. Read on for readers' questions about how to incorporate this bright and beautiful time of year into your living spaces.
Q: I have an older brick home and I'm considering painting the brick to brighten and lighten it. I also need to replace the windows. Should I paint first, or tackle the windows first? How do I know if the painting of the brick is being done correctly?
A: Painted brick is not only beautiful, but it has a classic, timeless look. But before you paint, you'll need to replace the windows. This is a great time to decide if you want to make a few windows larger. Or maybe substitute an existing window with a French door for additional outdoor access. Since you will be painting the brick anyway, the brick mason can cut out larger spaces or fill in where you may want to move a window. Most of the time they can reuse the brick, or find brick the same size and texture. Since you will be painting it, the color does not matter.
To ensure the best painting result, I recommend hiring a professional painter. It goes without saying that planning for a few days without rain is a must. Prior to painting, your house will need to be power washed and possibly scrubbed if any mold or mildew is present. Some filling in of cracks with caulk may also need to be done. Priming with a primer that is specifically made for brick is crucial, and spraying versus rolling will get you much better coverage. Remember that brick is porous – it takes twice as much paint to cover brick than siding.
When it comes to picking the shade for your brick, keep in mind that your trim, railings, shutters, front door, etc. will need to be refreshed as well, so select a complementary color for these areas. Different hues of white are the most popular colors for painted brick. However, brick houses are stunning and make quite the statement when painted a color, such as gray or soft black – so if you're looking to make a bit of an exterior transformation, this may be a color route to consider. Think about your shingle color as well – it does matter!
Q: Summer has reminded me just how dark and dreary some of the rooms in my house have become. How do I lighten up these spaces without breaking the bank?
A: For starters, clutter can make a space feel dark and dreary, so I recommend beginning with an accessory refresh. Less is more when it comes to accessorizing a space, and scale is very important. You want to draw the eye up so that a space feels larger, which in turn will make it feel less bleak. Clutter also applies to artwork. In smaller rooms, one big piece of art that fills the space is better than 10 small ones. Busyness makes a small space feel smaller and closed in, so it naturally feels darker.
Mirrors hung opposite a window will reflect light and brighten up a room. If you have blinds or shutters on your windows and do not need them for privacy, remove them – or at least open them up as often as you can. This will allow in natural light, one of the best ways to illuminate a room. Bringing in lighter pillows, accessories (again, not too many!), and rugs will help brighten a space as well. Just remember to keep the color hues consistent. Fresh flowers and greenery add brightness and texture.
New paint is a surefire way to lighten up a space. If your rooms are conveying a dreary vibe, then my guess is your walls are darker toned. If you like that shade, consider painting the room in a much lighter shade. Or embrace change and try a vibrant and cheery hue – don't be afraid of color! And don't forget the trim and ceilings. If they are dark and dingy, then a refresh of a nice white will be an absolute wow for the space.
Rhonda Benvie Plummer
The owner of Help Me Rhonda Interiors and Open Door Furniture & Accents, a furniture and accessories store, in Raleigh. Visit www.helpmerhondainteriors.com or www.opendoorfurnitureandaccents.com, or call 919-263-9054.