Decor Dilemma?
Design Tips, Tricks, And Helpful Hints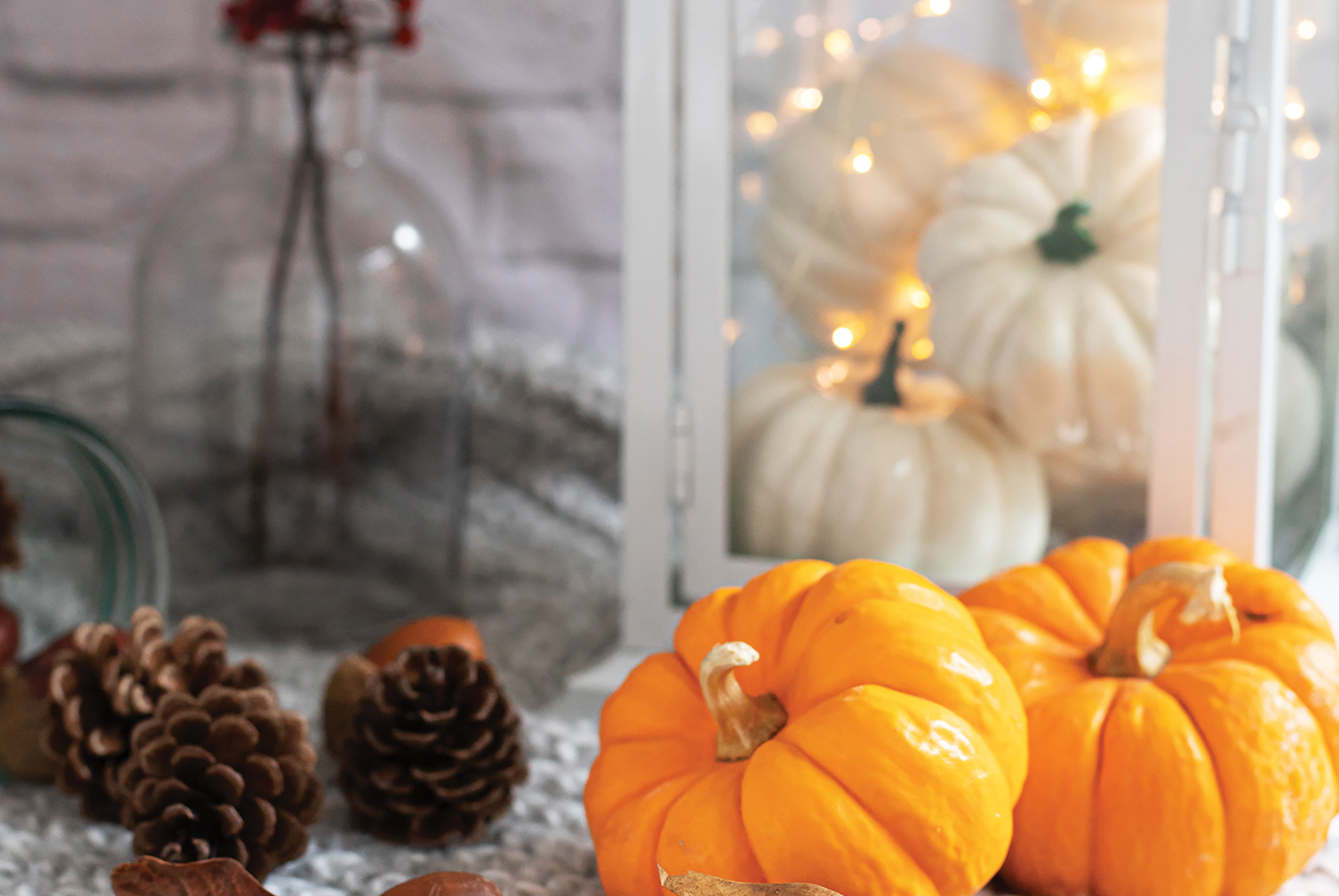 It is that time of year again! Yes, the fabulous season of fall. Fall ushers in cooler temperatures, all things pumpkin spice, changing leaves, and of course thoughts of the upcoming holidays … which means it's time to spruce up our spaces for fun and festive seasonal décor! For some of us, this opportunity is welcomed with exuberance and excitement. For others, decorating anticipation may be a tad overshadowed by a bit of trepidation as well.
Decking your halls for the holidays does not have to be a chore if you have the right items that can easily and inexpensively transition from fall, with its spooky Halloween feel and Thanksgiving focus, to the cheer of Christmas. As a designer, questions and concerns about holiday decorating are always plentiful from my clients. Here are a couple that I am asked on a regular basis along with a question from our readers that I hope will help make this wonderful time of year a season filled with decorating delight rather than decorating dread.
Q: My husband and I are very busy with work and children, especially during these trying times. This year, I don't have much time or energy to decorate for Halloween, then Thanksgiving, and then Christmas, all within a few months of each other. I still want to achieve the festive feel and the spirit of the season, though – there must be an easy way, right?
A: Decorating a home with accessories that can transition throughout the holiday season and still be relevant for each one is great – not only for busy people, but also for the budget! Think about items that can easily be transformed. For instance, as part of your everyday décor you may have a lantern with a candle inside. For Halloween, remove the candle and replace with spooky items like little skulls. For Thanksgiving, simply swap with mini pumpkins or pinecones. Then when it's time to shift to Christmas, replace with colorful ornaments that match your Christmas décor. On top of the lantern, tie a festive ribbon that matches each holiday's theme or color scheme. Tabletop, mantel, or bookshelf frames are also easy transition items – simply replace the photo from everyday use to a holiday-themed piece of art. Think vintage postcards or get creative with your computer and printer … typing up Halloween movie quotes and Christmas carol lyrics in fun and festive fonts can add a little whimsy to any space. Wrap those everyday hardback books on your shelves with burlap for the fall and holiday wrapping paper for Christmas. Have a rustic dough bowl, stunning serving tray, or oblong farmhouse box? Fall-inspired natural elements such as mini pumpkins, gourds, twigs, and leaves displayed in these items can carry you through the first day of October right until it's time to bring the Christmas decorations down from the attic … and then at that time, just switch those items out with colorful ornaments or greenery, berries, and battery-operated lights for a little twinkle. Decorating for the upcoming holidays doesn't have to be daunting – a handful of easy and quick tasks can transform your space. Bonus – utilizing transitional items also means you have less to store!
Q: I love throw pillows, but my husband thinks my obsession with them is ridiculous. I say they can completely change the look of a room. But no matter how hard I try to convince him of this, he does not agree. What is your take on pillows and decorating with them for the holidays?
A: I must say I agree with you 100%! Pillows pull a room together in so many ways. On a normal day, they add texture and color to a room – and this is one decorating item that serves a purpose! So when it comes to decorating for the holidays, they are absolutely the perfect way to amp up the holiday spirit. Who wouldn't experience the Halloween vibe as they sit upon your sofa pillows featuring spooky spiderwebs or wicked witches, or all the fall feels with pillows boasting fall leaves or "Happy Thanksgiving" wishes? One showcasing a vintage Santa Claus is sure to bring joy and cheer to any Christmas couch while invoking feelings of holiday nostalgia. To save on storage space, buy just the covers, and reuse the pillow forms.
Q: The living space in my new home is so tight that I cannot figure out where to put my Christmas tree. I love a big tree, but I know a large one won't fit. The skinny trees are not appealing to me, but I may have to go that route. Any ideas on how to make them look bigger?
A: The skinny tree, also called a pencil tree, is gaining in popularity these days, especially with those whose homes have tight spaces. The key to a pencil tree is to fill it up. If the decorations are scant, the tree will appear sparse as well. Adding ribbon and incorporating other silk plant stems like berries, pinecones, and sparkly items, if that is your style, will add to its depth, visually making it seem larger without taking up the space. For those who have the space for a larger tree but like the look of a pencil tree, think about using three of them in different heights and adorned in complementary decorations. This arrangement is a little different than just the one big tree, and makes quite the holiday decorating statement. Just remember, with a skinny tree, more is more – do not go light on the decorations, and be sure to light it up well.
Rhonda Benvie Plummer
The owner of Help Me Rhonda Interiors and Open Door Furniture & Accents, a furniture and accessories store, in Raleigh. Visit www.helpmerhondainteriors.com or www.opendoorfurnitureandaccents.com, or call 919-263-9054.