Creating Art With Letters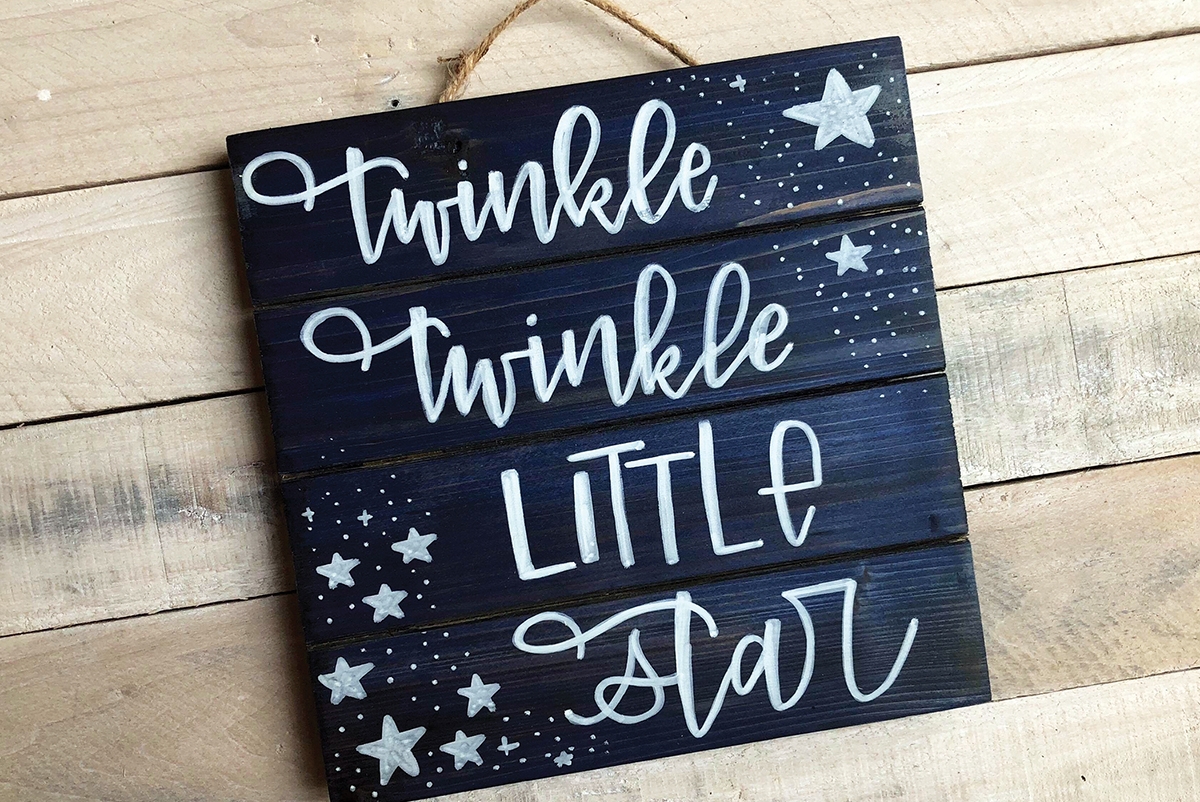 Over the last few years, we have seen the popularity of creating art through lettering absolutely explode. In fact, hand lettering has become one of the biggest art trends around today. People aren't just interested in using hand lettering to simply address wedding or party invitations anymore – nowadays, this beautiful artform can be found just about anywhere. For instance, use your hand lettering skills to create a unique and personal birthday or holiday present. What bride wouldn't appreciate unwrapping a gift and discovering inside a wood plank painted with her and her groom's initials and their wedding date, something they can treasure long after the big day? This expressive artform has also become a very popular interior decorating element – envision the painted name of a newborn gracefully displayed above his or her crib; your favorite quote or bible verse featured on a simple pillow tossed on a rocker; or the menu you've planned for the upcoming week handwritten on a chalkboard hanging on the kitchen wall. Welcome to the world of hand lettering.
Calligraphy – fancy, decorative penmanship – has been around for years and has long been the standard for formal invitations, certificates, and other important items. So then what is hand lettering? Hand lettering is simply drawing letters to form words that express an emotion, a situation, a memory. It truly is using words to create art. While calligraphy is a lettering system where you use a set of basic strokes to create letters and words (with rules you must follow), hand lettering is much less strict, and thus, a great vehicle for self-expression of you and who you are. It allows you to step outside the box. You choose the style, the swish, the swoosh. Don't want your words in a straight line? No problem; they don't have to be! This artistic drawing of letters and words is really just about what you want it to be.
In today's handwriting world, in which calligraphy will likely always be a great option, free expression through lettering has become increasingly popular. Just take a look at Pinterest – it's full of tutorials on how to create beautiful, flowing words on various mediums. There are loads of instructional books and YouTube videos focusing on technique and style, from beginners to experts. And classes for learning the techniques and how to create masterful pieces to highlight these techniques are popping up all around. Bullet Journaling, which allows you to track your schedule and your life, has exploded with the popularity of expressing oneself through writing and drawing. This system truly allows you to combine your organizational side with your creative side through the use of hand lettering.
The explosion of the popularity of hand lettering has provided an opportunity for many stay-at-home moms to tap into their skills to supplement the household income, or to take a little time for themselves and do something they enjoy. It gives them a feeling of accomplishment and allows them to release those creative juices while fashioning a treasured keepsake for themselves or someone else. Others treat it as more of a hobby, as they simply love the sheer beauty of the ebb and flow of the letters and words, the ac-
cents. Hand lettering is not easy. It requires practice. For those reasons, some love it for the sheer challenge of mastering it. Others may tackle a project because they know specifically what they want, and can't find what they're looking for at a retailer.
So was the case for Carissa Sliwinski, founder of Positively Lettering, who creates amazing pieces of art with the hand-lettering technique. Her foray into this art form was two-fold. It all started with a new house … she wanted to decorate her daughter's new room in a specific and special way. So she Googled. She pinned. She shopped. She tried to find the "perfect" font to design pieces herself (she quickly discovered there is no perfect font). In the end, she just couldn't find what she envisioned for Hadley.
Carissa always had a creative side and soon realized that she needed to create that special look herself – so she tried her hand at hand lettering. During this time, she also found that her creative endeavor was helping her to overcome a sad time in her life that was surrounded by a good bit of negativity. She practiced and practiced and soon discovered that hand lettering was allowing her to express her positive emotions and block out that negativity. It healed her spirit and helped her discover a newfound talent, ultimately leading her to start a business that allows her to create beautiful custom pieces she can share with others. Carissa loves the feedback she receives from her customers, and is intensely interested in why they chose what items they did and thanks them each time for giving her the opportunity to make something special for them. (On a personal note, I met Carissa while in line at Michael's last Christmas. We just started chatting and she shared her love for hand lettering with me. I have seen her grow as not just an artist, but more so as a confident person who now gladly shares her magnificent talent with others.)
When learning to use the hand lettering method, the biggest obstacle to overcome is realizing that you make the rules. You decide the style. You decide which words or phrases to use. You choose the colors. You choose the "extras" you want to add. You choose what you want your project or artwork to say to you and others with whom you share it. In the end, the finished product reflects what you are feeling, what you love, and gives you the opportunity to freely express yourself. And besides that, it's fun!
Dolores Riggins
Co-owner of Southern Suds & Gifts, located at 213 S. White St. in Downtown Wake Forest, featuring over 35 craftsmen and artists.