Crazy For Crab Cakes
Carry On Culinary Traditions With This Seafood Staple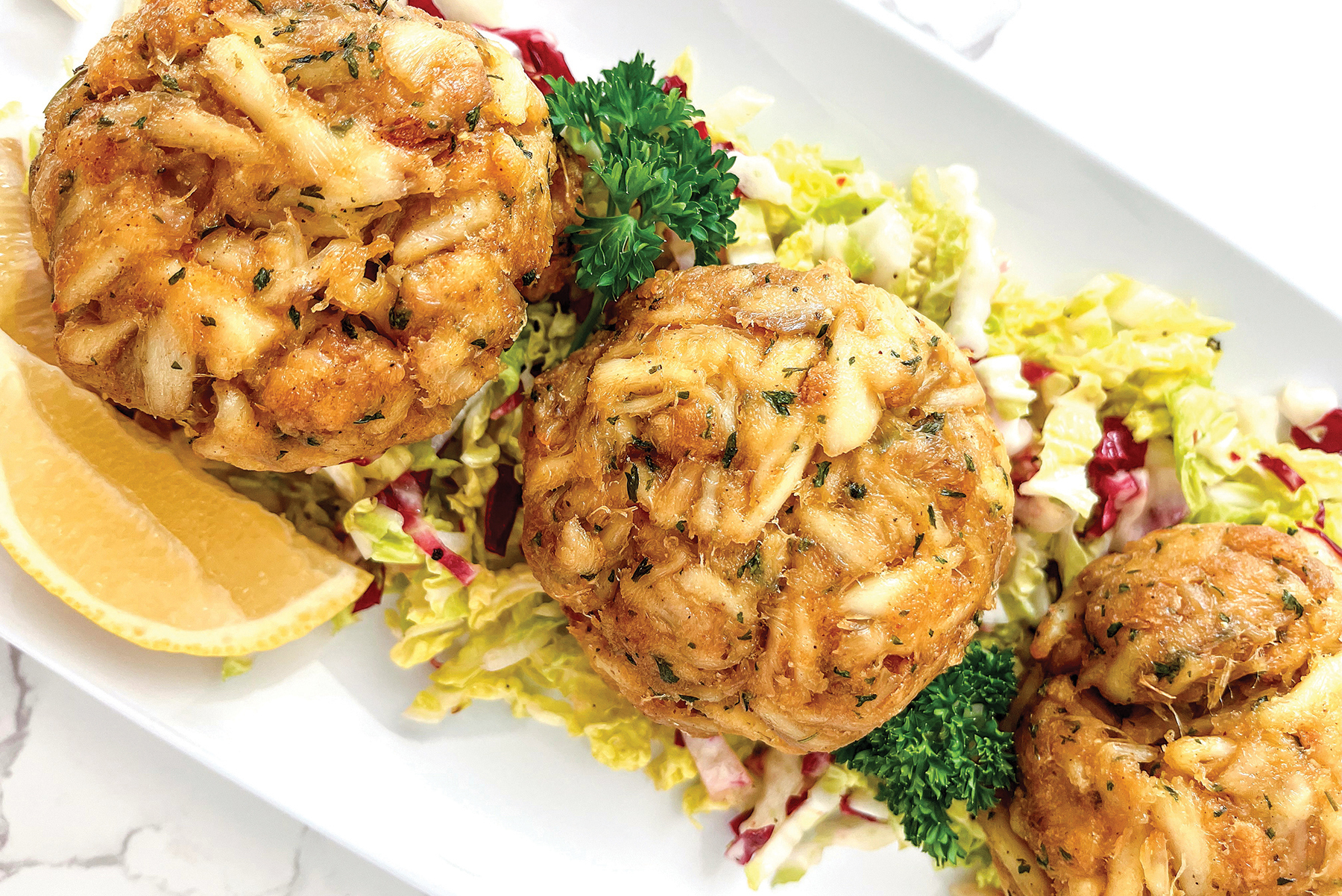 Growing up on the eastern shore of Maryland, blue crab has been a part of my life as long as I can remember. Whether eating it on the back porch on a Saturday afternoon or watching the exciting crab derbies in Crisfield, crab was – and still is – a staple in my diet.
My wife has a similar story, often enjoying crabs with family as the sound of banging and cracking tried to drown out the laughing and stories told. Whether the opening act for more seafood or the main meal with a few accompaniments on the side, crab is such a dynamic crustacean and can be made into so many great dishes. Some of my favorites include crab dip, crab salad, crab soup, steamed crabs, and of course, crab cakes.
My wife's great grandmother always made crab cakes when she would visit as a child, but never shared her secret recipe. Seeing her great grandmother cooking in the kitchen was a special treat because she felt the love put into making the crab cakes. My wife saw the sweet smile of fulfillment on her great grandmother's face upon seeing everyone's satisfaction after eating. They were enjoying good food, but also seeing a matriarch do what she loved – cooking her favorites and watching her family enjoy them.
Sharing favorite recipes allows others to taste and enjoy what we have grown to know and love. These dishes further the traditions that we have become accustomed to through gatherings with our family and friends. Following this tradition, I'm pleased to share with you one of my all-time favorites, Maryland crab cakes.
Maryland Crab Cakes (Serves 5)
When making Maryland-style crab cakes, there are two very important things to remember. First, purchase "jumbo lump" crabmeat. Jumbo lump crabmeat is the best meat coming from the crab, ensuring optimum flavor. Second, and just as important, is to never fry your crab cakes. I know we often hear about "fried" crab cakes, but the truth of the matter is that when you fry them, you are removing their moisture. Instead, the best way to cook crab cakes is to "broil" them first to brown their edges, and then turn the temperature back to 325 degrees and finish baking off.
– 1 pound of "jumbo lump" crabmeat
– 1 large egg
– 1 fresh squeezed lemon
– ½ cup of mayonnaise
– 1½ table spoons of Worcestershire
– 20 saltine crackers
– 1 teaspoon of hot sauce
– 1 tablespoon of yellow mustard
– 1 tablespoon Old Bay seasoning
– 1 tablespoon of fresh chopped parsley
Place lump crabmeat on wax paper and spread evenly. Carefully place paper towels gently on top of the crabmeat to remove any excess moisture. Once completed, the crab meat should be light and fluffy.
Place saltine crackers in a resealable plastic bag and finely crush the crackers until they form crumbs.
Combine eggs, mayonnaise, cracker crumbs, Worcestershire sauce, mustard, hot sauce, parsley, and Old Bay seasoning into a mixing bowl.
Important step – before mixing, spray butter spray onto rubber gloves. This helps prevent the crabmeat from breaking up when mixing by hand. Gently mix crabmeat and liquid mixture together. Refrigerate for four hours (this allows the mixture to bond).
After refrigeration, form into patties and pat dry. Broil for five minutes or until outer edge of crab cakes are golden brown. Once golden, reset oven to 350 degrees and bake for 10-12 minutes.
Bracy Dutton
Bracy Dutton and his wife Bridget are the owners of Fishin' Shrimp, serving Wake Forest and the surrounding area. Fishin' Shrimp is bringing fried and steamed seafood specialties to the area via their food truck and is accepting party platter orders through their website for pick up or delivery most weekends. For more great seafood (that you don't have to cook yourself), follow Fishin' Shrimp on Facebook and Instagram @fishinshrimp and visit fishinshrimp.com.