Cravin' Crab Dip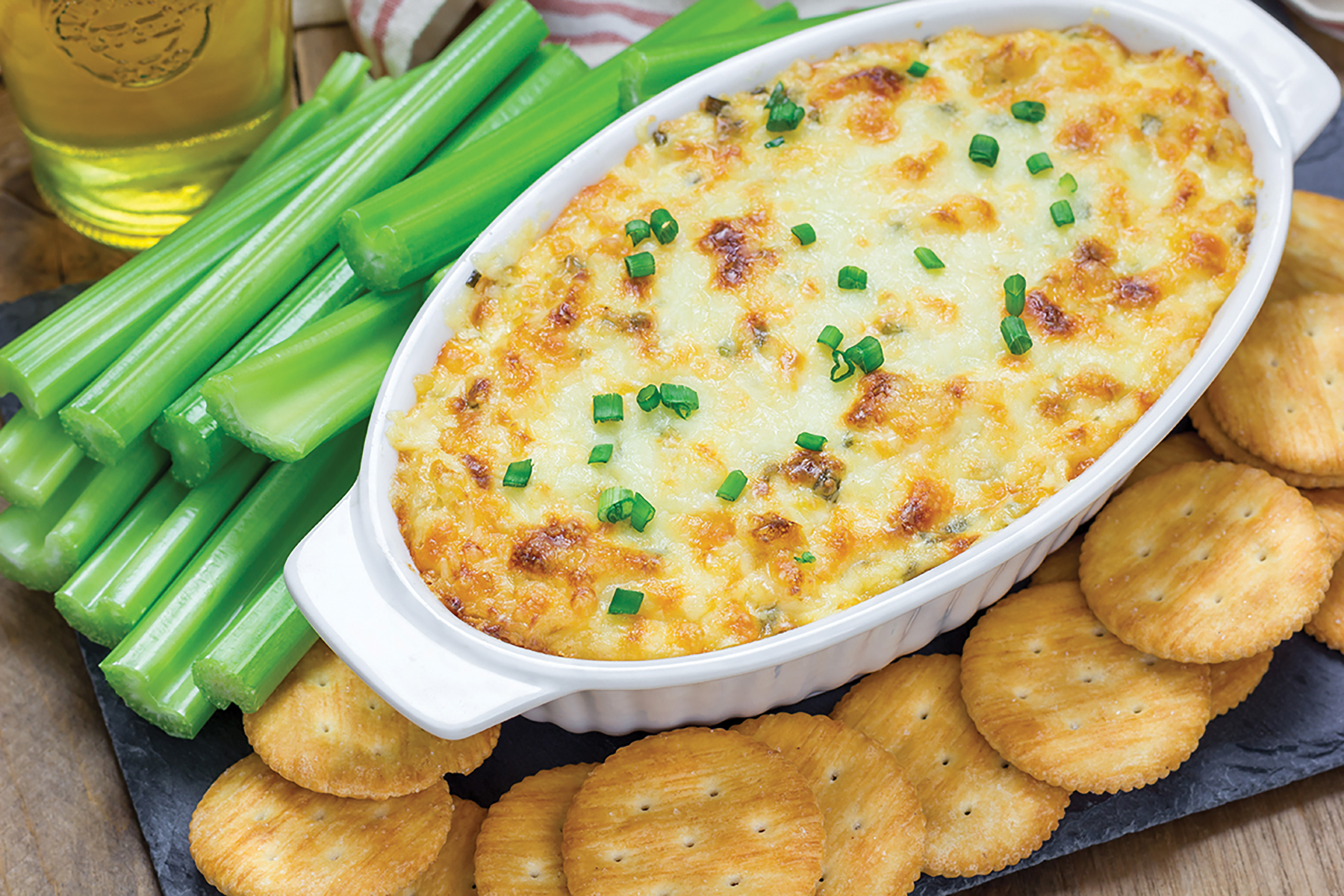 This time of year is all about family, friends, festivities, football – and food. One of the best parts about it is grazing on delicious nibbles before the big game, savoring while sitting around the fire pit, or enjoying in advance of that delicious holiday feast.
Autumn appetizers don't get much more appetizing than warm, bubbly crab dip fresh out of the oven. It's an ideal entertaining starter, as you can prep it up to a day ahead of your event and simply bake just prior to your guests' arrival. And while crab dip dippers such as tortilla chips and Ritz crackers are safe and delicious go-tos to serve with it, why not kick it up a notch and serve your decadent, perfectly-seasoned snack with some different dipping options? For instance, bite-sized chunks of fresh bread, toasted bread, soft pretzel bites, roasted potatoes, raw veggie sticks, bread sticks, or pita chips. Your guests will surely appreciate the extra effort, and their bellies will certainly thank you as well!
Following is my favorite, always crowd-pleasing, crab dip recipe:
– 8 ounces cream cheese
– 1/4 cup sour cream
– 1/4 cup mayonnaise
– 2 teaspoons Old Bay seasoning
– 1 pound lump crab meat
– 1 cup shredded cheddar cheese, grated
– 1 teaspoon hot sauce
– 2 cloves of minced garlic
– 1/2 teaspoon paprika
– 1 tablespoon lemon juice
– 1 tablespoon Worcestershire sauce
– Salt and pepper to taste
– Diced green onion to garnish
Preheat oven to 350 degrees. Combine cream cheese, sour cream, mayonnaise, cheddar cheese, garlic, paprika, Old Bay, Worcestershire sauce, lemon juice, salt, and pepper. Stir together until combined and fold in crab meat. Place evenly in a small casserole dish. Bake for 20-25 minutes until heated through and bubbly. Top with diced green onions and serve with your favorite dippers.
Crab dip also stores and reheats well, so if you have a hankering for crab dip the next day, go ahead and snack on some leftovers!
This fall, no matter if you're heading out to a big game day tailgate or hosting a few friends and family for an intimate holiday meal, kick off what is sure to be a great event with a hearty helping of fresh baked crab dip – it's the perfect appetizer for any event, because who doesn't crave cheesy, creamy crab?
Bridget Dutton
She and her husband Bracy are the owners of Fishin' Shrimp, bringing fried and steamed seafood specialties to the area via their food truck, seafood boils, and party platters. For great seafood (that you don't have to cook yourself), follow Fishin' Shrimp on Facebook and Instagram @fishinshrimp and visit fishinshrimp.com.