Crafty Ways To Chase The Winter Blues Away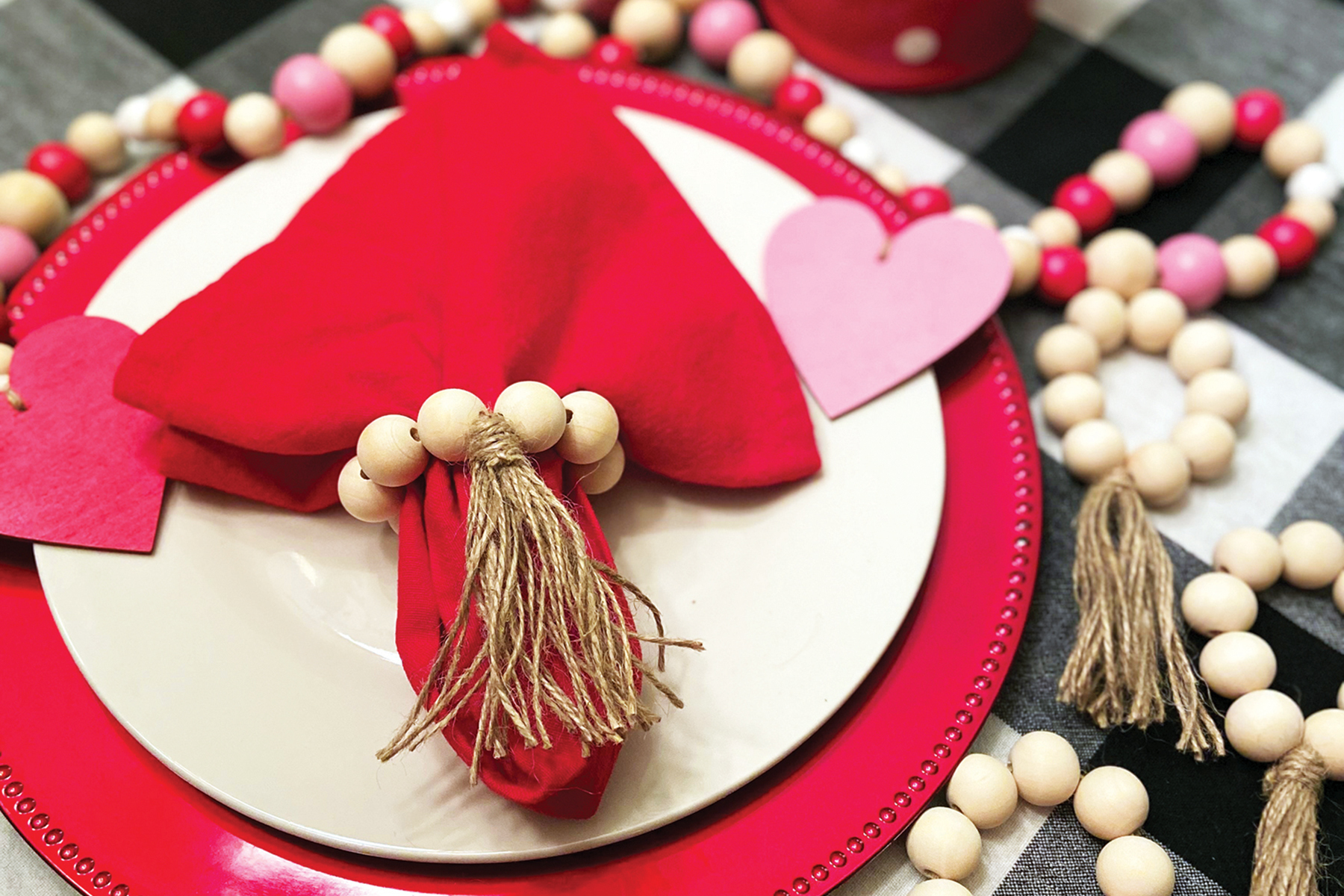 Chilly days. Colder nights. Winter is here, and odds are likely you're spending more time indoors where it's nice and warm. And while sitting by the fire and binge watching your favorite TV show is nice sometimes, winter boredom quickly creeps up on us. To chase that boredom away, tap into your creative side and tackle a couple of simple yet fun craft projects.
The two I am featuring here today both make great gifts for friends and family if you're in need of a birthday or hostess gift, or a little something to show some love to those special people in your life this Valentine's Day.
dress up your dinner table
In today's busy world, setting a beautiful table isn't something we do nearly often enough. But a lovely tablescape, whether for a long overdue family meal or for a gathering of friends for a nice dinner and a glass of wine, shows that you've taken the extra step to make your guests feel welcome, appreciated, and loved.
Napkin rings are the perfect finishing touch for such a setting. One of my favorites is an easy-to-make DIY craft that features beaded rings with tassels, feeding off of today's popular farmhouse trend.
For this project, you will need 16 mm wood beads, twine (jute or baker's), scissors, upholstery needle, a 4-inch wide piece of cardboard, and a tape measure.
To begin, use the tape measure to cut a 20-inch piece of twine (go ahead and cut out the corresponding amount of pieces needed for the number of rings you intend to craft). Thread the needle with one of the 20-inch twine pieces and string beads onto it. Then wrap twine (from the roll) about 16 times around the 4-inch wide piece of cardboard (you can do more, if you prefer – the number does not have to be exact). Next, slide this off the cardboard while maintaining its circular shape. Cut the twine in half. This gives it a U-shape and will become your napkin ring's tassel. Again, if you are making a set, go ahead and prepare the twine for the tassels for the additional rings. Tie this onto the beaded piece of twine with the excess string (I suggest double-knotting it). At this point, wrap one length clockwise around the top of the tassel, where it's connected to the napkin ring. Then wrap the other piece counterclockwise. Tie the ends of the twine together, pulling tightly, and finish by trimming the ends if needed.
Once complete, you have just crafted beautiful adornments for your dinner table. Your friends and family are sure to be impressed that you knocked these out on a cold winter day, and will appreciate knowing you went the extra mile to make them feel appreciated.
SPELL OUT YOUR LOVE
As you know, Valentine's Day falls right in the middle of Ol' Man Winter's favorite time of year – again, a wonderful indoor opportunity to create something special for loved ones and friends. There are so many creative and fun crafting ideas for this holiday that I found it awfully hard to choose just one to share. But after much thought, I decided on the super cute and functional Scrabble letter coasters that spell L-O-V-E. The wonderful thing about this simple-to-make project is that it can be used as a gift any time of the year, not just for Valentine's Day.
For this endeavor, you will need wood squares that measure about 4" x 4" or 4.5" x 4.5". These can be found at any store that sells craft supplies. Choose a wood stain that you like. (Stains can now be found in marker form, making this part of the process even easier because it dries almost immediately.) If you don't already have some on hand, pick up a small can of stain varnish sealer. You will also need black vinyl adhesive letters and numbers that can be purchased or cut with a vinyl cutting machine. I use heavy duty outdoor vinyl. For 4-inch squares, letters should be cut to 3 inches and numbers (representing the Scrabble letter's point value) should be cut to 1 inch. Add half an inch to each letter and number if you choose 4.5-inch squares. If you are feeling a little more adventurous and have a steady and artistic hand, you may opt to hand-paint these with a black paint. You will also want to add adhesive-backed felt to the coasters' bottoms in order to protect your furniture.
Gently sand the wood squares, ensuring there are no rough places or sharp edges. Using the stain or stain marker, color each piece. Apply (or paint) the letters and numbers, making them look like Scrabble squares. Brush on a coat of stain varnish sealer and allow to dry completely. Finally, cut the adhesive felt to the size of the wood and apply to the back. Stack the coasters in the correct order and tie a pretty ribbon around the stack – within no time you have created gifts literally saying "love" for all your Valentines … all while passing the time on a dreary winter's day.
Another fun alternative is to take actual game tiles and create a coaster displaying fun (and maybe funny) sayings – it's so easy to personalize to your taste or that of someone to whom you may be gifting them. Think "Drinks are on me" for a clever way of encouraging guests to use a coaster. Or "Brew, Hops, Ales, and Beer" for the beer lover in your life. "Teas, Shot, Foam, and Chai" are perfect for the coffee and tea drinkers out there.
To get started, lay the tiles in the order you'd like them to be on the coaster, making sure it's square (4 tiles x 4 tiles is suggested). For any spaces, use blank tiles. Place a thin line of wood glue on the right side of the first letter, then attach the second letter to it (make sure they are lined up straight). Continue gluing the tiles together until the coaster's top line is finished.
Then apply a thin line of wood glue on the bottom of the first line of letters, adhering the tiles together, and continue this process until all tiles have been glued and your coaster is finished. Allow the coaster to dry, and add the final touch by adhering adhesive-backed felt to the bottom of the coasters.
Winter calls for the cozy comfort of crafting. If you find yourself craving some crafty time one upcoming chilly day, brew up your favorite coffee blend or warm up a cup of hot chocolate, snuggle up with your favorite blanket, and craft the day away with these fun and simple projects that are sure to make that cold, dreary day feel a little bit warmer.
Dolores Riggins
Co-owner of Southern Suds & Gifts, located at 213 S. White St. in Downtown Wake Forest, featuring over 35 craftsmen and artists.