Crafting ... Farmhouse Style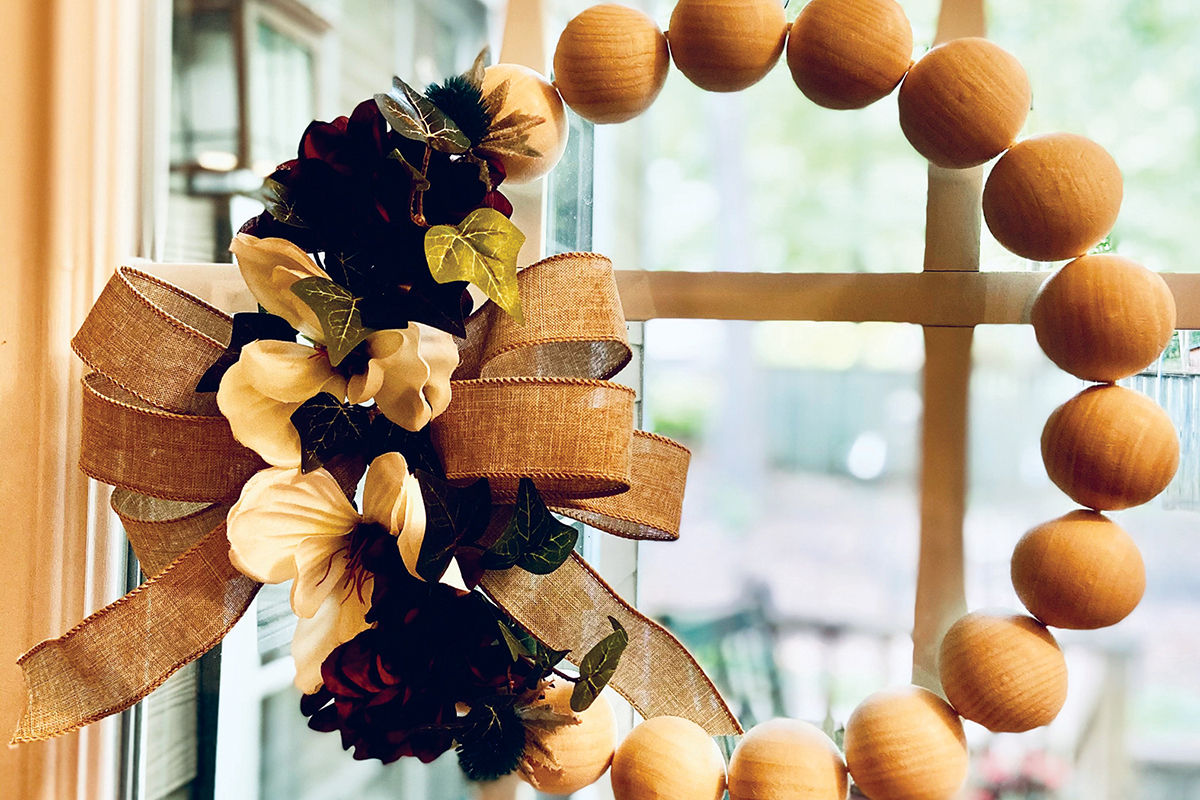 Farmhouse style – when I hear those two words, my mind immediately goes to beautiful shiplap walls, the perfect holiday mantel, the cool white porch … and dollar signs! I love the farmhouse style and try to tastefully incorporate bits and pieces of it into my
décor when I can. However, sometimes when I see the price, I head on over to Pinterest to find directions for making the object of my farmhouse decorating desire myself.
I love – and when I say love, I mean I LOVE – wreaths. Wreaths of all kinds – grapevine, deco mesh, rag, greenery – you name it, and I'll try to make it. So, you can imagine my joy when I recently discovered my newest obsession … the adorable farmhouse beaded wreaths. These circular shaped objects of joy are so pretty in their simplicity, and are equally stunning when adorned with embellishments such as flowers, leaves, and ribbons. They can be made in different sizes, hung in a group or alone, and fit with just about any décor in any room in your house, and look simply stunning when hanging on the front door.
Enough chatter – let's get started! The first step is, of course, to gather your supplies. For this project, you will need 2-inch split wood balls, which can easily be found at craft stores and online, as well as a 12-inch bamboo wreath form (a large wood embroidery hoop can also be used). Pick up some greenery, artificial flowers, and wired ribbon of your choice as well. Grab the hot glue gun, glue sticks, and floral wire cutters, and you're all set.
Now the farmhouse crafting fun can begin. Glue the split wood beads onto the bamboo wreath frame by placing three dots of hot glue directly onto the form and attaching the balls, going all the way around. When you get back to the starting point, there will likely be a space not large enough to accommodate another bead. No worries! You can easily complete the circle with the previously mentioned flowers, greenery, and bow in this area. The simplest step is finished, but don't fret – the remaining steps are almost as easy.
When adding the embellishments, hot glue the greenery first. When I crafted my first beaded wreath, I glued two pieces of lamb's ear, two to three inches in length, onto the frame, facing each other. Be careful not to glue the entire piece of greenery onto the wreath, as you'll want to leave some loose to give your project some dimension. If you desire a fuller look, feel free to add more greenery.
At this point it's time to add some color by gluing the flowers onto the greenery. I recommend starting with three flowers of the same kind, such as peonies or sunflowers, with one being larger one and the other two smaller in size. Attach the larger of the three to the greenery, then glue the two smaller ones on either side, leaving a tad bit of space between them. For a bigger pop of color, adhere additional smaller blooms or groupings of berries in between the flowers and on the greenery. Allot space in the center of this area for the bow if you are choosing to add one.
These wreaths are so versatile that you may decide you don't need or want a bow this go round. But if you do opt for one, adding it will be your final step. For ease and to ensure it holds up well, be sure to use a wired ribbon. All you need to do is hot glue the tied bow to the allotted space. For a bit of decorating whimsy, why not feature the bow on the wreath's side (as pictured), rather than the traditional top or bottom location?
See how easy it was to create a beautifully beaded farmhouse wreath? But now, the question is, how do you hang your gorgeous creation?
There are several easy options. First, simply place the wreath on the wreath hook you may already have on your door. Or if you aren't crazy about this method, cut a piece of thin, unwired ribbon or jute, loop it around the top of the wreath in between two split beads, and simply tie a knot or a bow at the top. These hang very nicely from a nail or screw in the wall.
I have a good feeling that after you craft your first farmhouse beaded wreath, you won't want to stop. Check out all the various bead and wreath frame sizes available. Make one that just has a bow or only one large flower. Perhaps add a galvanized metal word like "Hello" or "Welcome" for the perfect front door feature. Or go a little crafty crazy with smaller versions that make the cutest Christmas ornaments (it's never too early to start thinking about Christmas, is it?). Why not paint the beads to match the colors of the nursery of the little one in your life for adorable wall decor? A farmhouse beaded wreath can be the perfect holiday addition to your decorating scheme. For Valentine's Day, for instance, maybe opt for a heart-shaped wreath ring rather than the traditional circle, boasting roses rather than leaves. Think holly berries and leaves plus a "Merry and Bright" sign for Christmas. Use your imagination – the design option is entirely up to you. Enjoy crafting – farmhouse style!
Dolores Riggins
Co-owner of Southern Suds & Gifts, located at 213 S. White St. in Downtown Wake Forest, featuring over 35 craftsmen and artists.