Cool Summertime Treats To Beat The Heat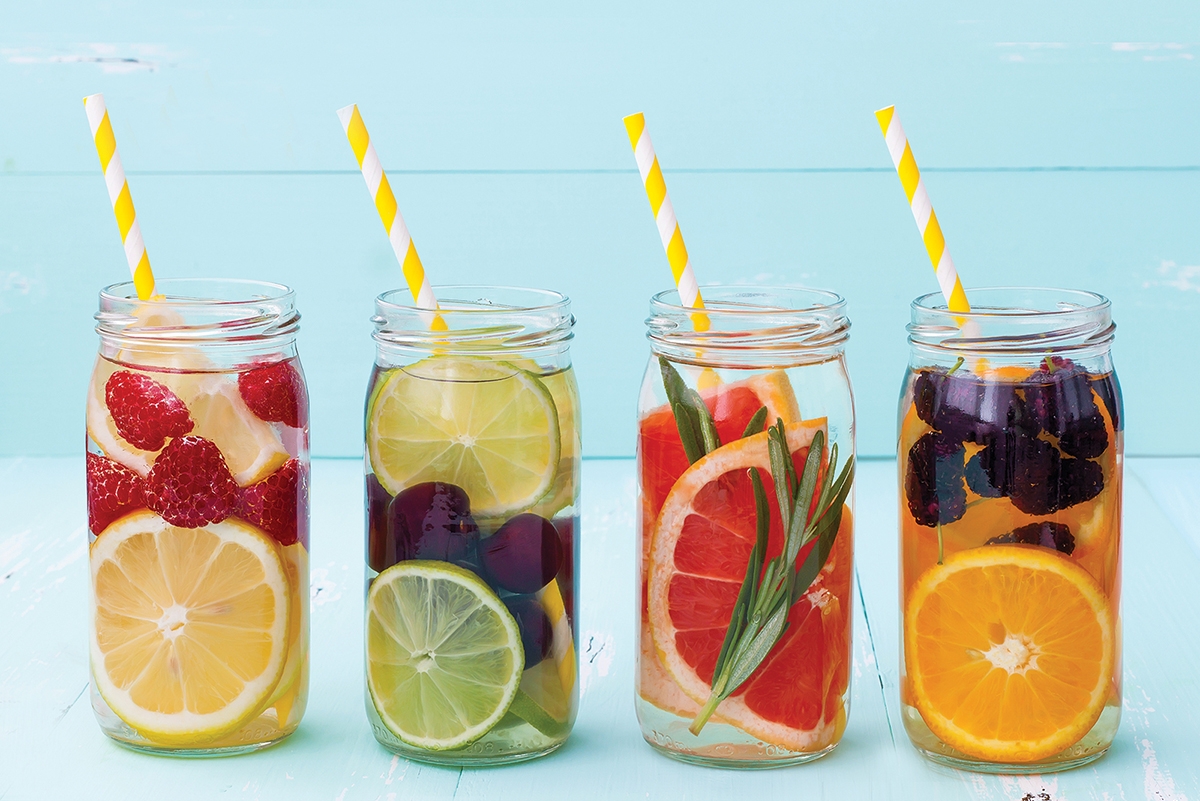 Nothing screams summer more than some cool sweet treats. Whether you've hit the jackpot picking your own berries at a local farm or visited one of the wonderful farmers markets around town, or you've just grabbed some yummy fruit from your favorite grocery store, there are tons of ways to turn these gems into awesome treats for season-long enjoyment.
First, let's talk hydration. While reaching for a bottled water from the fridge is convenient, it's not exactly the most environmentally-friendly. Give Mother Nature a break and create your own refreshing, delicious, naturally-flavored waters to cool off on a steamy summer day. You'll be surprised at how quickly infused waters will replace the cravings for sugared drinks – and fulfilling your water drinking quota will seem like much less of a chore.
Any fruit can make for delicious water, and the combinations you can concoct are endless. Perhaps lemon and raspberry. Maybe grapefruit and orange, or pineapple and mango. What about mixing peaches, oranges, and limes together? For a bit of a flavor twist, incorporate fresh herbs. Pineapple and kiwi with a little mint; mixed berries with basil; or go a little crazy with watermelon, strawberries, cucumber, lemon, and ginger. Simply drop the washed ingredients in a pitcher of water or fill a few mason jars (so you can enjoy lots of different flavors) and let them infuse for an hour or two. For added color, steep berries in a cup of boiling water for about 30 minutes, then add cold water.
If you find you are in need of some sweet cooling treats to survive the season's heat and humidity – and possibly a fun activity to entertain the kids once summer boredom kicks in – head to the kitchen and whip up some nice, cool, yumminess. Sprinkle your favorite berries or peeled sliced fruit – such as peaches and nectarines – with a bit of sugar and let them sit for about 30 minutes. Now you've got the perfect ingredients for fruity frozen fun. Simply puree and freeze them for healthy, homemade popsicles (molds can be found online if needed). If you're wanting a smoother texture – and some protein – toss in a little yogurt. Or add pureed bananas. For a bit more sweet, but subtle, flavor and a creamy texture for your popsicles, throw in a little unsweetened coconut milk. For a frozen alternative to the popular popsicle, transform your sugared fruits into a smoothie, or blend them with some crushed ice for a delicious slushie that everyone in your family is sure to love.
If you have an abundance of fruit, make sure it doesn't go to waste – popping it into the freezer extends its lifespan and lets you have cool treat ingredients at the ready. For berries, just wash and de-stem them as necessary. Place them – fully dried – on a cookie sheet in the freezer; once frozen, put into a resealable baggie. Pineapples, peaches, and nectarines can also be frozen for future use. Just peel and slice before freezing. Add these fruits to your waters and smoothies, or pop them on the stove with a bit of sugar to create a scrumptious syrup for ice cream, pound cake, or pancakes. You can also puree your fruit to pour into old-fashioned ice cube trays (with just a bit of water). These make great ice cubes for your favorite drinks, and won't water them down during the heat of the day.
Just so mom and dad aren't left out of the cool fruit fun, these natural ingredients are also lovely and delicious additions to any summertime cocktail. You can whip them into a frozen daiquiri or margarita, a piña colada, or maybe a frozen sangria. And as I mentioned, frozen fruit makes a great ice cube so go ahead and toss a few into your glass and pour your favorite liquor. Or simply mix equal parts sugar and water, bring it to a boil until the sugar dissolves, toss in a handful of your favorite fruit, let it steep for an hour, and strain – now you've concocted the perfectly fruity flavored simple syrup that is sure to amp up your favorite spirit or sparkling wine to savor on a hot summer night.
No matter where you get your fresh fruit, just be sure to stock up so you can enjoy the "fruits of your labor" all summer long!
Stacey Moritz
Owner of The Lemon Tree Cafe, located at 113 S. White St. in Downtown Wake Forest, offering freshly prepared salads, pastas, soups, and take-away fare.