Cool DIY For Hot Summer Fun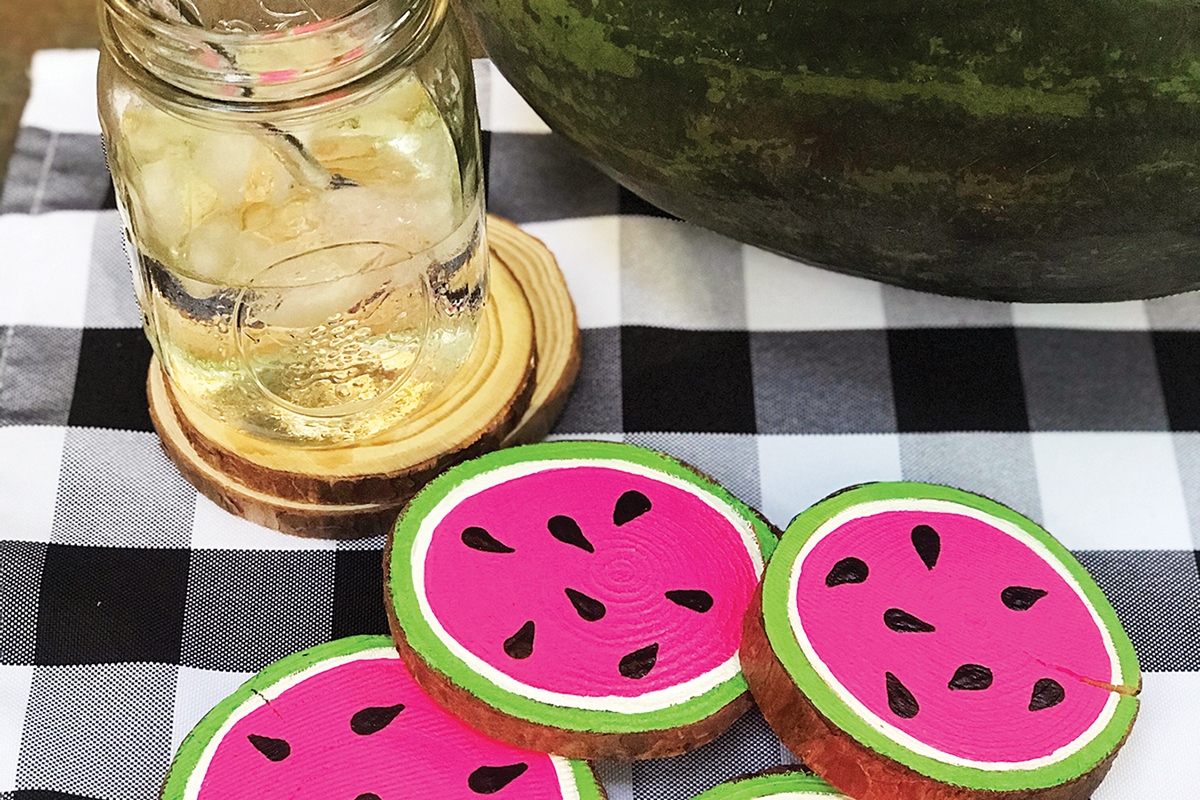 How much fun is it to host a backyard cookout on a beautiful summer evening, even though it might look different in the era of social distancing and smaller-than-normal gatherings? These gatherings provide us with the opportunity to set a festive table and display brightly colored decorations that are sure to add fun and whimsy to these events.
The cute-as-can-be coasters pictured above are the perfect additions to your festive table, with their bold, bright, and cheery colors.
These wood slice coasters are so easy to create. While I opted for watermelon, citrus is huge in decorating this summer, so you may prefer to make lemon, lime, or orange versions. For this simple summer DIY project, you'll need wood slices or tree bark coasters, which be found in craft stores and online shopping sites (or cut some from right in your own backyard). You will also need acrylic craft paint in red or hot pink, black, bright green, and white (again, these are for the watermelon versions – just alter your colors for your fruit of choice). Gather small- and medium-angled craft paint brushes, a small round paintbrush, a pencil, iridescent glitter, acrylic sealer or Mod Podge, fine sandpaper, felt, and cotton swabs. Because the coasters are not perfectly round, freehand an outline for the watermelon using the pencil. You should have two thin lines near the outer edge. Don't worry about the lines being perfect because they are just a guide for the paint. Using a thin paintbrush, paint the outermost section with the bright green paint. This is the "skin" of the watermelon. Allow this to dry a little and repeat the process with the white paint in the next section. You may have to use two coats of paint in order to achieve good coverage. Next, paint the center with either the hot pink or red paint – a slightly larger brush can be used for this step. Immediately after painting the final coat, lightly sprinkle on the glitter, but only in the center of the coaster. Time to add some seeds, because what's a watermelon without a few seeds? These can be tricky, but an easy way to create them is by dipping the end of a paintbrush in black paint and painting dots in the middle of the watermelon. Then, using a thin brush, gently pull the paint down to create a teardrop or tapered look. When the "seeds" are dry, spray each coaster with an acrylic spray or finish. To complete your set, trace the shape of each coaster onto the felt. Cut out the shape and hot glue it to the bottom to protect furniture.
Fabric rag banners are another perfectly simple touch to add color and charm to your summer gathering décor.
Your homemade garland can be as long or as short as you choose. To tackle this DIY décor task, you will need four or five fun fabric pieces – mix solids and patterns together for a whimsical look. When purchasing, have each piece cut in quarter or half yard pieces. For a bit of a different look, throw in some pretty ribbon. In addition, you'll need twine and scissors or a rotary cutter. When using a rotary cutter, make sure you have a self-healing cutting mat. The process will go much faster if you use the rotary blade. Begin by cutting the fabric in one- to one-and-a-half-inch wide strips. The length of each piece should be about 15-16 inches long. Cut a piece of twine to your desired length, making loops at each end for hanging. Fold a fabric piece in half and place the ends on top of each other to ensure that the proper side of the fabric shows. There will be a loop at the top of the strip – place this about an inch above the twine. Take the stacked ends of the fabric up behind the string, pulling through the loop to attach and tighten. You can create a pattern and continue to repeat it, or throw caution to the wind and add pieces in no particular order. This is such a fun and simple little project that adds whimsy to any gathering.
Summertime is here, and I for one am so grateful that we can once again gather – albeit while safely distanced and amassed in smaller numbers. But nonetheless, it's still a great time to get together with family and friends to celebrate, visit, and just be together. By creating beautiful, fun, and festive decorations, you can add a little something extra to those summertime backyard cookouts that are to be enjoyed and treasured now more than ever.
Dolores Riggins
Co-owner of Southern Suds & Gifts, located at 213 S. White St. in Downtown Wake Forest, featuring over 35 craftsmen and artists.