Cooked In Tradition
The Dessert That's Peachy Keen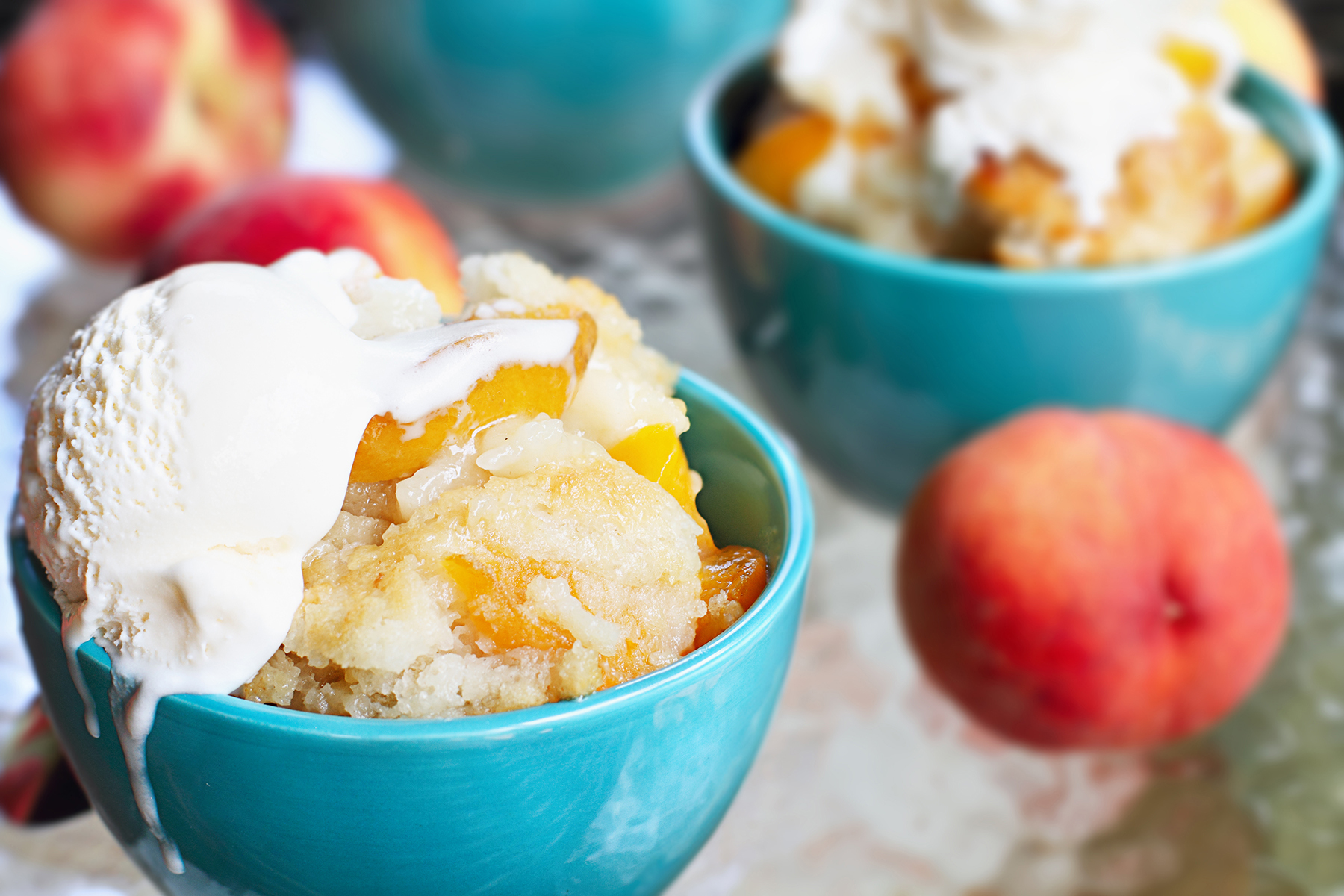 If you have ever lived in the South, you're likely familiar with the sweet summer staple that is peach cobbler. A delicacy encrusted (pun intended) with tradition, peach cobbler is simple to chef up and holds memories that span generations. Plus, the potential for variations of this classic dish are endless and up to your imagination. Taking advantage of fresh peaches that are so delicious in the warm months of summer, adjusting the fruit-to-crust ratio to suit your fancy, and adding any kind of topping you desire are just a few simple ways to cook up this textbook summertime dessert with your own personal flare.
The following peach cobbler recipe spans four generations in our family. Passed down from great-grandmother Two Mom, this recipe is one that we've indulged in for as many summers as we can remember. We associate this delightful dessert with long days spent on the dock at the grandparents' house at Lake Gaston, followed by an unbeatable home-cooked meal provided by grandmother GG, and finally, the real showstopper – dessert. Not only does this peach cobbler hold happy memories for our family, it simply tastes amazing. This summer, we hope you'll attempt this quick and easy, tried-and-true family favorite and allow yourself to enrich your creative energies by making personal touches wherever you see fit!
Perfect Peach Cobbler
– 3-6 cups sliced fresh or canned peaches
– 1 tablespoon lemon juice
– 2 cups all-purpose flour
– 2 cups sugar
– 1 teaspoon salt
– 2 beaten eggs
– 8 tablespoons butter, melted
Place peaches on bottom of baking dish then sprinkle with lemon juice. Mix dry ingredients, then add eggs, tossing until crumbly. Spread topping over peaches. Drizzle with butter.
Bake at 375 degrees for 45 minutes or until browned.
A Little Extra
Of course, not much beats a warm peach cobbler topped with the contrasting coolness of a scoop of vanilla ice cream on a hot summer day. But to up your peach cobbler game a bit, here are a few ideas.
Add More Fruit: Fully embrace the flavor of summer by adding other fresh fruits to your cobbler filling. Combine blueberries with your delicious peaches for a colorful and tasty combination, for instance. Other fruits that complement peaches well include raspberries, blackberries, cherries, lemon, lime, pineapple, and strawberries.
Experiment With Toppings: Spice up that ice cream scoop with a bit of cinnamon and nutmeg – their warm, aromatic flavors pair perfectly with the peaches' sweet juiciness. How about drizzling a homemade salted caramel or vanilla sauce over your ice cream and cobbler to further tickle your taste buds? Top with a few pecans, almonds, or walnuts for added flavor and crunch.
Whip Up Some Whipped Cream: Who says vanilla extract needs to be the only flavoring added to whipped cream? Splash in another extract like almond, or sprinkle in a bit of cocoa powder, lemon zest, or even a few dessert spices such as cinnamon, nutmeg, ground ginger, cloves, or allspice.
Booze It Up A Bit: To further warm up your insides, mix a couple of tablespoons of brandy or bourbon into your cobbler's filling. Or add a dash or two into your aforementioned whipped cream concoction.
As always, the CIRCA community loves seeing your dishes, so please tag us or send in photos of your peachy-keen peach cobblers, as well as any recipe you hope to see published in a future "Cooked In Tradition" feature! Farewell, and happy baking!