Cooked In Tradition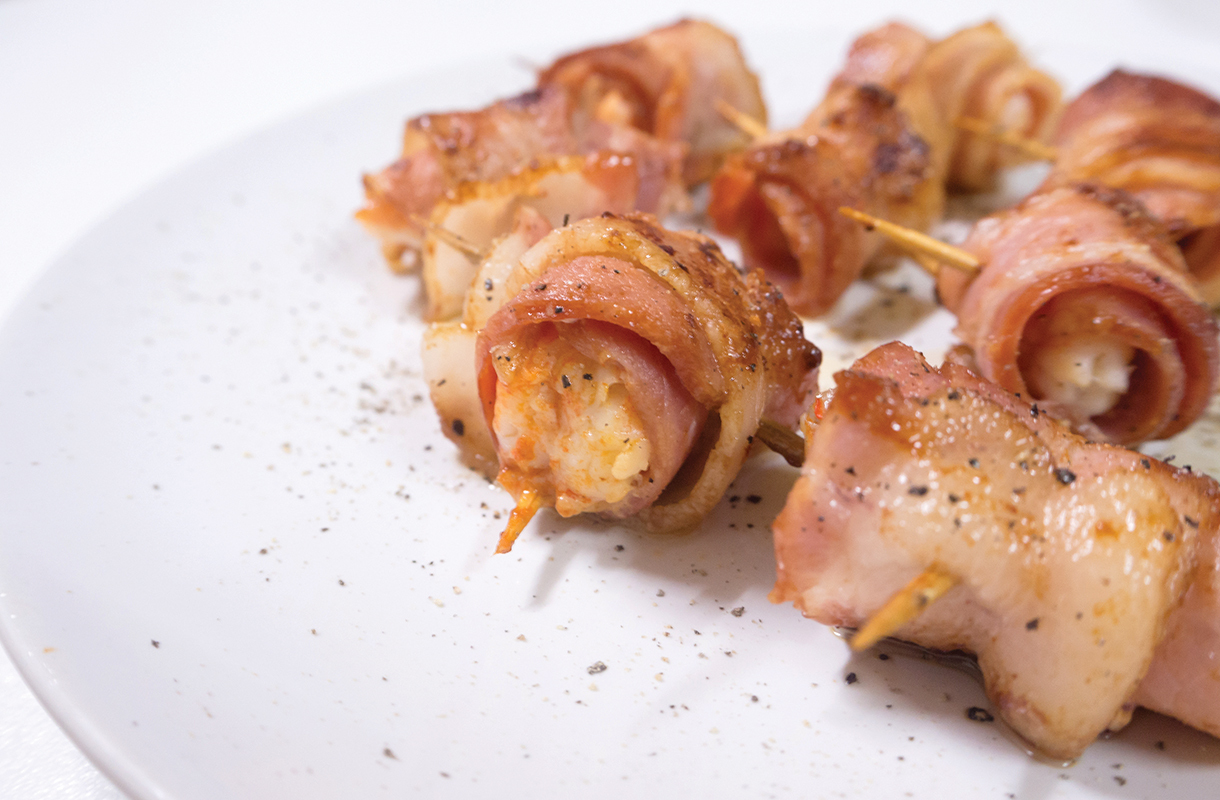 Many thanks to our loyal readers for sharing recipes that bring us together – and nothing says camaraderie like enjoying a splendid springtime cookout! This edition of "Cooked In Tradition" features these savory and sweet recipes that are perfect for savoring all the sweet moments of a beloved backyard barbecue. As you whip up these delicious dishes, please feel free to share compliments, photos, or recipes of your own by emailing them to info@circamagazine.com. Who knows? Your recipe just might be featured in an upcoming issue!
Spiced Bacon Wrapped Shrimp
– 1 pound 16-20 count shrimp
– 10 strips bacon, cut in half
– 1 tablespoon extra virgin olive oil
– 2 teaspoons fresh squeezed lime juice
– 2 tablespoons spicy seasoning*
– 1 quart brine
* Seasoning suggestions:
Mild: Dizzy Pig Pineapple Head
Medium: Heath Riles Garlic Jalapeño
Medium+: Meat Church Holy Voodoo
For the brine:
– 4 cups warm water
– ¼ cup salt
– ¼ cup sugar
Setup grill for two-zone cooking. For gas grills, light burners on one side only; for charcoal, place lit coals on one side only. Preheat to 425 degrees F.
For the brine, combine all ingredients in a medium plastic bowl. Whisk until sugar and salt are dissolved. Refrigerate until cool. Peel and devein shrimp leaving the bottom of the tail on. Add the shrimp to the brine and place in refrigerator for 20-30 minutes. Remove shrimp from brine, rinse, and pat dry. Combine olive oil, lime juice, and seasoning rub in a small bowl and stir well. Brush mixture onto shrimp, wrap with ½ slice bacon, and secure with a toothpick.
Slide shrimp on skewers leaving a small space between each.
Tip: double prong skewers to keep shrimp in place when turning on the grill. Grill on unlit side of grill for about 20 minutes until bacon is fully cooked. Turn skewers after 10 minutes. If you prefer crispier bacon, place skewers on hot side of grill for additional 20-30 seconds per side.
Reverse Seared Tri-Tip
– Tri-tip roast, typically 2-3 pounds
– 1 tablespoon vegetable oil or olive oil
– Your favorite steak seasoning or BBQ rub*
* Seasoning suggestions:
Sauced BBQ Company All-In
Obi Cue Double Garlic Pepper
Dizzy Pig Red Eye Express
Prepare grill for indirect cooking and preheat to 250 degrees F. For gas grills, light burners on one side only; for charcoal, place lit coals on one side only.
Trim any excess fat and sliver skin off of tri-tip. Before seasoning, look closely at the tri-tip. This cut has two distinctly different grain patterns; make note of where the grain changes direction for slicing later. Apply a light coat of oil on the meat, followed by seasonings. If possible, let tri-tip rest in refrigerator for 1-2 hours.
Cook on unlit side of grill until internal temperature reaches 120 degrees F, about 60-75 minutes. Optional: Add a smoke generator such as wood chips, a pellet tube, or Grill Kickers. Remove tri-tip and raise grill temperature to 550-600 degrees. Sear tri-tip on hot side of grill about 3 minutes per side until it reaches an internal temperature of 130 degrees F. Cook longer if you prefer more than medium rare. Remove tri-tip from grill, cover loosely with foil, and let rest about 10 minutes. Slice tri-tip in half where the grain changes direction. Thinly slice each half perpendicular to grain and serve.
Thanks to Kevin Kopec, pitmaster and instructor for GrillBillies BBQ Supply (with locations in Wake Forest and Wendell) for these spring grilling recipes. Kevin enjoys sharing his love for grilling and cooking with his family, friends, and community.
Ooey-Gooey Chocolate Brownies
"Growing up, brownies were a staple in my family – we even seemed to be sort of famous for them! However, what most did not know was that they came from a grocery store box. For years, I tried making the perfect brownie that would resemble the childhood feeling associated with a warm treat straight from the oven. After countless trials, I was finally able to master a brownie recipe that features the fudgy flavor, moist texture, crispy edges, and crackly tops I adored as a kid." – Blair Beaulieu
To make, you'll need:
– 10 tablespoons salted butter, melted
– 1 cup granulated sugar
– 2 eggs
– 2 teaspoons vanilla extract
– ½ cup milk chocolate chips melted
– ¾ cup all purpose flour
– ¼ cup unsweetened cocoa powder
– ½ teaspoon salt (optional)
– ¾ cup milk chocolate chips
Preheat oven to 350 degrees F. Spray 8"x 8" pan with cooking oil or line with parchment paper.
Pour melted butter into a large mixing bowl. Whisk (by hand) sugar into butter until smooth, about 30 seconds. Add eggs and vanilla extract. Whisk until even, about 1 minute. Whisk in melted chocolate chips until combined and smooth. Use a rubber spatula to stir in flour, cocoa powder, and salt until just combined. Do not over-mix. Stir in whole chocolate chips. Pour into the prepared pan and spread evenly.
Bake for 30-35 minutes, or until a toothpick inserted into the center appears clean. Let cool in pan 30 minutes before slicing.
Thanks to Blair Beaulieu, a senior at Heritage High School. She enjoys cooking, baking, traveling, and volunteering.
Grace Lower
Grace Lower is a senior at Heritage High School, and is part of the CIRCA family by birth, and now by interning. Grace enjoys dance, theater, science, and all things outdoors.