Cooked In (Non) Tradition
The Summer Of S'Mores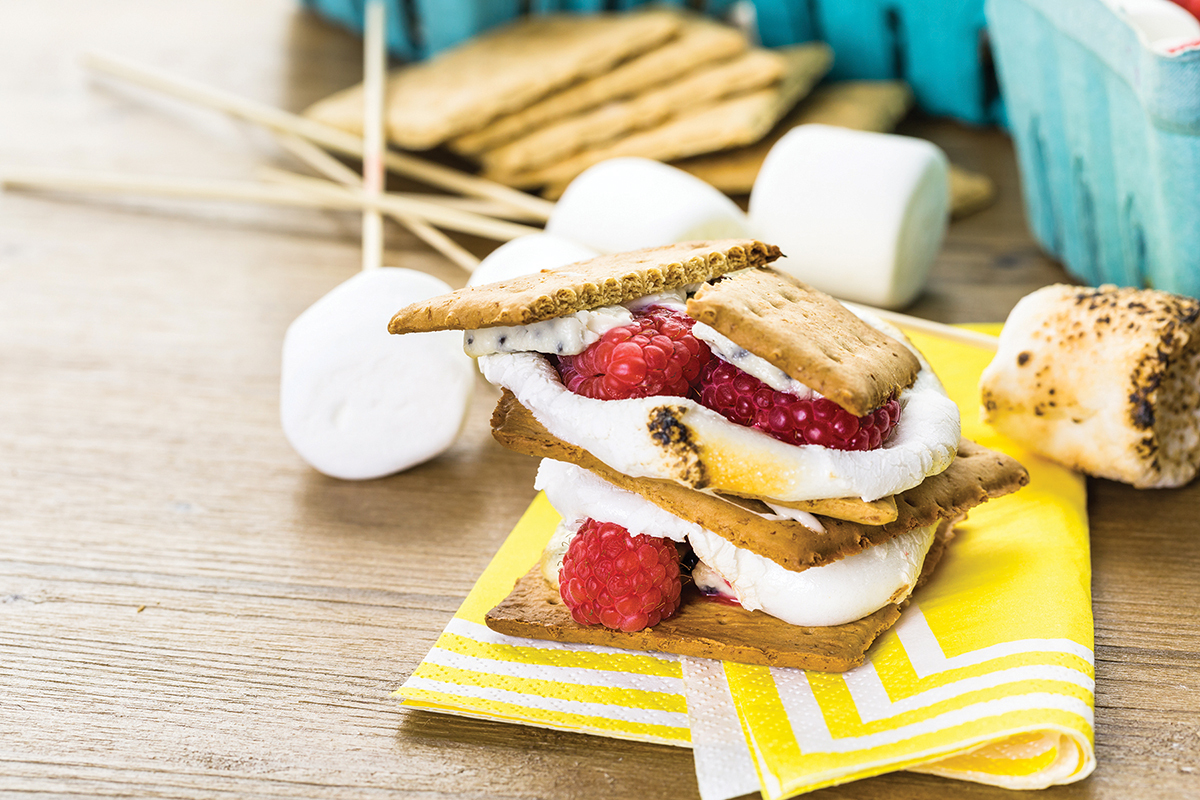 Marshmallows. Chocolate. Graham crackers. The well-regarded s'more is a staple summer treat that we all know and love. As I sat down to write this edition of "Cooked In Tradition," I wondered, "How can we push the boundaries of the scrumptious s'more?" And after some research and creative thinking, I present to you "Cooked In (Non) Tradition – The Summer of S'mores!"
Nationaltoday.com shares that August 10th is annually celebrated as National S'mores Day, and to honor the tradition that accompanies a good ol' fashioned s'more – sitting 'round a campfire, stargazing on a warm, summer night, enjoying the outdoors with loved ones –
I want to provide you with some history of this classically tasty treat. First mentioned as a "Graham Cracker Sandwich" in an early 1920s Campfire Marshmallows recipe book, it is thought to have been originally popularized by Boy and Girl Scouts. Then, in 1927, the Girl Scouts published a similar creation, naming the delicacy a "some more," paving the way for what we now call a "s'more."
With a delightful history and a delectable taste, the s'more is a time-honored tradition that makes for the perfect summer campfire. However, as I previously mentioned, I want to share with you a few ways to spice up your s'more through substitutions, add-ins, tips and tricks, and more. I hope these non-traditional takes on this classic treat help make summer 2021 the "summer of s'mores!" These are just a few suggestions – go crazy and use your imagination ... but no matter what, have fun!
TASTY TWISTS
Graham Cracker: Sugar, snickerdoodle, chocolate chip, or Oreo cookies; flavored graham cracker (cinnamon sugar, chocolate).
Chocolate: Reese's Cup, Kit Kat, dark chocolate, Nutella spread, or chocolate-covered pretzels.
Marshmallow: Spreadable marshmallow fluff or colorful marshmallows (for fun!).
Add-Ins: Fruit (strawberry, pineapple, banana, raspberry, etc.), peanut butter, frosting, or cinnamon.
Oven-Baked S'mores
Preheat oven to 400 degrees F. Lay graham crackers on a cookie sheet. Top each graham cracker with a chocolate square. Cut marshmallows in half horizontally, then lay atop each square. Bake 3-5 minutes, or until marshmallows are golden brown. Press another graham cracker on top of each marshmallow to form sandwiches.
Skillet S'mores Dip
Preheat broiler (high); preheat a cast-iron skillet (over medium heat). Melt 3 tablespoons unsalted butter in the skillet. Remove the skillet from heat; add a 12-ounce bag of chocolate chips.
Top the chips with an even layer of mini marshmallows. Broil until marshmallows are golden brown. Eat with graham crackers as dippers. OPTIONAL: Mix chocolate with nuts for extra crunch.
Tips
– Place your chocolate bar on the graham cracker and set on the rim of your firepit while roasting your marshmallow for deliciously gooey chocolate.
– Use a metal skewer. While wooden skewers or sticks hold the essence of tradition, metal skewers are safer and will provide a more well-cooked marshmallow.
– Preheat the tip of your metal marshmallow skewer by placing it in the coals/flames (just don't touch the hot tip!).
– Want even gooier chocolate? Stuff a chocolate square inside your marshmallow before roasting over the fire.
– Don't rush it! Roast your marshmallow slowly to ensure even heating throughout.
Tried any of these tips and tricks and have a favorite? Or have another unique way to "s'more?" We want to hear! Email your creations to info@circamagazine.com for a chance to be featured!
And as always, we want to know about your favorite family foods and unique delicacies, so send your recipes to info@circamagazine.com for a chance to be featured in a future "Cooked In Tradition."
Grace Lower
Grace Lower is a recent graduate of Heritage High School, and will be attending UNC-Chapel Hill in the fall. Grace enjoys dance, theater, science, and all things outdoors.