Cheers To Spring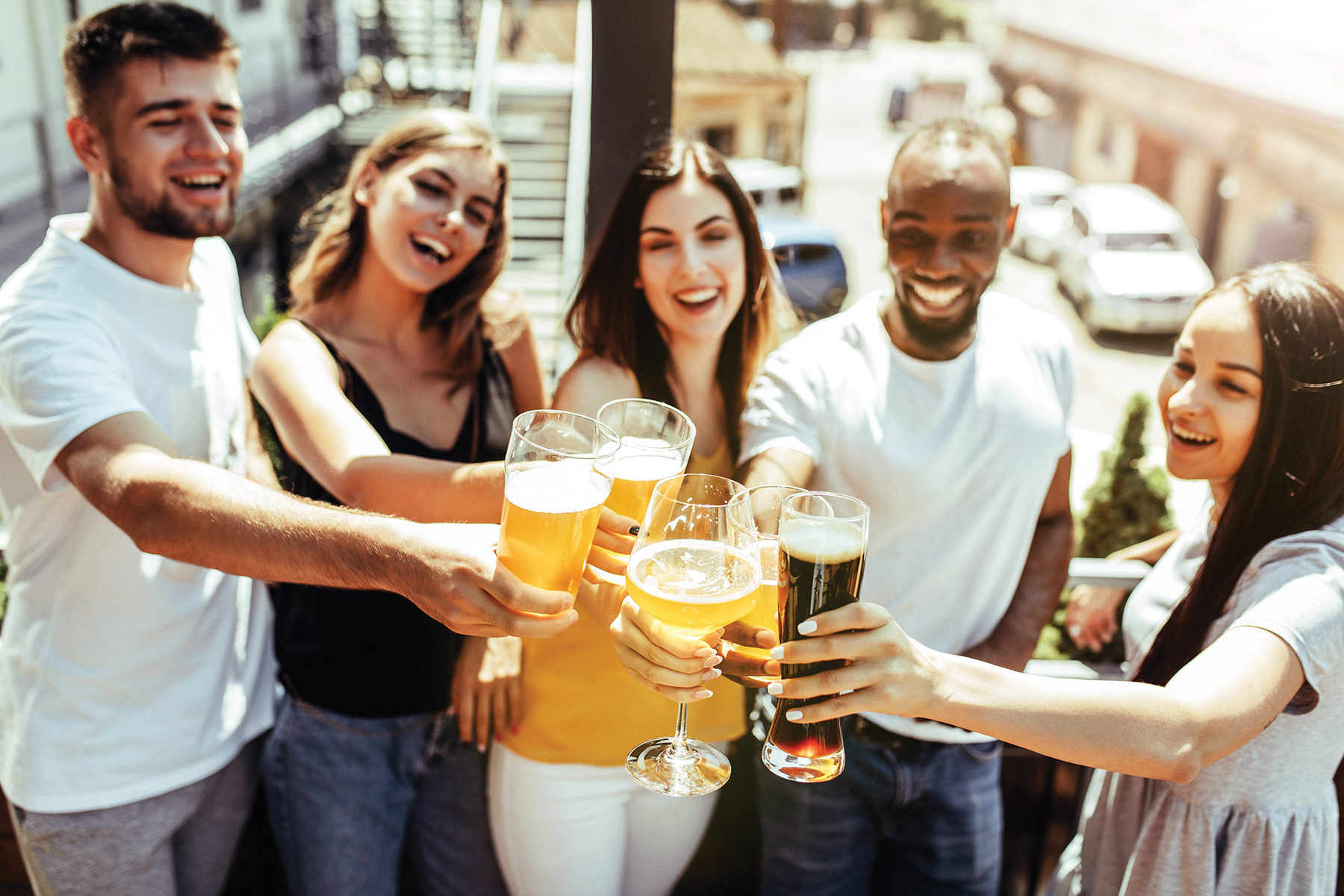 Warm weather means spending more time outdoors – oftentimes with a nice, cold, refreshing beer in hand. After months hibernating inside savoring dark, heavy, more comforting ales, spring is the perfect time to enjoy a lighter, fruitier brew. But with so many delicious varieties out there, how do you decide which one to pop open on that beautiful spring Saturday afternoon, or order the next time you visit your favorite bar, brewery, or restaurant for a much-needed night out? We asked our friend and long-time Triangle brewmaster Brad Wynn, co-owner of Norse Brewing Company in Downtown Wake Forest, for a few suggestions – and descriptions – of warm weather brews that are sure to give your tastebuds a much-needed spring awakening.
– LAGER: The lager is the most common type of beer in the world. The bottom-fermented brewing technique (the yeasts used to ferment it gather at the bottom of the fermentation tank) results in a crisp, light, refreshing beer with a smooth, mellow taste (as well as usually a lower alcohol and slightly higher sugar content).
– SAISON: A Belgian style of beer fermented with complex flavored yeasts, saisons – full of fruity and spicy notes and typically lower in alcohol – are light-bodied beers that are very refreshing and considered easy drinkers. Known as a farmhouse beer, saison was traditionally brewed solely during the winter months when farmworkers had less field work to do. Saison ferments and matures for an extended period of time, making it perfect for enjoying during the spring and summer seasons.
– KOLSCH: Born in Germany, the light and crisp Kolsch is similar to an ale, but is fermented like a lager, and features fruity ale notes, resulting into a very balanced beer, without a bitter taste.
– HEFEWEIZEN: The original wheat beer, the popular German-born hefeweizen boasts crisp, refreshing, bright flavors. Using a top-fermenting ale yeast, and at least 50% wheat malts, along with barley, the unfiltered hefeweizen is characterized by its cloudiness and white head.
– WITBIER: Belgain witbier, or white beer, is a sessionable beer at just 4%-5% ABV. Pale in color, witibiers are often cloudy and creamy, due to incorporation of oats and wheat. The addition of citrus peel and coriander make the beer bright, fragrant, and refreshing – a perfect beer for drinking in the spring sunshine.
– PILSNER: The pilsner is known to be a clean, crisp, and almost spicy-flavored beer, featuring a slight peppery taste. Originated from the town of Pilsen in the early 1840s, pilsner was the first of its kind.
– HELLES: Helles, a refreshing lager, is golden in color and considered to be malty, light, and sweet.
– FRUITED SOUR ALE: With its vibrant fruit flavors, the popular fruited sour ale is a great way to balance sour and sweet, while also adding depth of flavor. From citrus to berries to peaches to pineapples, there are a number of fruited sour ales on the market today – most of which are not nearly as sour as their name implies – so you are sure to find one to satisfy your spring sour ale craving.
In addition to enjoying a nice cold glass of beer on a beautiful spring day, a good beer also makes for good spring grilling ... specifically, a good marinade – an easy way to incorporate beer into a recipe. Whether your weekend grilling calls for steaks, pork, chicken, or seafood, you can't go wrong with a recipe made with beer. Thanks to its distinct, unique flavor, beer can enhance a dish's overall taste. Its flavor, compared to other popular marinade bases (i.e. wine or citrus juices), is much less acidic, but is still chock full of flavor. Plus, because of its alcohol content, beer tenderizes meat and breaks down fatty tissues. Additionally, any of the beer's added herbs and spices provide even more delicious flavor. Furthermore, beers offer a large variety of types and flavors, thus encouraging chefs and grillmasters to experiment with flavor combinations. Chances are if you use a beer you like to drink, you'll like eating with it as well.
Some delicious springtime beer-inspired grilling dishes include beer marinated steak (maybe sprinkle in some salt and lemon pepper, along with your favorite brew); beer lime chicken (toss in some cilantro and honey for added flavor); grilled beer shrimp; beer marinated fish tacos; and beer marinated vegetables – beer doesn't only pair nicely with meat and fish … marinate fresh summer veggies with herbs such as rosemary and thyme for a tender, flavorful side dish.
Perhaps you aren't a big beer fan, or you're just craving something a little different this spring – Brad's daughter and Norse bartender Taylor recommends a Mezcal Paloma. The cocktail's smoky flavor balances quite nicely with the sweet yet bitter taste of freshly squeezed grapefruit juice. But before you create this tasty concoction, run a lime wedge along the rim of the glass, and dip into tajin seasoning. Your first taste will be a chili-lime flavor from the tajin rim, and have you dreaming of hot summer days in no time.
Special thanks to Brad Wynn, the brewmaster for Norse Brewing Company. For over 25 years, Brad has committed his heart and soul to redefining the craft of brewing. His skills and talent have made him a brewing legend – not just in the area, but among beer lovers around the world. Now, as co-owner and brewmaster of Norse, he continues to push the boundaries of the art, creating truly unique and delicious beers. Norse Brewing Company is located at 203 S. Brooks Street in Downtown Wake Forest. For more information, visit norsebrewingco.com.