Celebrating 100 Years
Happy Anniversary Wake Forest Federal!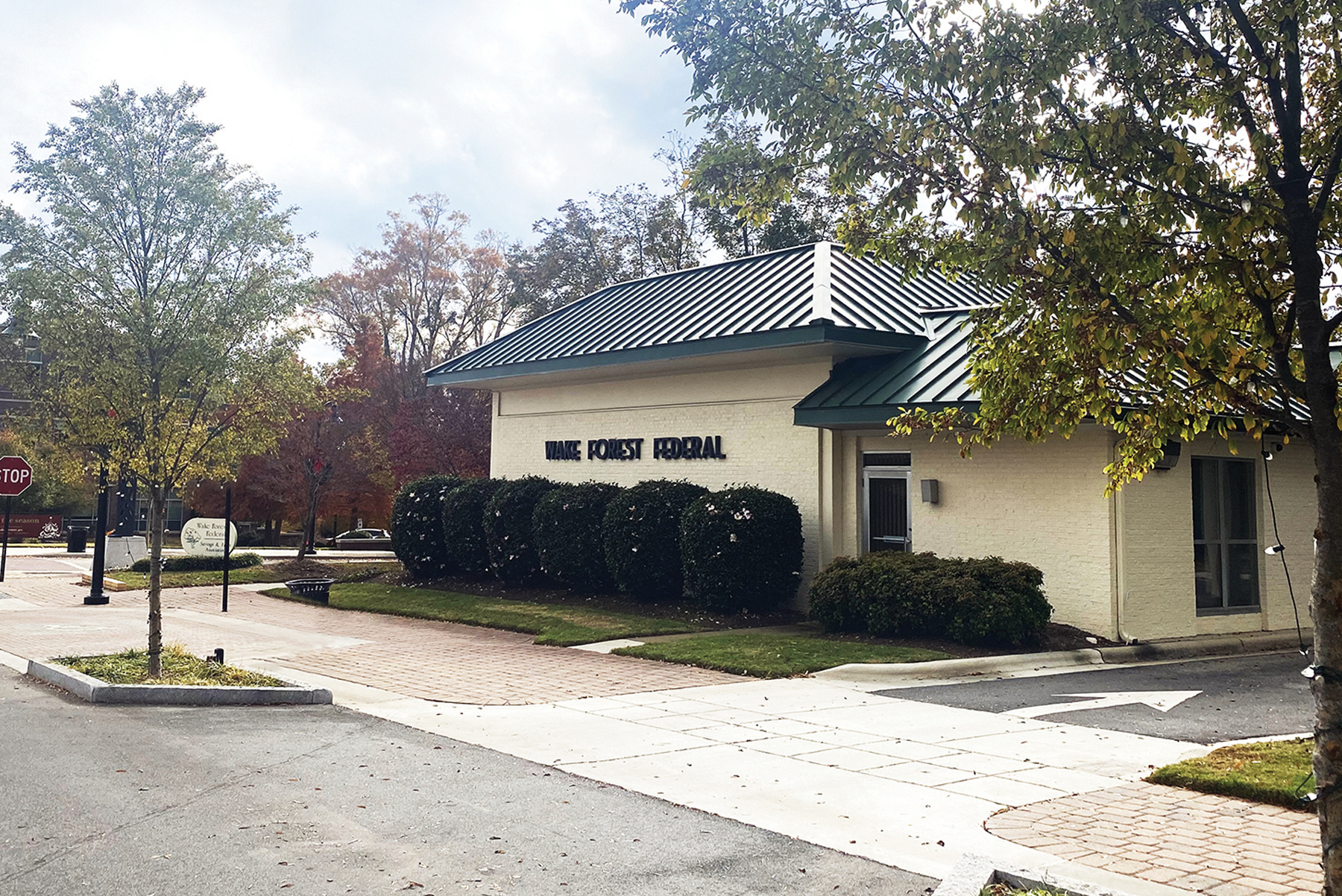 Founded in 1922, Wake Forest Federal's 100-year legacy was built on a goal to promote savings and home ownership in the Wake Forest and surrounding communities. At the time, the Association's assets totaled $573. Today, 100 years later, the bank's assets total over $112,000,000.
As we celebrate this amazing milestone, let's talk about the story of this bank that has stood the test of time, surviving depressions and recessions and serving as the longest continuously operating bank in Wake Forest.
Wake Forest Federal started from humble beginnings. T.E. Bobbitt was its first president, and he ran the bank for 11 years from his home on S. Main Street, just down from Wake Forest Baptist Church. The original safe with the lettering "Wake Forest Building and Loan Association" still resides in the house. In 1933, Mr. Bobbitt was forced to give up the office since he was also the chief examiner of the state's regulatory agency. Oddly, his wife was allowed to replace him.
The first board of directors consisted of a merchant, seed store owner, cotton merchant, college administrator, dentist, attorney, mill owner, grocer, and three college professors. The board has always been made up of a cross section of the community, and for years, had strong ties to many old Wake Forest families – the Brewers, the Holdings, and the Mackies, to name a few. The bank also had close ties to Wake Forest College, and many of the bank's directors were administrators or professors. Murray Greason was an early member of the board, and also the college's head basketball coach, later becoming ACC coach of the year. Beverly Lake, who later ran for governor twice and served on NC Supreme Court, was also an early board member.
For many years, the bank conducted its business on S. White Street at a teller window of the Durham Bank and Trust Company (which subsequently became CCB, and then SunTrust). In those days, banks and savings and loans had delineated lines of business and were not competitive with one another. Savings and loans typically provided loans to promote home ownership; commercial banks did not. Most of the older homes in Wake Forest were financed with funds made available by Wake Forest Federal. During this time, the officers and directors of the bank knew everyone in town, and the borrowers' character was a critical factor in lending money, regardless of their current situation, race, or the size of their checkbooks.
But what might make Wake Forest Federal unique is that it was often run by female presidents – five, in fact. The longest running president was Glen Glover who took over in 1948 and held that position for 31 years. In 1988, Anna Sumerlin became president until her retirement in 2002 – she continues to serve as chairman of the bank's board today. In 2017, Renee Shaw took over the position, which she still currently holds.
In 1964, the bank moved from its storefront building on S. White Street to its current location on Brooks Street across from Town Hall. In the mid 1990s, the bank was enlarged, and underwent further renovations in 2018. It is now a full-service bank offering a range of financial services to both individuals and commercial businesses including mobile, online banking, and many other products typical of much larger institutions.
Wake Forest Federal continues to be successful by targeting customers who prefer a higher level of special attention. Renee Shaw states that "Our employees greet each customer by name. We take the time to get to know their families and understand their financial situation." And customer service is not the only attribute that differentiates the bank. Its employees love working in the family-like atmosphere – so much so that not a single employee has left the bank to take a job elsewhere in the last 30 years. Renee shares that "We attempt to make our workplace a family setting where we all pitch in, regardless of the task. We make it hard to leave."
She also states that "The bank will be celebrating its 100 year anniversary with a series of events throughout the year. Special appreciation occasions are being planned to say thank you to the community, our customers, and shareholders. We love this community and are grateful that a small bank like Wake Forest Federal still has the support from locals who prefer a different and more intimate banking experience."
Congratulations Wake Forest Federal on 100 years!