Celebrate Summer In The Forest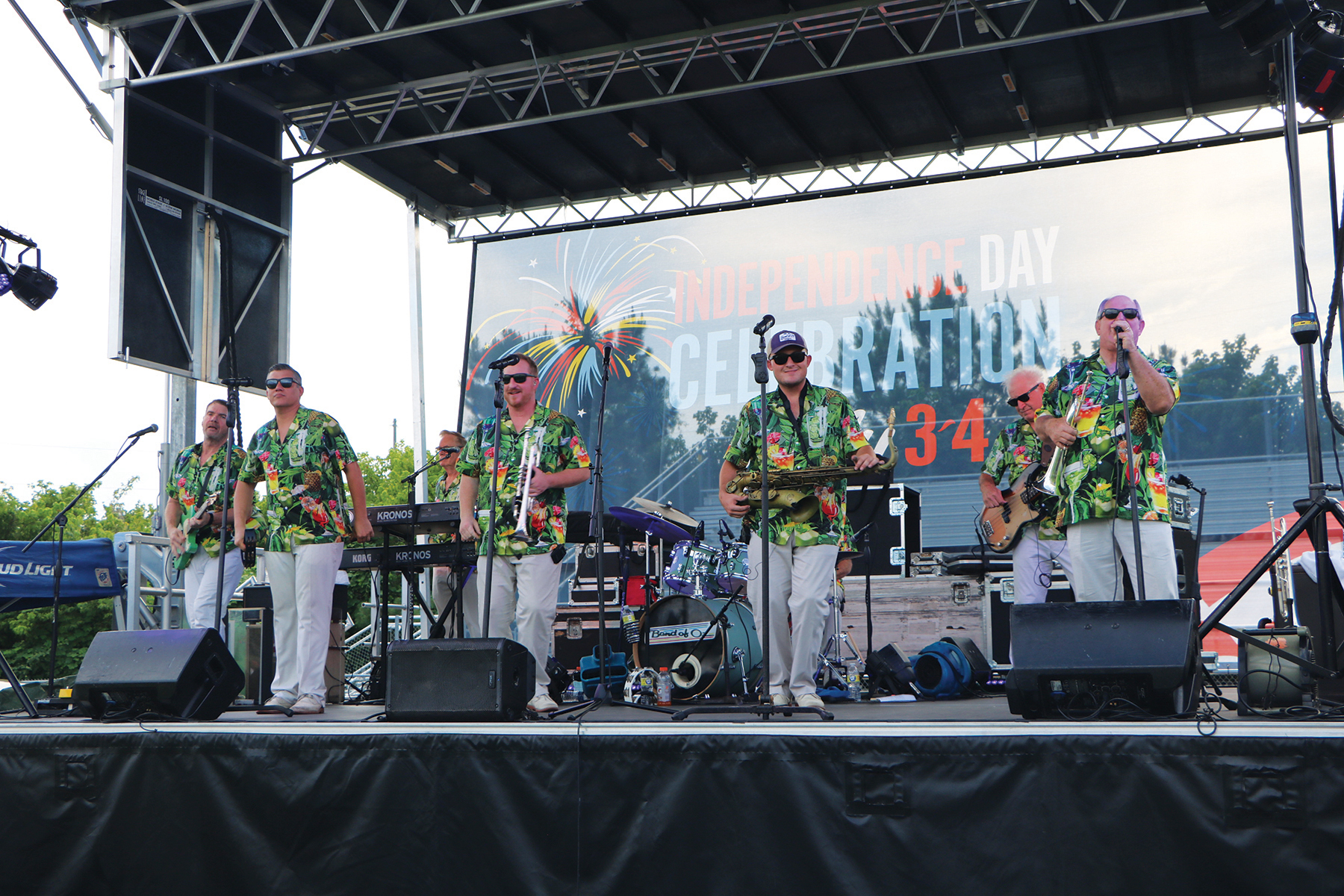 Warm weather is finally here, and the Town of Wake Forest is buzzing with an exciting lineup of summertime happenings, including our two-day Independence Day Celebration, outdoor concerts, family movie nights, and more. Gather your family and join your friends and neighbors for these exciting events guaranteed to deliver an unforgettable summer in the Forest.
Independence Day Celebration
This year marks the 50th anniversary of the Wake Forest Independence Day Celebration! Presented by Capital Chevrolet, this eagerly anticipated summertime event will serve up two days' worth of free fun and excitement including fireworks, food, live entertainment, and more.
The festivities get underway with the Fireworks Spectacular on Monday, July 3, inside Husky Stadium on the campus of Heritage High School (1150 Forestville Road). Admission is free and gates open at 5:30 PM. The Band of Oz, one of the southeast's most popular beach music bands, will take the stage at 6:15 PM. The evening will conclude with an amazing fireworks show beginning around 9:30 PM.
The revelry continues Tuesday, July 4, with the annual Children's Parade along N. Main Street. Area youngsters are invited to hop on their bicycles and be a part of their very own walking parade. The lineup begins at 10:00 AM at the intersection of N. Main and W. Juniper Avenue, near the Wake Forest Historical Museum, located at 414 N. Main Street, and the procession gets underway at 10:30 AM. Participation in the Children's Parade is free, but bicyclists must wear their helmets. The festivities continue at 11:00 AM with Art & More in the Park. During this event, the Wake Forest Woman's Club will offer free arts and crafts activities inside the Wake Forest Community House, located at 133 W. Owen Avenue, while the Wake Forest Fire Department will be outside interacting with children and their families, serving free hotdogs and providing information on fire prevention and safety.
A very special thanks to Dawn Nakash, the Wake Forest Optimist Club, a group of incredible volunteers, and the Wake Forest Police Department for making this year's July 4 Children's Parade possible. A sincere thank you also to the Wake Forest Woman's Club for again sponsoring Art in the Park. Visit wakeforestnc.gov and search "Independence Day."
Friday Night on White
Friday Night on White is in full swing. Widely considered as Wake Forest's most popular outdoor concert series, Friday Night on White continues July 14 with The Brickhouse Band, August 11 with Stone Age Romeos, and September 8 with Crush. These free concerts take place from 6:00 PM – 9:00 PM along S. White Street in historic downtown Wake Forest. While you're enjoying the music, be sure to visit sponsor exhibits and enjoy delicious food at downtown's outstanding dining establishments or from several food trucks that will be on-site. A special thank you to our grand sponsor, White Street Brewing Co., for their continued support. For more information, visit wakeforestnc.gov and search "Friday Night on White."
Family Movie Nights at Joyner Park
You're invited to enjoy a movie under the stars. Our Parks, Recreation & Cultural Resources Department is excited to host Family Movie Nights at Joyner Park, located at 701 Harris Road. The outdoor movie series continues Saturday, July 22, with Zootopia and Saturday, August 5, with Spider-Man: No Way Home. Free and open to the public, the movie screenings begin at approximately 8:30 PM. Each Family Movie Night also includes a movie-related pre-show activity for kids beginning at 7:15 PM. Bring chairs or a blanket and arrive early to give you and your family time to find a spot and settle in before the movie begins. Assorted food vendors will be on-site selling snacks and beverages. For more information, visit wakeforestnc.gov and search "Family Movie Nights."
Renaissance Centre's 10-Year Anniversary Celebration
The Wake Forest Renaissance Centre, located at 405 S. Brooks Street, opened in November 2013 by encouraging visitors to "Imagine the Possibilities." This year, the Renaissance Centre (RC) will commemorate its 10-year anniversary with a series of concerts, performances, and special events designed to highlight its impact as "the place" our community gathers to celebrate and enjoy the arts.
The RC's "Realizing the Possibilities" Celebration Series gets underway with The Malpass Brothers concert on July 22 and continues with two murder mystery dinners on August 12, the Celebration of the Arts on October 7, Marcus Anderson in concert on November 18, and four performances of the Celtic Angels December 15-17.
The series then extends into 2024 with the captivating Jason Hudy: Mesmerizing Magic Show in January, Black History Month performances in February, the Wake Forest Film Festival in March, and a concert featuring The Drifters in April. For more information, visit wakeforestrencen.org.
Wizard of Oz
The Renaissance Centre is partnering with Vital Theatre to present the Wizard of Oz on Saturday, September 16, at 2:00 PM and 6:00 PM. Don't miss this incredible re-telling of an American classic that has been entertaining audiences for ages. Rediscover the joy of following the yellow brick road with Dorothy and friends as they travel through a re-imagined world of Oz. This scaled down version will last approximately one hour and is suitable for children of all ages. General admission tickets are $20 for adults and $10 for students, and can be purchased online or at the box office. For more information, visit wakeforestrencen.org.
Stay Connected!
Always be the first to know about Town of Wake Forest programs, services, breaking news, and special events by signing up for E-Notifier, downloading the Town app, visiting the Wake Forest website, and/or following the Town on social media @TownofWakeForest. For complete details, visit wakeforestnc.gov and search "Communications."
Town of Wake Forest
To learn more about town events, sponsorship opportunities and how you can get involved, contact Amanda Cochrane.