Butternut Squash Soup
Savory Comfort In A Bowl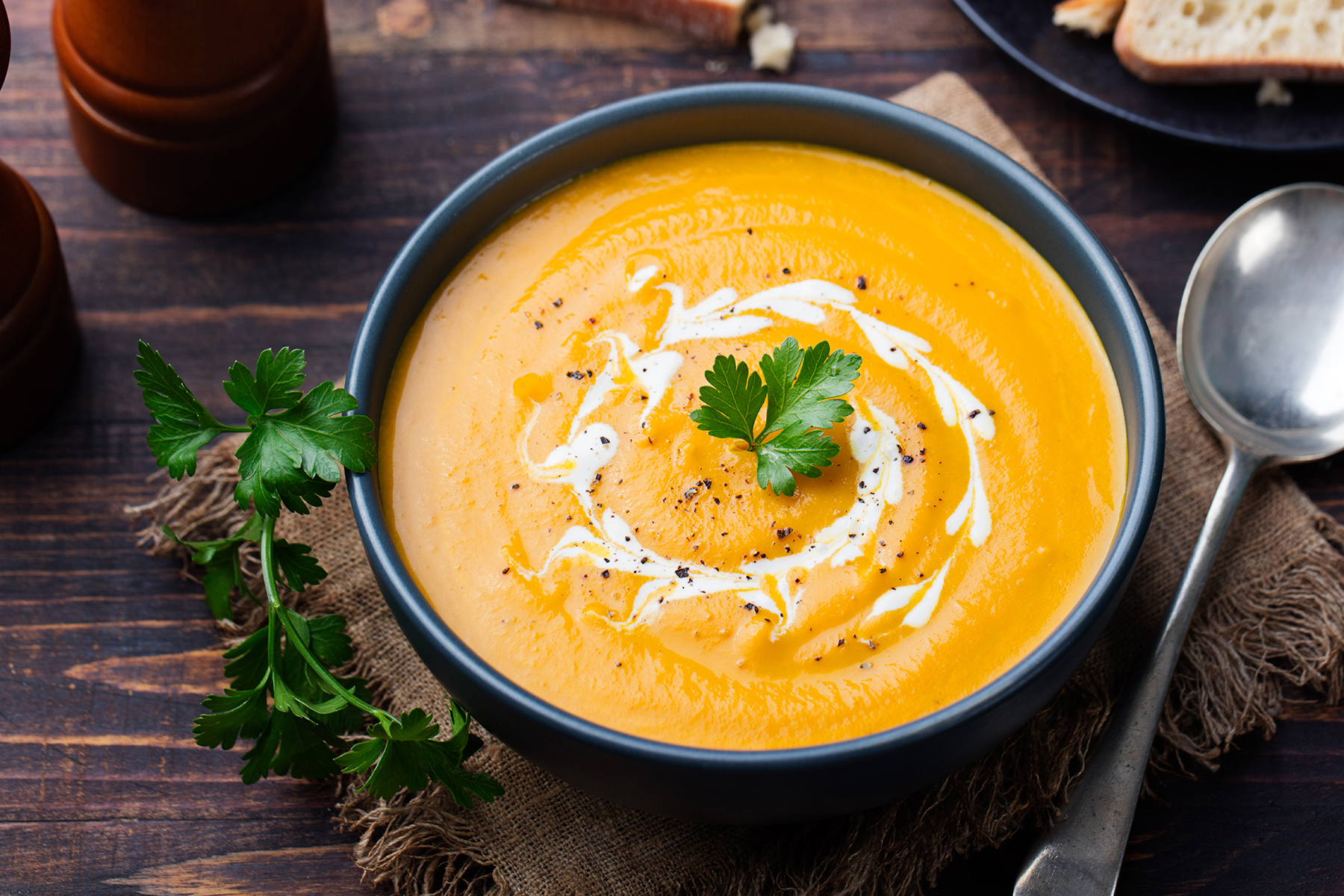 The holidays … a time when families come together, traveling from all over to enjoy a special meal and cherish quality moments. Have you ever experienced the perfect Thanksgiving meal? An event so spectacular that you look back and say, "Wow, everything went exactly as planned – the food, the drinks, the atmosphere, the love … all of it was just perfect." Truly a time that was so memorable and beloved.
Well ... that is not what happened on Thanksgiving of 2011.
Allow me to introduce my cousin, the renowned Buffalo, New York chef Teddy Bryant. Chef Teddy's culinary journey began at Nassau Boces, a vocational school on Long Island, where he studied culinary arts and cultivated a passion for the world of cuisine. During his time at Boces, he embarked on an apprenticeship at the well-known and highly regarded New York City restaurant, Le Cirque. Upon graduation, he further honed his skills as a student at the esteemed CIA – no, not the Central Intelligence Agency, but rather The Culinary Institute of America, from which he graduated in 2005.
After CIA, Teddy moved to Las Vegas and worked in hotels such as Caesars Palace, MGM Grand, the Venetian, and Palazzo. Throughout his Vegas tenure, he worked alongside notable chefs, including Bradley Ogden, Wolfgang Puck, and Mario Batali. From Vegas, he decided to move to Dallas, Texas and help a friend open a fine dining restaurant. Once they were on their feet, he felt compelled to move back to his hometown of Buffalo, marking the beginning of a pivotal chapter in his career. Collaborating with the owners of the now-famous Lloyd Taco Trucks, Chef Teddy was the heart, soul, and fuel that helped Lloyd grow from a single food truck to four, and two brick-and-mortar restaurants. Teddy's culinary prowess extended to winning numerous "Top Chef" competitions in Buffalo. So it's safe to say that you are in good hands with this recipe I'm about to share.
In a surprising twist to all (and a disappointing announcement to fans of quality food in that region), Chef Teddy has hung up his hat to discover a new passion beyond the kitchen. He is now using his magical hands to renovate and remodel homes in the Buffalo area. This allows him to spend more time with his family and friends, which is what it is all about anyway, right?
Back to the fateful Thanksgiving of 2011 …
When he moved back home, Teddy wanted to create the perfect Thanksgiving feast for us, his family. After working tirelessly throughout the holiday season, and finally having one day off, he decided to craft and execute an unforgettable Thanksgiving menu. There was only one problem – well, two, but I will get to that.
The oven broke down. I repeat ... the oven broke down! All this glorious food, prepared by a chef who had trained with world-famous chefs, was just sitting there, waiting to be cooked. Utter chaos. The turkey was in the middle of cooking at this point, so Teddy, along with my mother and father, had to get creative in finishing the meal. That is where the sous chefs stepped up and delivered. Chef Mike (microwave), Chef Crock (slow cooker) and Chef Top (stove-top) banded together and saved the day hours later, delivering one of the most exquisite feasts I have ever had. I was blown away with the flavors Teddy brought to the meal. Everything was just incredible.
Among the meal's highlights was the butternut squash soup we had as an appetizer. Until that point, I don't believe I had ever experienced this culinary creation – it's not something I would have ever ordered, quite honestly. But I am telling you … since Chef Teddy made it, I knew I was going to love it.
He even made a fresh, homemade cranberry sauce, much to the disappointment of my father, as he pined for the canned version of the traditional side. This was problem number two, as previously stated. Easy fix though, as we rushed to the store and got Dad his canned cranberry.
Ultimately, that particular Thanksgiving may not have been perfect, but the experience, and the delectable food, made it one of the most memorable for me. At the end of the day, it does not really matter how you get to the result. If you are surrounded by people you love, I always consider that a win.
This holiday season, I hope you enjoy Chef Teddy's cherished butternut squash soup recipe, one that captures a snippet of this unforgettable culinary experience.
Butternut Squash Soup
Serves 8-10
– 2 tablespoons of olive oil
– 3-4 cloves of garlic, chopped
– 1 large yellow onion, chopped
– 1/2 teaspoon salt
– 1 (3 pound) butternut squash, peeled, seeded, and cubed
– 1 tablespoon chopped sage
– 3-4 cups of hot chicken broth (substitute vegetable if preferred)
– 1 cup heavy whipping cream
– Cracked black pepper as desired
In a heavy bottom sauce pot, heat oil over medium-high heat. Add onions, garlic, and salt and stir frequently until translucent, about 3-5 minutes. Add squash and cook until slightly golden on edges, stirring frequently, about 3-5 minutes.
Add 3 cups of broth and sage. Turn to high until soup begins to boil, then cover and turn to a simmer. Cook about 20- 30 minutes until squash is tender and falling apart. This time can vary depending the size of squash cubes.
Very carefully blend the soup using a hand stick blender. Blend until all chunks of squash, onions, and garlic are smooth. For a thinner consistency, add more of the hot broth you have reserved, Then slowly pour in the cream while blending to fully combine and add richness to the soup. The cream can be left out if vegan. (If using a "smoothie blender," only fill the blender halfway or slightly less than half because it will be too hot to blend in a large batch. For safety, you may need to blend in multiple batches.)
Once the soup is fully blended, add some freshly cracked pepper. Taste your soup and decide if you want more salt or not. This can vary depending on your preference or the amount of liquid you added. Serve and enjoy!
* Garnish ideas: toasted, chopped hazelnuts; fried sage; or a dollop of fresh Mexican crema or sour cream.
Will Barnack
General manager of The Butcher's Market – Heritage.