Building Hope
One Child At A Time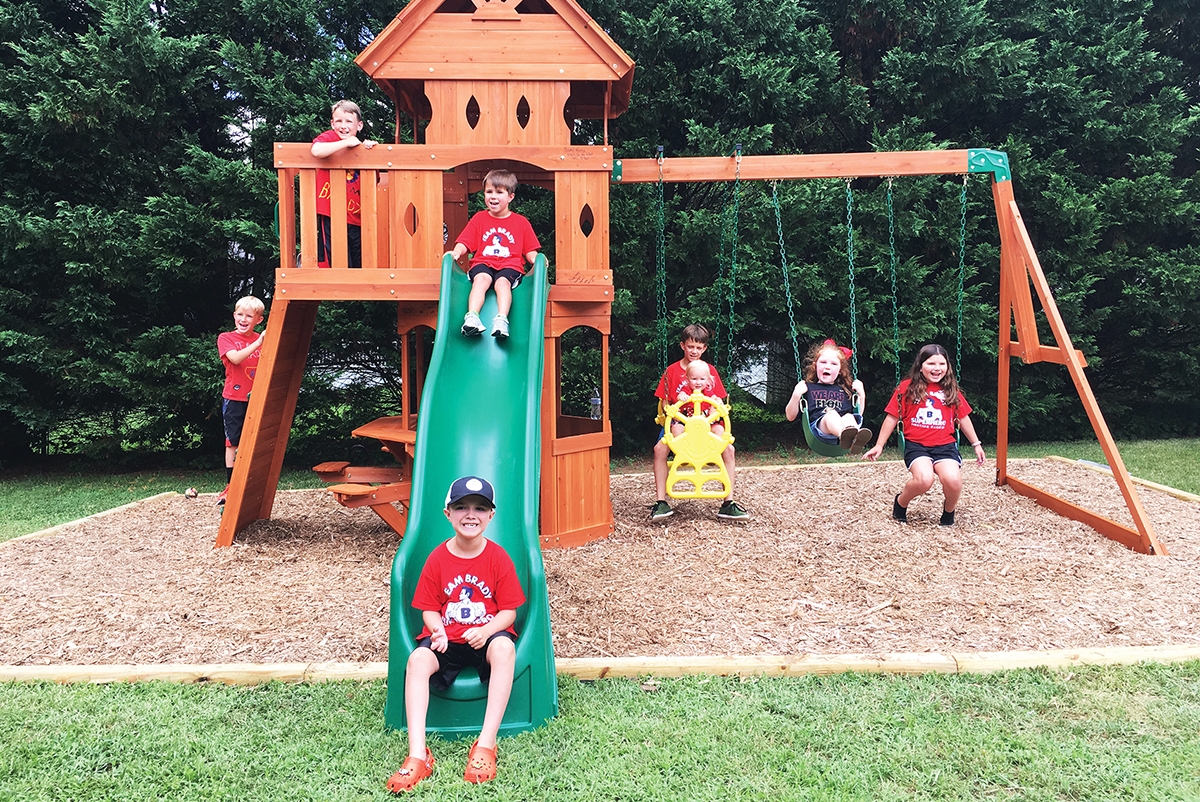 My husband Rich and I truly love North Carolina. We especially love being outdoors during the spring and summer seasons. In my opinion, there is no better place in the world to be on a warm evening than our own back deck. I guess that is why we are so passionate about fighting mosquitoes.
We also believe in giving back, and although we have supported several outstanding charities over the last few years, I have to tell you about one in particular – the Roc Solid Foundation – that is doing some very special things for some local families currently fighting pediatric cancer.
It all started at the 2017 Growler Beach Volleyball Tournament, a St. Baldrick's event we sponsor. St. Baldrick's mission is to fund research to fight childhood cancer. Rich and I were setting up our table when I began talking to the sponsor at the next table. Her name was Kara Bonvillian and she was a newly appointed engagement coordinator whose mission was to bring Roc Solid Foundation to North Carolina. After hearing Kara passionately describe their mission of building hope for local kids fighting cancer by offering opportunities for them to do what they do best – play – I knew that Rich and I had to get involved. After all, our commitment is to "make outside fun again," and Roc Solid's motto is "Play Defeats Cancer." It just seemed like it was a perfect match.
It was 2009 when Roc Solid Foundation officially came to life in Chesapeake, Virginia, and August of 2017 when Kara led Roc Solid's expansion into North Carolina. Their nonprofit organization strives to shine light on very dark circumstances, providing opportunities for kids with cancer to play through their flagship "Play It Forward" program and also by giving "Ready Bags" to families when their child is first diagnosed, so they know they are not alone as they begin a terrifying journey. "Play it Forward" has one purpose – to build hope for families fighting pediatric cancer through the power of play. At each "Play It Forward" project, the family is taken by limo for the morning while a group of volunteers work to build a brand-new playset in their backyard. When they return home, they are escorted back for the big reveal.
Rich and I first experienced a Roc Solid playset build when we sponsored a build for Preston, a local boy fighting lymphoma. Sponsorship meant funding the build and recruiting volunteers willing to give up a Saturday morning to help construct the playset. Since everyone who participated had a truly inspiring experience, I have no doubt that finding volunteers for future builds will not be a problem. In addition, to make the playset even more fun, we also offer the families all-natural mosquito treatments for the rest of the season.
For our first build, we and the other volunteers built Preston a playset, through the guidance and direction of the Roc Solid team, in just a few hours. Why playsets? They not only provide a safe play area for the child that is free from germs, but they also represent an escape from cancer; when kids are playing, cancer is the last thing on their minds. At Roc Solid, they call this "what hope looks like." We will never forget how genuinely happy Preston and his family were when they saw their new playset for the first time ... in that moment, play defeated cancer!
In addition to playsets, their mission begins inside each children's hospital through their Roc Solid "Ready Bag" program. These bags are given to families on the worst day of their lives – the day they find out their child has cancer. Their battle starts that day, so "Ready Bags" include everything a family might need for their unexpected hospital stay – toiletries, a blanket, a journal, a Samsung tablet, and much more. These essentials are helpful, but they also send a message to each family that they are not alone as they begin this journey.
Locally, Roc Solid Ready Bags are given to every single family at UNC and Duke Children's Hospitals immediately following the diagnosis that their child has pediatric cancer. These bags allow each family to stay together, instead of one parent having to go home and pack a bag while the other stays with the child at the hospital to start treatment. Through the program, this moment of separation on such a terrible day is eradicated.
Roc Solid has been sending UNC Children's Hospital their Ready Bags for over two years, and recently started sending Duke Children's Hospital their Ready Bags in January of this year. Combined, they have currently distributed over 200 bags to these two local children's hospitals. Additionally, by the end of their 2019 build season, they will have constructed 21 playsets for kids fighting cancer in the Triangle area. As a foundation, their sole priority is kids and families fighting pediatric cancer. Their goal is to bring hope to every single one of the 16,000 families facing pediatric cancer nationwide every year. By the way, that's over 400 right here in North Carolina. By partnering with them, we cannot change the fact that a child has cancer, but we can change the way that a family fights it.
Working with The Roc Solid Foundation and sponsoring builds is one of the most rewarding things Rich and I have ever done. Watching the expression of joy by Preston and his sister at the reveal, and then watching them rush in and play with their neighborhood friends is a memory I am sure we will cherish for years to come.
I encourage other business owners to consider becoming a build sponsor. You won't regret it! Individuals can support the Roc Solid Foundation as well. For example, at the cost of $300 per ready bag, a donation of as little as $25 per month for 12 months can provide one family a Ready Bag.
If you want to get involved or have further questions about Roc Solid Foundation, please email kara@rocsolidfoundation.org, or visit www.rocsolidfoundation.org.
Margarita Cohen
The owner of Mosquito Joe of Raleigh, Durham, and Chapel Hill, making "Outside Fun Again" with mosquito control treatments for residential and commercial customers. For more information or to schedule an appointment for treatment, call or visit their website.
Margarita Cohen is the owner of Mosquito Joe of Raleigh, Durham, and Chapel Hill, making "Outside Fun Again" with mosquito control treatments for residential and commercial customers. For more information, or to schedule a treatment, call or visit their website.