Be A Barbecue Burger Grillmaster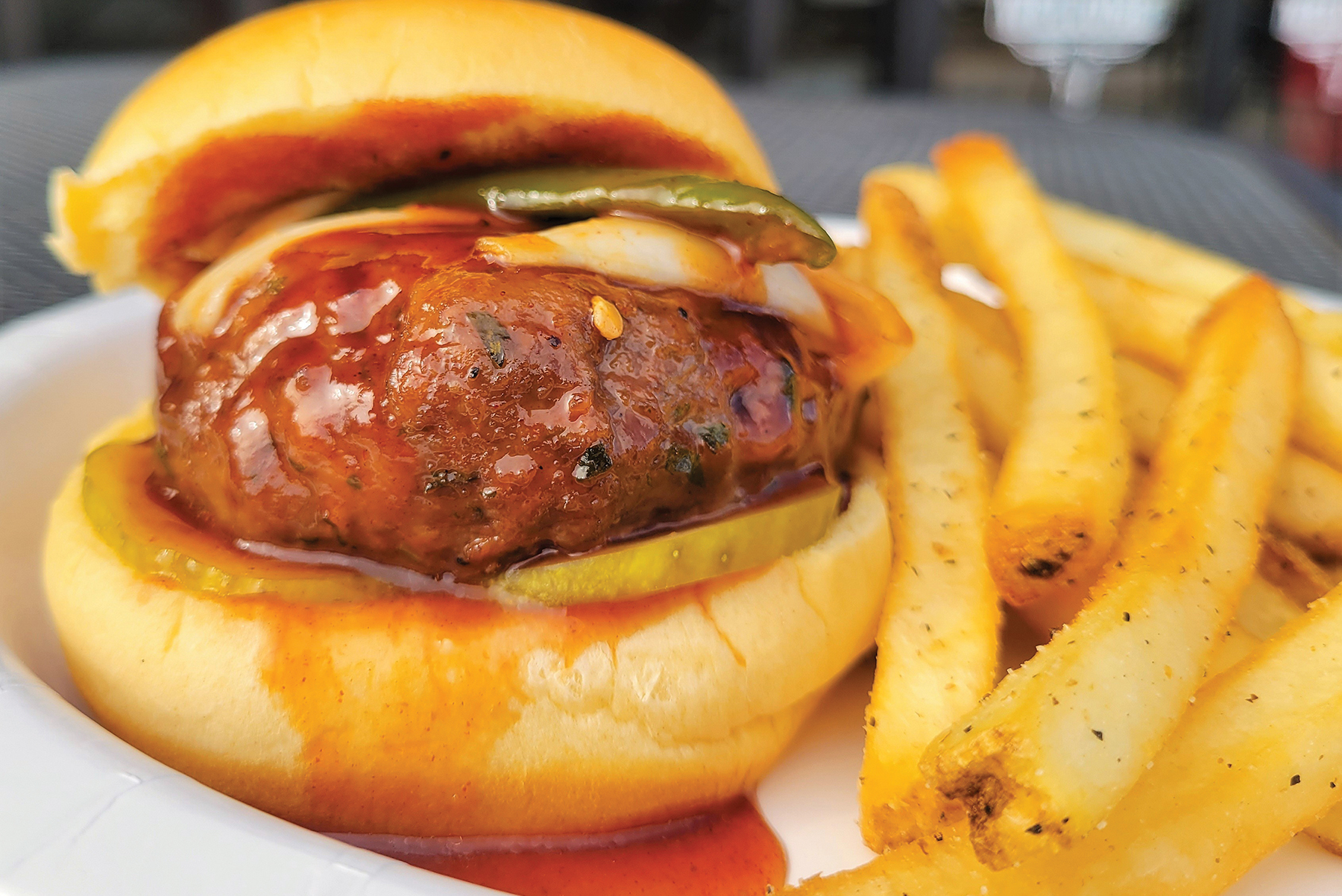 Gathering with friends and family is a springtime staple, an opportunity to welcome the season with good food, good drinks, and good company. As the weather warms, I find myself fondly remembering spring get-togethers at my parents' house as I was growing up. Windows and doors were open, natural air wafting through the house. Kids and adults wandering indoors and out, striking up different conversations as they mingled. The garage was open, filled with its own congregation of chatting guests. In the yard, children were running around, while some older folks enjoyed a fun game of cornhole or bocce ball. Beers were in the cooler, ice cold. Laughter and love formed a bubble around the home.
A big part of these get-togethers was the food. My family is strewn with chefs and food industry alums, so it's only natural that food has played such a large role in our growth and development. At each event hosted at our home, guests would contribute sides and desserts to share, and my parents would provide the main dish. While everything about these childhood gatherings will forever be cherished, there is one particular star of the show that I will always warmly recall … my dad's famous barbecue burgers, and his slow-cooker twist. As soon as the guests were notified of the menu, their eyes would immediately widen at the news that they were being served. While Dad has historically been known as a grill master, who knew he was also so adept at slow cooker meals as well?
The barbecue burger is a super easy way to make yourself look like a culinary pro. I want to share this dish, not only to give accolades to my dad, but to provide you with a simple, delicious, and transportable contribution to any party or gathering. Perhaps it may become a staple for your springtime fun with family and friends too.
The recipe should yield 16-20 burgers, depending on desired size. The best grind for these burgers is an 85/15 (or 80/20). This ratio is going to add some fat and flavor, while still being tender and not resulting in overly greasy burgers. This recipe calls for four pounds. Put the ground beef in a large mixing bowl. Then chop one medium white onion, one-half red pepper, one-half green pepper, and one cup of parsley – add to the beef. Finally, add two whisked eggs, one-half cup of milk, one tablespoon of Worcestershire (how do you even say that?), and kosher salt and crushed black pepper to taste. Now it's time to get your hands dirty! Mix all the ingredients until they are evenly distributed throughout the ground beef. After completion, patty out your burgers. Make sure they are the proper size for the buns you are using. You don't want too much bread for your first couple of bites. After all, the first bite, much like a first kiss, is memorable. I enjoy these burgers on a soft kaiser roll, a potato roll, or even a nice brioche bun.
There are two different ways to initiate the cooking process, with the first being in the oven. You will need a sheet tray with parchment paper (or spray). Pre-heat the oven to 350 degrees. Then evenly place the patties on the tray. When the oven reaches 350 degrees, insert the burgers and set your timer for five minutes. At this point, you will have time to run and grab a beer and possibly contribute a witty remark to an ongoing conversation. It is all about entertaining, remember.
At the five-minute mark, pull out the burgers, flip, and put them back in for five more minutes. When the burgers have reached 10 minutes of cook time, they are ready to go into the slow cooker.
In the slow cooker (set to low), you are going to pour a base layer of your favorite barbecue sauce, to ensure the burgers are not only surrounded in sauce, but also to prevent them from sticking to the bottom of the pot. For the sauce, I like a thick, sweet barbecue sauce with a touch of heat. Some prefer a traditional sauce, or one that is spicier. Of course, it is dealer's choice.
You may choose to add sliced onions to the sauce for a tasty burger topping. If you like a little kick, don't hesitate to throw in three or four whole jalapeños – cut in quarters the long way, or slicing is a good option as well. This not only adds spice, but results in another appetizing garnish for your barbecue burgers. You may also sprinkle in some crushed red pepper for added zest.
Place the first level of patties into the pot and pour in another layer of sauce. Continue this process until all the burgers are swimming in a pool of barbecue delight. Let the burgers slowly cook in the slow cooker for about 11/2 - 2 hours. The optimal internal temperature for the finished burgers will be 135-140 degrees.
A professional tip for building your burger is to add pickle slices to the bottom bun. If you can source a spicy pickle slice, well even better. Place the burger atop the pickles, grab a few slices of onion and jalapeño, and drizzle some sauce from the pot onto the burger. My goodness, I can almost taste it while writing this!
The second option to initiate the cooking process is on the grill. Pre-heat the grill to high, and when ready, turn to medium and cook the burgers for about three minutes on each side. This method will give you a little sear on the burgers, adding a bit more flavor. Either way, you are going to have a delectable dish for your guests to indulge.
There are many opportunities coming up to give this future mainstay its big break. Major League Baseball, the Masters, graduations, and just a beautiful Saturday evening when Mother Nature beckons you outside. Regardless of the reason for your springtime gathering, I hope you enjoy this classic dish with loved ones, as I have and continue to do.
Will Barnack
General manager of The Butcher's Market – Heritage.