Baked In Tradition
Favorite Recipes Of Area Residents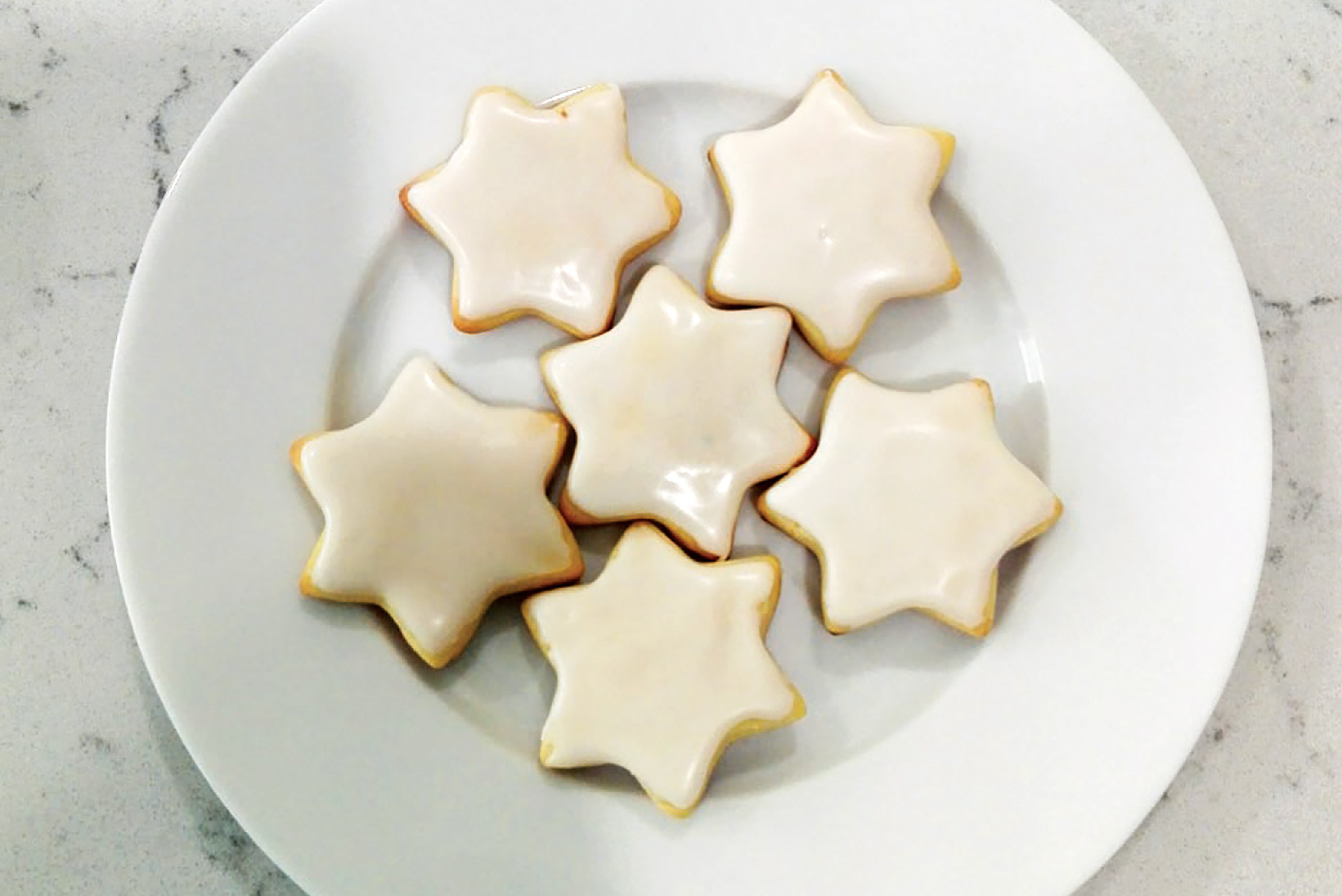 It wouldn't be the holidays without sweet treats. Part of the fun of baking delicious pies, cakes, cookies, and candies is the tradition of sharing favorite family recipes with neighbors and friends. Last fall, the Town of Wake Forest invited residents to share recipes for their favorite holiday treats, which they compiled into a digital cookbook, "Favorite Holiday Treats." This fall, I am excited to feature a few of these wonderful desserts with you, so you and your family can enjoy them as much as those who shared them do.
While there were many great recipes from which to choose, these stood out to me … not only because I know how much you'll enjoy each mouth-watering morsel, but also because of the love and tradition behind them.
MAILÄNDERLI SWISS COOKIES (PICTUReD)
by Amélie Wanner
"This recipe is from Switzerland. My grandmother bakes them every year for Christmas and I love them. I love cooking and baking, and I am curious and creative!"
– ½ cup butter (soft)
– 1 egg
– ⅝ cup sugar
– 1 pinch of salt
– 2 cups flour
– ¾ cups powdered sugar
– 1 to 1½ tablespoons water
Preheat the oven to 390 degrees F. Stir the softened butter until peaks form; add egg, sugar, and salt, and stir until you get a light mixture. Add the flour and knead the dough until it is no longer sticky. Cover the ball of dough with cling film and cool the dough for 15 minutes in the refrigerator. Now you can put the dough on a floured surface; roll out the dough ¼ inch thick and cut with a cookie cutter (Amélie uses a star-shaped cookie cutter with a diameter of 1¼ inch). Bake for 10 minutes. The Mailänderli are still soft and have a light color after 10 minutes, but they will harden a little, so take them out to cool. Finally, create a thick liquid glaze while the cookies cool by mixing the powdered sugar and water. Glaze the Mailänderli and you're done!
CHEWY SNICKERDOODLE COOKIE BARS
by Serena Weisner
"When the quarantine hit back in March 2020, our small family of three stayed inside and socially-distanced to protect ourselves, friends, neighbors, and family. Soon, we were lonely and needed something to look forward to each week as the days dragged on. My son, Nash, loves to video chat with his Nana and Poppy who live in Georgia, so we decided to start a 'Nana and Nash' baking afternoon every Wednesday. Each week they alternated selecting an easy, yummy recipe to bake – emphasis on easy – Nash in our kitchen in Wake Forest, and Nana in hers. They would call each other on a video call, gather their ingredients, and make the recipe … apart, but very much together. This recipe was chosen by Nana and was given to her by her neighbor, Eve. Once they baked and cooled, we all indulged in several bars and quickly decided this would definitely be added to our holiday baking rotation."
– ½ cup (1 stick) unsalted butter
– ½ cup Crisco shortening
– 1 cup granulated sugar
– 1 cup brown sugar
– 2 large eggs
– 2 teaspoons vanilla
– 2¼ cups all-purpose flour
– 2 teaspoons baking powder
– ½ teaspoon cream of tartar
– ½ teaspoon salt
– 1/8 cup granulated sugar
– 1 teaspoon cinnamon
Preheat oven to 350 degrees F. Line a 9x13 baking dish with parchment paper, leaving some overhang for easy removal. Place butter in a large microwave-safe mixing bowl and microwave on high for approximately 1 minute (and then 20-second intervals if necessary), until melted, making sure it doesn't boil. Add in shortening, both cups of sugar, eggs, and vanilla. Beat with a handheld mixer until combined. Add in flour, baking powder, cream of tartar, and salt. Continue to mix until well-blended (batter will be thick). Using a spatula, transfer batter to the prepared dish and spread it out evenly. Mix together the 1/8 cup of sugar and cinnamon; sprinkle over the top. Bake for 30 minutes (test the center by inserting a toothpick and make sure it comes out clean). Remove from the oven and allow to cool completely before separating from the parchment paper. Cut into bars and enjoy!
RUBY APPLESAUCE CAKE
by Sally Wilkinson
"This was my family's favorite Christmas cake. One year, I put my six-year-old son on a stool and showed him how to carefully cut the cherries in half. When I looked around to see how he was doing, I noticed that he was cutting each cherry carefully, of course, but he was putting one half in the measuring cup, and the other half into his mouth. 'John,' I said, 'If you keep eating half of the cherries, we won't have enough for the cake.' He put down his knife and said, 'Then you cut them!'"
– 2 cups sugar
– 1 cup butter, softened
– 2 cups applesauce
– 1 cup cherries (either candied or maraschino, halved)
– 1 cup strawberry preserves
– 1 tablespoon vanilla
– 3 cups all-purpose flour, sifted
– 1 teaspoon salt
– 1 teaspoon baking soda
– 1 teaspoon nutmeg
– 1 tablespoon cloves
– 2 teaspoons cinnamon
– 1½ cup raisins
– 1 cup chopped pecans (optional)
Preheat oven to 300 degrees F. Cream butter and sugar together. Add applesauce, cherries, preserves, and vanilla. Mix dry ingredients together and stir into applesauce mixture. Stir in raisins and nuts. Bake in greased bundt pan for approximately 2 hours.
Special thanks to Town of Wake Forest and the wonderful residents who shared their favorite holiday recipes! If you have a favorite recipe you'd like to share with our readers, please email it to info@circamagazine – it may just be included in a future issue!