Backyard Oases
Making The Outdoors An Extension Of Our Indoor Living Spaces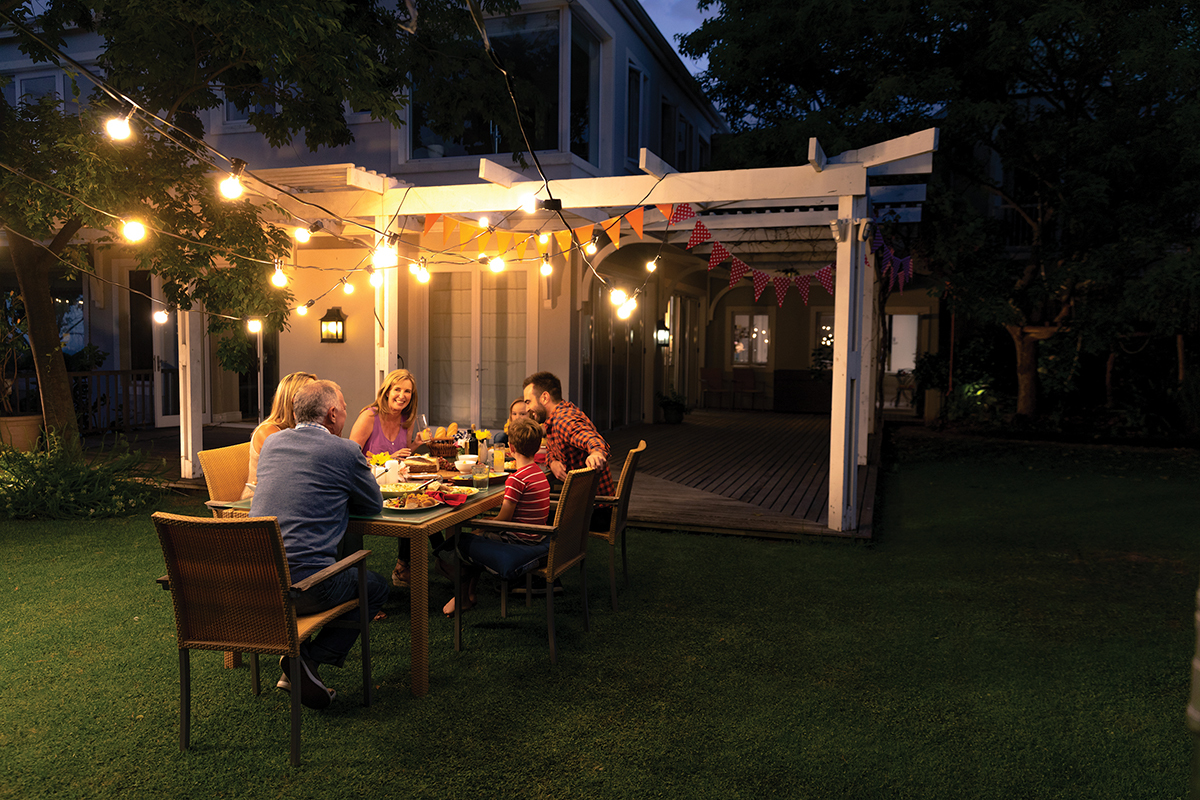 The emergence of spring's warm weather brings a growing feeling that we might finally be turning the corner and are on the road to normalcy. However, as someone who spends a lot of time helping people enjoy their yards, there is one change that I hope will live on after this pandemic – how backyards have transformed into outdoor oases.
Last summer, families were forced to spend more time at home. Travel plans were put on hold; many neighborhood pools were closed; and events like concerts, plays, and festivals were cancelled. As a result, the role of the backyard in our daily lives increased dramatically, and with that came an outdoor project boom. For example, deck projects grew by 275%, landscaping was up 238%, and fencing was increased 144% nationwide.
During the pandemic, many began to view their home's outdoor areas differently. The role of the backyard expanded simply beyond being a place where kids played or adults grilled, and it instead became a more integral part of our living spaces. Families spent more time in them than ever before. Will this trend continue? It's likely that a post-vaccine world will make us more comfortable leaving our homes. The result of this could be that less time will be spent in the yard this year in comparison to last year. However, I do believe that our eyes have been opened from this experience, and I am convinced that the trend will continue. I know that making our backyards an extension of our living rooms is not just a passing fad.
The first step in planning a backyard project is determining the space's use. For example, are you looking to create an outdoor entertaining space or rather a cozy spot for intimate conversations? Do you want to enhance your grilling area or perhaps create a full-blown outdoor kitchen? You might even be considering a play space for kids or adults that could range anywhere from adding a new pool to simply creating more areas for games such as corn hole, horseshoes, or volleyball. Maybe you just want a private re-treat where you can read, listen to music, or just sit and relax.
For whichever project interests you, it is a great idea to start with a masterplan and then slowly bite off smaller projects. This not only minimizes how much money you spend upfront, but it can also accelerate completion of the projects and will quickly in-crease the use of your outdoor oasis. This approach will work whether you are contracting someone to do the work for you or if you are tackling DIY projects. Regardless, some thoughts to consider are:
– Lighting: In addition to extending the hours of use you can get from your outdoor space, lighting also enhances mood and beauty. Consider pathway lights, tree lights, or even string lights. Their type and placement will often depend on your choice of power supply, but there is also always the option of using solar lighting or tiki torches where power is not available.
– Plants and trees: Plants can be used as accents, borders, and even structural elements. Take advantage of the natural canopy provided by trees, or train plants to climb an arbor. Choose foliage to enhance your existing landscape design and the furniture you plan to use.
– Furniture: Stackable and foldable chairs are excellent for smaller spaces. Other ideas include hammocks, pouf seats, and beanbag chairs. To complement your furniture, try designing shaded areas with patio umbrellas, canopies, drapes, or shade sails.
– Flooring options: The right flooring can be a game changer, starting with the visual and aesthetic appeal. Flooring should be low-maintenance, durable, and slip resistant.
– Partitions and divisions: Utilize hedges, lattice screens, vertical gardens, and fences to act as walls or partitions for privacy.
– Outdoor storage: This may not be your first priority initially, but outdoor storage is still important, especially in spaces that serve multiple uses. You can use trolleys, crates, and even nifty built-in storage to go along with your typical sheds.
For many projects, homeowners are turning to contractors for help. For more elaborate projects like a new pool, deck or patio, or outdoor kitchen, you might want the talents of an experienced professional. If you do, you will certainly not be alone. In a recent COVID-19 impact survey by Consumer Specialists, the role of contractors in projects grew substantially during the pandemic. This is great news for the contractors, but since they are so busy, it may be challenging to find one available for your project right now. With that said, for those smaller project goals you have in mind, you might go the do-it-yourself route. A quick Internet search can arm you with the tools you need to implement these tasks.
One of my favorite sources for DIY projects, including ones for outdoor living spaces, is Pinterest. For tight areas, for example, you can discover many creative ideas like "how to build a Murphy bar" or a "tabletop fire bowl." For you more ambitious do-it-
yourselfers, you can even find videos for projects such as building your own pergola, installing patio light poles, creating fire pits, and even making DIY games for the whole family.
My goal is to help people enjoy their outdoor living spaces. I know firsthand just how awesome many have made their yards recently, and I have seen the great enjoyment the entire family gets from them. So now that spring is here, whether you're looking to tackle a major project or a take on a small DIY task, I encourage you to make the most out of your outdoor living space. After all, "A yard is a terrible thing to waste."
Margarita Cohen
The owner of Mosquito Joe of Raleigh, Durham, and Chapel Hill, making "Outside Fun Again" with mosquito control treatments for residential and commercial customers. For more information or to schedule an appointment for treatment, call or visit their website.