Autumn's Art
Beautiful Flowers And Vibrant Foliage For The Perfect Fall Garden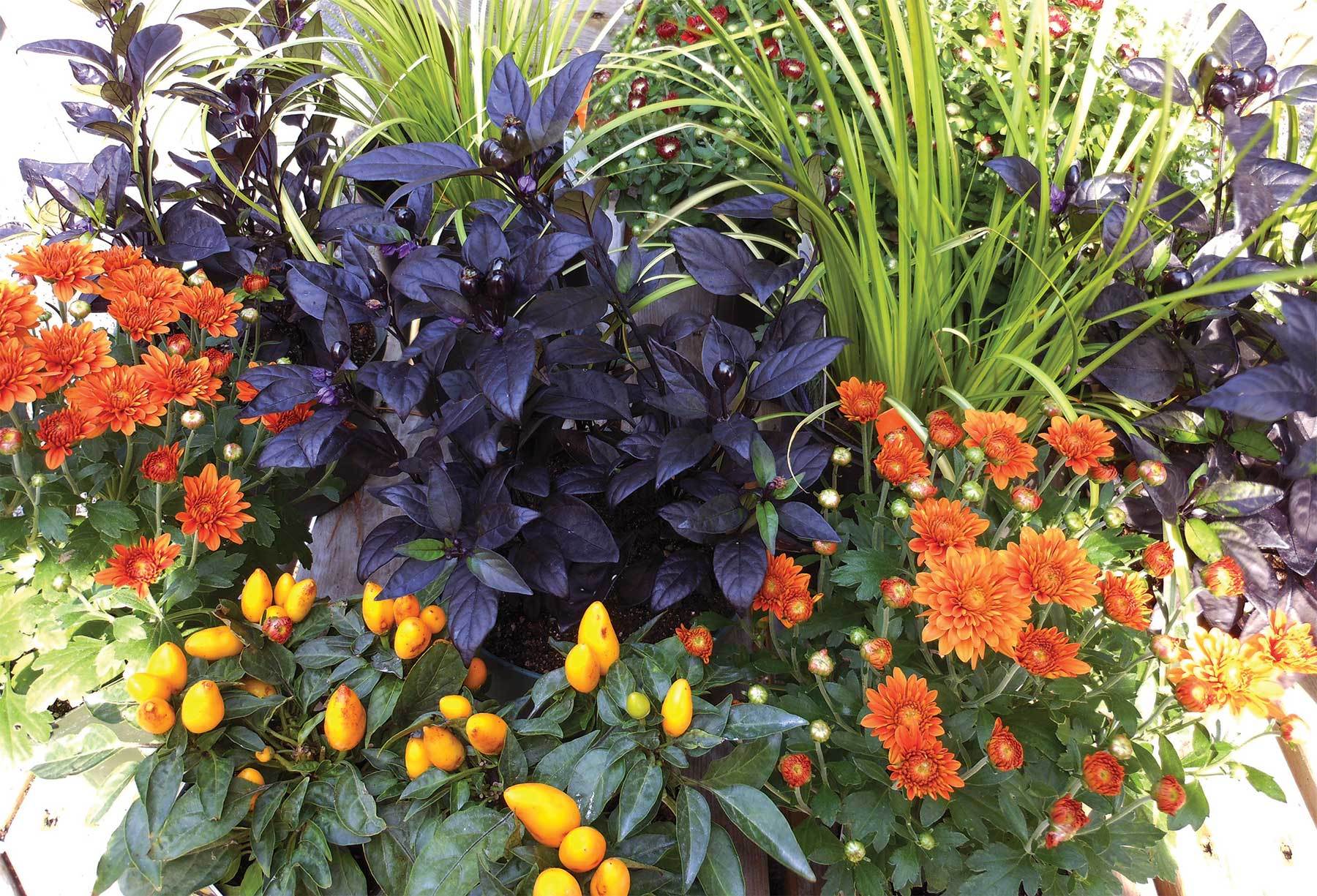 Beautiful flowers aren't just for spring and summer gardens. They can be enjoyed in fall, too. Pansies and mums are great for autumn, but add these others for additional color and interest, or pot them up for splendid container gardens at your front door.
– FALL ASTERS (Aster spp.): Something about the lavender or purple hues of fall asters fits the mood of fall. The daisy-like flowers are also available in pink and white and make a great segue from summer to pansy and mum season. Asters grow to 1' to 2', depending on the cultivar. Plant fall asters in sun, and for classic and gorgeous contrast, plant them with goldenrod.
– 'ASCOT RAINBOW' EUPHORBIA: Sporting highly variegated green leaves with bright yellow margins and sienna-rose new growth, this perennial is tough, easy-to-grow, and evergreen. It is short-lived but glorious in its time, providing year-round color and interest, looks good in the ground as well as in mixed container gardens, and is excellent with red and white pansies or 'Firepower' nandina.
– HEUCHERA / CORAL BELLS: Heucheras come in a dazzling array of foliage colors including ones perfect for fall: burnt orange, glowing apricot, and burnished bronze, as well as dark purples, cherry reds, and lime green. They look fantastic when planted with pansies and mums. Heuchera grows to 8"-14" tall and should be planted in part sun to light shade.
– ORNAMENTAL CABBAGE, KALE, AND MUSTARD: Those lovely purple kales you see in the grocery store can be grown in your yard and they look beautiful paired with pansies and mums. Ornamental varieties have even more foliage color and some are bi-colored, such as cool, minty green with frosty white or rich, dark purple with light magenta. Plant in sun to part sun.
– ORNAMENTAL PEPPERS: Bright pops of purple, red, and yellow flare out of your garden beds and container gardens when you plant ornamental peppers. They add the uniqueness of bright fruit to go with fall flowers and foliage like mums and pansies.
– GOLDEN SWEET FLAG (Acorus gramineus 'Ogon'): By itself, this is a nice little golden clumping grass. But, seat it with a purple heuchera, red pansies, silvery dusty miller, and an ornamental pepper and BAM, it's a whole different ballgame! This is one of those plants that makes others look better, enhancing color and contrast. It's also easy to grow and evergreen so it will look good through winter. Golden Sweet Flag grows to 10" and should be planted in sun to light shade.
– 'FIREPOWER' NANDINA (Nandina domestica 'Firepower'): This dwarf shrub is tough, durable, and low-maintenance, and not to mention evergreen. Sort of. It does keep its leaves all year, but they turn bright fire-engine red in fall and winter which look spectacular with white and yellow pansies or 'Ascot Rainbow' euphorbia. This nandina grows to 2'-3' tall. Plant in full to half day sun.
– ORNAMENTAL GRASSES (i.e. Pennisetum, Miscanthus, Cortaderia, Panicum, Muhlenbergia, etc.): Glowing wand-like plumes catch the autumn light with magical effects. These are perennial or annual and come in a variety of foliage colors. Prune back old leaves and plumes in March before new spring growth. These grow to 1' to 7', depending on species. Generally, plant in sun.
– CAMELLIA (Camellia sasanqua): Entrancing evergreen shrubs for fall with masses of beautiful pink, white, red, or magenta blooms, camellias grow to 6'-8' tall, sometimes more. This species is suited to growing on an espalier or lattice, great for when you want an evergreen vine but actual vines are too big. Plant in part sun to shade. The tea camellia (Camellia sinensis) also blooms in fall with lovely pearl-like buds that open to 1"-2" pink or white flowers ... and you can grow your own tea!
– REBLOOMING AZALEAS (Encore, Bloom-a-Thon, ReBLOOM): These are a few series of popular evergreen azaleas which bloom in an array of colors such as coral, pink, salmon, magenta, brick red, and white. Best of all, they rebloom in fall (a few bloom in summer, too). Reblooming azaleas grow to 21/2'-6', depending on the cultivar.
Tina Mast
Communications director at Homewood Nursery in Raleigh.