Autumn
What A Wonderful Time To Garden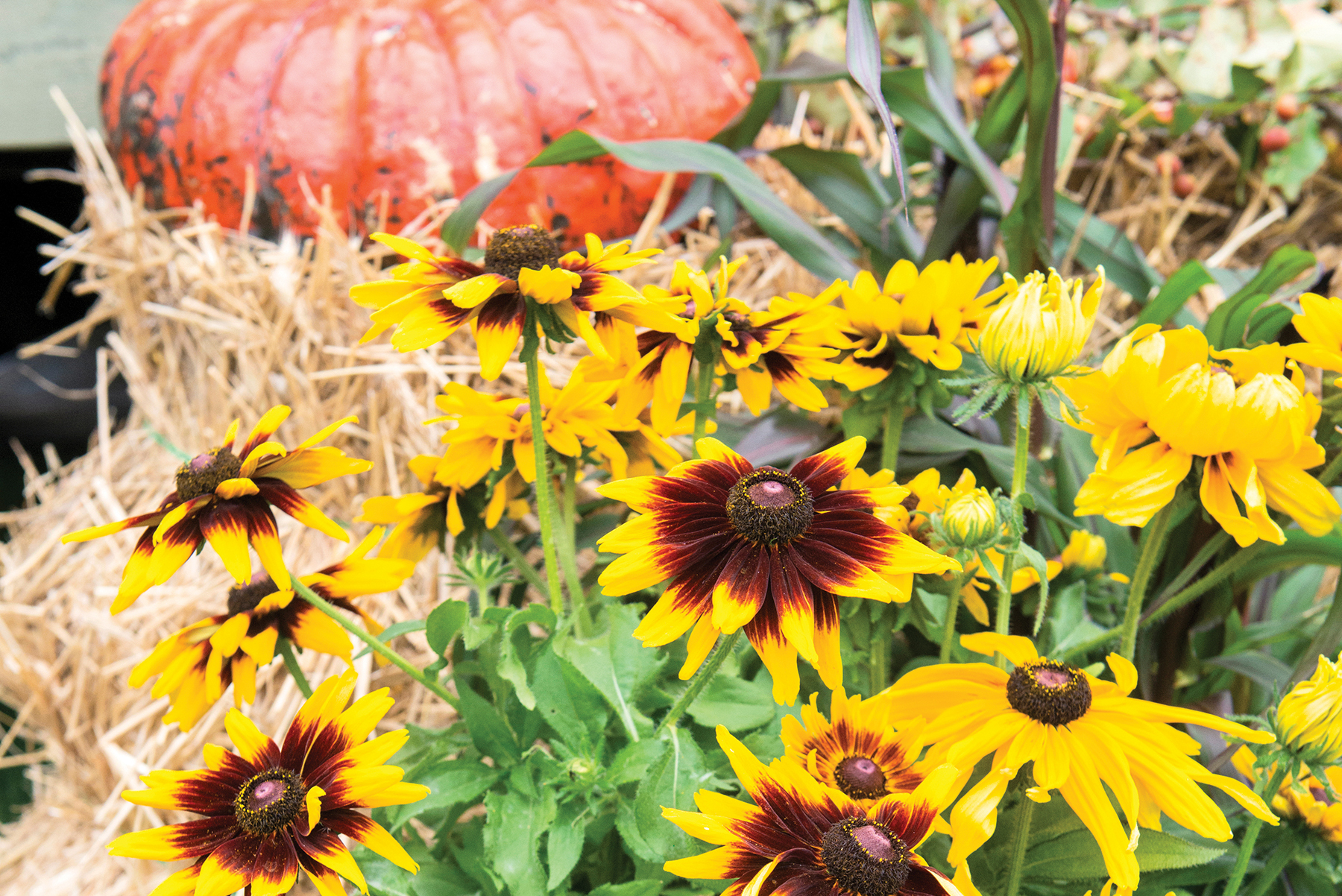 After enduring the heat of summer, most gardeners are ready for the cooler temperatures of fall. What if on these pleasant days you could venture out to your garden and enjoy some sassy colors and wildlife benefitting from glorious fall and winter blooming plants? And as the season unfolds and the temperatures drop even more, you can have interesting natives to bring inside where it's warmer as well.
Many gardeners get caught up in the spring flowering frenzy and only think about the magnificent colors it welcomes. But many plants boast beautiful fall blooms as well and are sure to bring joy to any space. For instance, Black-eyed Susans are some of the easiest plants to grow this time of year. If cut back to half by the Fourth of July, you can delay the blooms until fall (while it's too late for this task this year, it's good to keep this in mind for next summer). This also works for asters and mums from past years that are planted in one's garden – picture lavender and yellow asters mixed with the golden yellow of Black-eyed Susans. Another great combination is Dusty Miller mingled with fall-colored mums. Fall gardening beauty at its best.
Autumn is also a time to honor the importance of seed heads and their role in habitat. With habitats disappearing, we need to be conscious of our impact on the wildlife population. Most native plants serve multi purposes in the garden – either as food sources, hosts for egg laying, or as providers of nectar. One example is our native milkweed … monarch caterpillars feed exclusively on its leaves. Thus, it is critical for the survival of monarch butterflies – what a great opportunity to educate children on their lifecycle! Additionally, parsley, fennel, and dill provide the food source for swallowtail butterflies, making them great additions to the late season garden.
There are many colorful native plants that act as pollinators. Goldenrod is an important nectar plant for migrating monarchs and other pollinators. Its pollen is very large and doesn't cause allergies, as many seem to believe, so there's no reason to be deterred from including this valuable native plant in your garden. There are several small varieties available for the mini garden as well.
If you are in search of a tall, lavender-colored native plant for pollinators, look no further than Joe Pye Weed, an always reliable fall bloomer. It looks great up against a fence or at the back of a garden bed with graduated sizes in front of it (there is a small version called Little Joe – those of you who remember Bonanza might get a kick out of this name).
For you lovers of all things red, the star hibiscus, Red Penstemon, and Red Cardinal Flower are bright spots in any late autumn garden. They also have the benefit of attracting hummingbirds and sharing their natural nectar to send them on their journey south. In addition, red salvias last until frost. Hot Lips Salvia (calling all you M*A*S*H fans) is another fiery fall favorite that will add a vibrant splash of color to your outdoor garden, or indoors on your autumn-decorated kitchen table.
Garden parts often overlooked are sticks, stems, grasses, berries, and seed heads. Some of the most interesting fall and winter interest comes from combining flowering plants with these natural elements.
The grasses have colorful plumes that wave in the wind, and even though annual grasses such as purple fountain die back after frost, their golden-brown color is still stunning for fall. Perennial grasses such as Red Head Pennisetum or muhly grass are gorgeous all winter long and should not be cut back until the season's very end. Little bluestem is lovely with its mix of purple and blue greens leaves. The importance of grasses as habitat and winter interest in the garden cannot be overstated. Check out Holding Park for an example of a huge hillside full of mass planting impact. An added benefit of incorporating grasses into your garden is erosion prevention.
Two easy-to-grow natives boasting berries are the holly and American Beauty Berry. Both drop their leaves with berry clusters still on the stems. These red and purple berries are a surprising sight in the cool weather garden. Of course, most are familiar with hollies, but there are some varieties such as Inkberry and Yaupon that thrive in low-lying or wet conditions, offering an extra benefit for tough gardening situations.
Stems and bark add an interesting component to a chilly garden visit. Red Twig and Yellow Twig Dogwood feature beautiful stems on new growth. As the stems age, they are less colorful – just the opportunity you need to cut them back to their base. You can cut them successfully every other year, or any time you need colorful stems for decorating a centerpiece or a planter – think a holiday urn beautifully decorated with stems, pinecones, and greenery. Often, the Red Twig Dogwood stems will root. Yellow Twig Dogwood meshes well with Zebra Grasses or Black and Blue Salvia.
People often ask when to trim back bushes in their yards. One piece of advice is to trim things when you need greenery for centerpieces or thoughtful gift vases. Remember, your yard is there for you to enjoy all year long. Needing a little fall decorating inspiration? One easy and inexpensive seasonal showpiece calls for using natural stems and flowers from your yard in a "pumpkin" vase (you can use a fake or real pumpkin for this simple DIY project). Simply insert a tin can in the top of the pumpkin and fill with a few freshly cut flowers … in minutes, you have created a fun and festive fall centerpiece, and tidied up your garden at the same time!
The arrival of fall's cooler temperatures also means it's time to assess your trees and shrubs. This time of year is the ideal period to plant in our climate (7B), with the exception of a few marginal plants. Planting now gives time for roots to establish, before those hot temperatures hit us again. Just remember, fall is also our driest time, so be sure to use supplemental water regularly.
Now that Mother Nature has graced us with wonderful fall weather, take the opportunity to get outside, get planting, and enjoy all the elements she has to offer, while also sharing them with the wonderful wildlife that surrounds us.
Debbie Ludas
With the Wake Forest Garden Club, established in 1924. The Wake Forest Garden Club provides education to encourage methods of gardening that are water-wise, use native plants, are pollinator-friendly, and eschew invasive plants. The members appreciate nature year-round and realize that we all need to be good stewards of our community.