An Unforgettable Summer In The Forest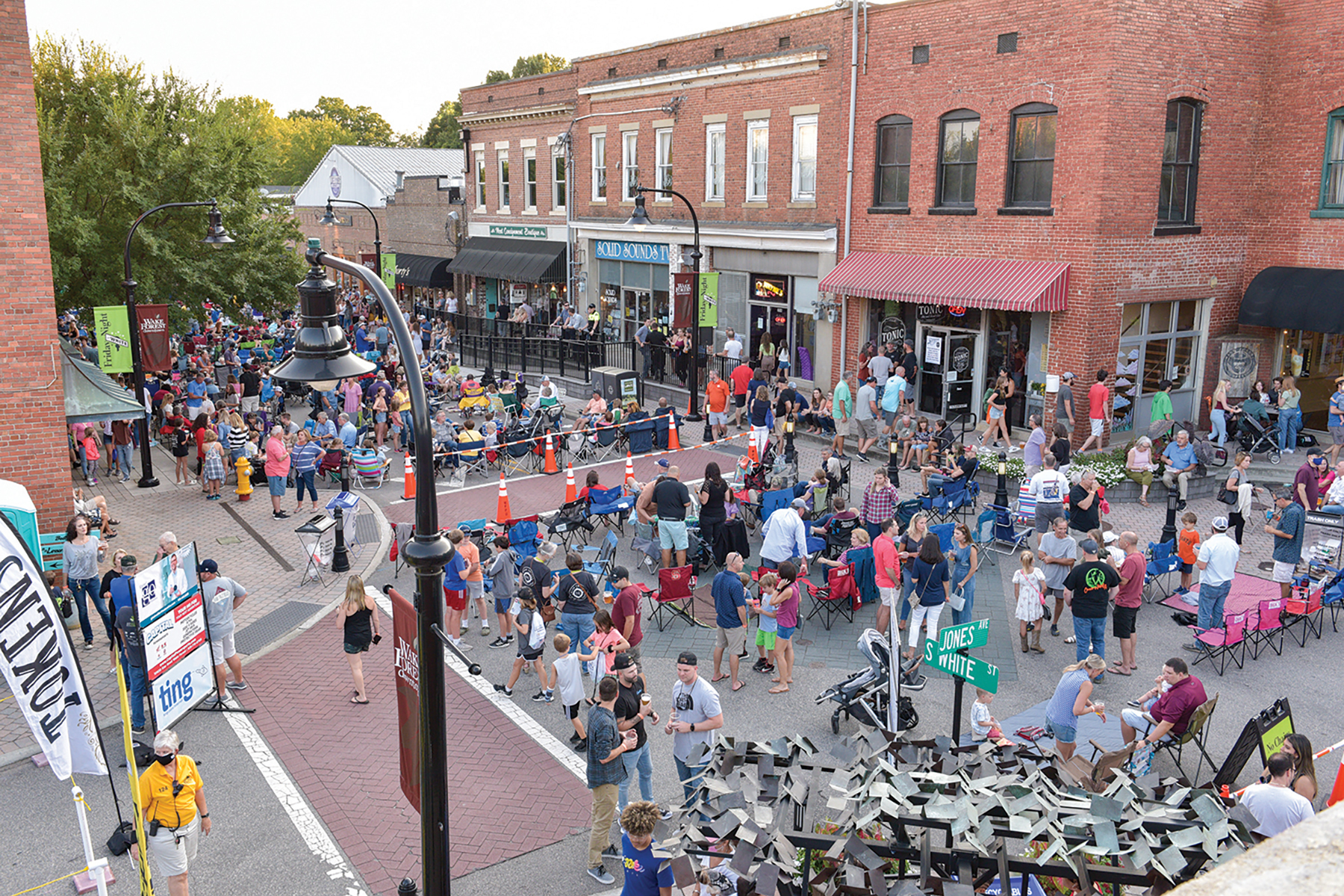 Are you ready for some fun in the sun this summer? If so, then you've come to the right place! Offering something for the entire family, Wake Forest's impressive lineup of summertime events includes our two-day Independence Day Celebration, outdoor concerts, family movie nights, and more. Gather your family and join your friends and neighbors for these exciting events guaranteed to deliver an unforgettable summer in the Forest.
Independence Day Celebration
Fireworks, food, live entertainment, and more await you at Wake Forest's 2022 Independence Day Celebration. Presented by Capital Chevrolet, this community extravaganza is Wake Forest's most eagerly anticipated summertime event, serving up two days' worth of free fun and excitement for the entire family. The festivities get underway with the Fireworks Spectacular on Sunday, July 3, inside Husky Stadium on the campus of Heritage High School (1150 Forestville Road). Admission is free and gates open at 5:30 PM with the Band of Oz, one of the southeast's most popular beach music bands taking the stage at 6:15 PM. The evening will conclude with an amazing fireworks show beginning at approximately 9:30 PM.
The excitement continues Monday, July 4, with the annual Children's Parade along North Main Street. Area youngsters are invited to hop on their bicycles and be a part of their very own "walking parade." The lineup begins at 10:00 AM at the intersection of North Main Street and West Juniper Avenue, near the Wake Forest Historical Museum. The procession gets underway at 10:30 AM. Participation in the Children's Parade is free, but bicyclists must wear their helmets. The festivities continue at 11:00 AM with Art in the Park & More. Free arts and crafts activities will take place inside the Wake Forest Community House (133 W. Owen Avenue). In addition, the Wake Forest Fire Department will be onsite grilling and serving free hotdogs, interacting with the children and their families, and providing information on fire prevention and safety.
A very special thanks to Dawn Nakash, the Wake Forest Optimist Club, a group of incredible volunteers, and the Wake Forest Police Department for making this year's July 4 Children's Parade possible. A sincere thank you also to the Wake Forest Woman's Club for again sponsoring Art in the Park. Visit wakeforestnc.gov and search "Independence Day."
Friday Night on White
Friday Night on White is in full swing! Recognized far and wide as Wake Forest's most popular outdoor concert series, these free performances continue July 15 with Love Tribe, August 12 with The Brickhouse Band, and September 9 with Crush. The concerts take place along South White Street from 6:00 PM – 9:00 PM. While you're enjoying the music, be sure to visit sponsor exhibits and enjoy delicious food at Downtown's outstanding dining establishments or from several food trucks that will be onsite. A special thank you to our Grand Sponsor, White Street Brewing Co., for their continued support. For more information, visit wakeforestnc.gov and search "Friday Night on White."
Family Movie Nights at Joyner Park
This summer, you're invited to enjoy a movie under the stars. Our Parks, Recreation & Cultural Resources Department is excited to host Family Movie Nights at Joyner Park. The outdoor movie series continues Saturday, July 23, with The Little Mermaid (G) and Saturday, August 6, with Shang Chi (PG-13). Free and open to the public, the movie screenings begin at approximately 8:30 PM. Each Family Movie Night also includes a movie-related pre-show activity for kids beginning at 7:15 PM. Bring chairs or a blanket and arrive early to give you and your family time to find a spot and settle in before the movie begins. Assorted food vendors will be onsite selling snacks and beverages. For more information, visit wakeforestnc.gov and search "Family Movie Nights."
You're a Good Man, Charlie Brown
The Renaissance Centre will host performances of North Wake Theatre's "You're a Good Man, Charlie Brown" on Saturday, September 17, at 11:00 AM and 7:00 PM, and Sunday, September 18, at 3:00 PM. With charm, wit, and heart, "You're A Good Man, Charlie Brown" explores life through the eyes of this beloved character and his friends in the Peanuts gang. Together, they explore life's great questions as they play baseball, struggle with homework, sing songs, swoon over their crushes, and celebrate the joy of friendship. General admission tickets are $20 for ages 13 and older and $10 for ages 12 and under. Tickets can be purchased online or at the box office. For more information, visit wakeforestrencen.org.
A Fall Evening Motown Cabaret
The Renaissance Centre is partnering with Pure Life Theatre to present "A Fall Evening Motown Cabaret" on Friday, September 23, at 7:30 PM. The evening will feature the iconic music of The Temptations, The Four Tops, The Supremes, and Gladys Knight and the Pips. This fabulous show will have you on your feet and dancing in the aisles. Ticket prices range from $20-$30 (reserved) and can be purchased online or at the box office. For more information, visit wakeforestrencen.org.
Wake Forest Home & Garden Show
The Wake Forest Home & Garden Show presented by Mitchell Heating & Cooling is back. This year's show will take place Saturday and Sunday, October 8-9, at the Wake Forest Renaissance Centre. Showcasing the latest in home improvement products and services, the event is free and open to the public Saturday from 9:00 AM – 4:00 PM and Sunday from 11:00 AM – 3:00 PM. Interested vendors are encouraged to email Anna Bolton at abolton@wakeoforestnc.gov.
Stay Connected!
Always be the first to know about Town of Wake Forest programs, services, breaking news, and special events by signing up for E-Notifier, downloading the Town app, visiting the Wake Forest website, and/or following the Town on social media @TownofWakeForest. For complete details, visit wakeforestnc.gov and search "Communications."
Anna Bolton
Communication Specialist with the Town of Wake Forest. To learn more about town events, sponsorship opportunities, and how you can be involved, contact Anna.