A Toast To Winter
Warming Wines And Bold Brews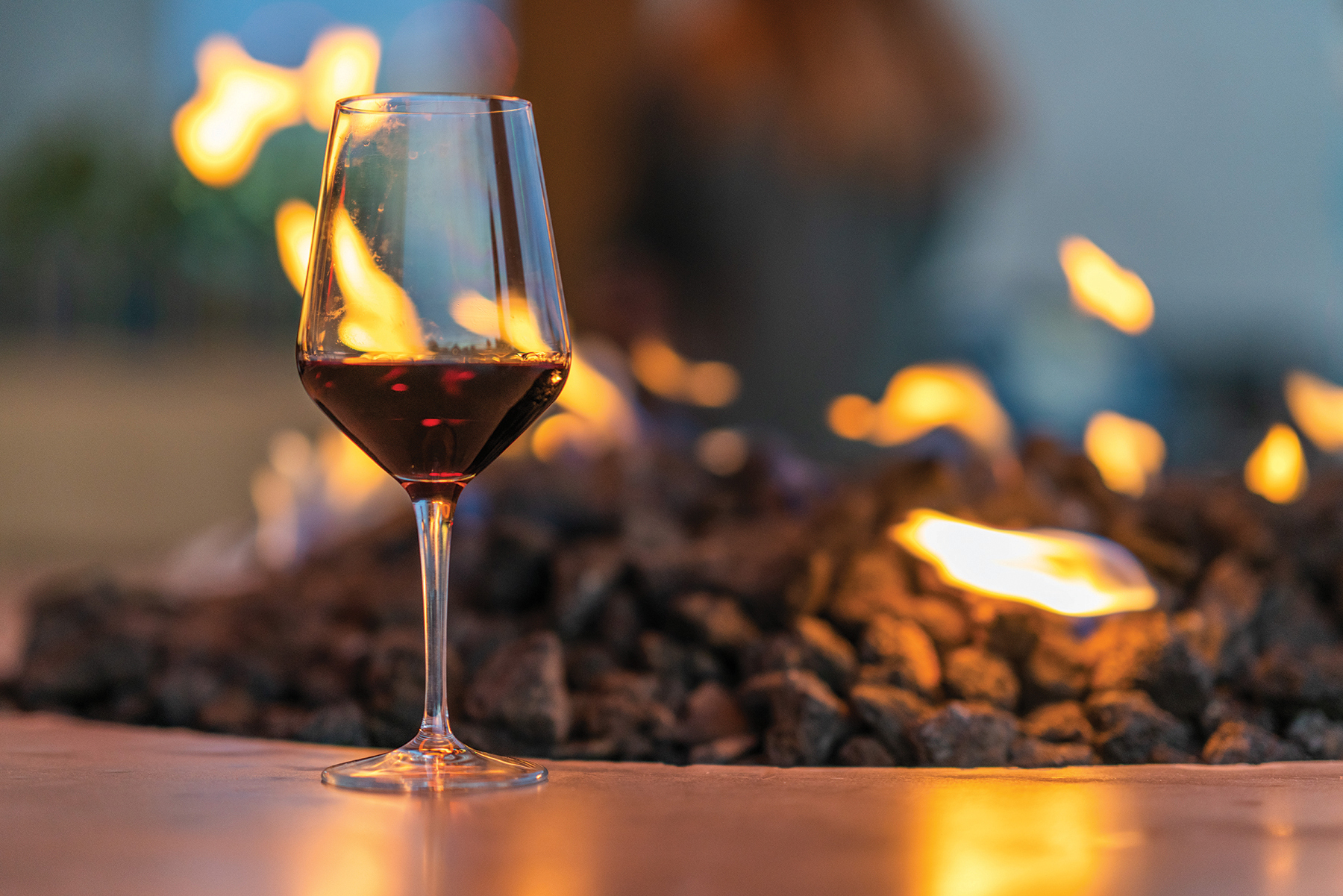 Happy New Year to all you wine and beer fans! While the holidays are behind us and some of you no doubt are kicking off 2022 with a dry January (personally, if I were doing that, I would pick a shorter month), it is the best time of the year to enjoy robust beers that are darker in nature and big, bold wines that are higher in alcohol, as well as flavor. Both can be sipped by themselves or shared with a hearty meal – either way, they are sure to help you chase the winter blues away.
WINTER WINES
Three delicious options – Barolo, Chateauneuf Du Pape, and Cabernet – perfectly satisfy our palates this time of year, as the temperatures drop and we crave warmer, full-bodied flavors.
BAROLO: Known as the "King of Wines," Barolo has a bold and tannic structure. Tannins are what give a wine its bite, but also its flavor. Barolo's main grape is Nebbiolo, derived from the Latin word "nebulous" and first used to describe this grape because of the cloudy nature of its skin. In order for a Nebbiolo grape to transform into a Barolo wine, it has to age in a barrel for five years before being bottled. This extra time allows the acidity to work its magic and in concert with the fruit and the alcohol, creating a unique and flavorful winter weather option. I am not saying you cannot drink Barolo during the warm spring and summer months … you can certainly drink whatever wine you want, whenever you want. But the bold tannic structure of Barolo pairs especially well with the season's colder temps. And a good juicy steak.
CHATEAUNEUF DU PAPE: Even though you might not speak French, you probably guessed that this wine name refers to the house of the pope. And you'd be right, as this great winter wine option is named for the castle built by Pope John XXII during his 14th century residence in Avignon. This Southern Rhone appellation is best known for its exclusive Grenache-based red blends. The region actually produces both red and white wines, utilizing 13 different grapes. While the Grenache is most commonly blended with Syrah, the Chateauneuf Du Pape Rouge bursts with raspberry flavors and its fuller body really makes this wine a cooler weather winner. But as I said, there are other grapes that can be added to the blend – most notably, Mourvedre. The combination of this trio creates a blend fondly referred to as a GSM. Your Chateauneuf Du Pape Rouge can be aged for 10-20 years. But there's no reason to wait … this winter, go ahead and crack open a bottle that has been chilled down to 62 degrees, snuggle up by the fireplace or the firepit, and enjoy.
CABERNET SAUVIGNON: A big Cabernet may seem like an obvious winter choice, but it's important to know that not all Cabs are created equally. If you go the familiar route and grab one from California, you'll probably need to start in the $22+ range for one that is higher in alcohol and presents the complex and ripe flavors of plum and chocolate that really dance on your tongue. In the same vein, Argentina and Chile both offer great Cabernets if you prefer a drier version with hints of green bell pepper. While you cannot go wrong with a Cab from California or South America, why not venture to a Bordeaux this winter? Most right bank Bordeauxs are Merlot-driven, as that area is cooler and more clay-based, making it a better place to grow Merlot grape varieties. But the region's left bank is stony and more suitable to growing Cabernet grapes. As always, beyond the blend is the alcohol content – the higher the alcohol content, the fuller the wine. On a chilly upcoming evening, invite a few friends over, grab several different Cabernets, and kick off winter in style.
COLD WEATHER BEERS
When you picture the perfect winter beer, the obvious is a darker, more malt-based brew. It is up to individual beer makers how they categorize darker beers. Browns and porters range in ABV from 4.5% to 6.5%, while your stout options can also be on the lower ABV side, just north of 5.0%. Or you can tap into an imperial or barrel-aged stout that can creep up to 12.3% ABV, or even higher.
PORTERS: Deep brown and reddish in color with a creamy head, porters boast a chocolatey flavor and are some of the heaviest beers. STOutS: Dark, bitter, full and creamy, and roasty in flavor, stouts stand out because of their taste and color (think coffee, licorice, and chocolate).
IMPERIAL: Imperial beers feature a higher alcohol level, stronger taste, and more intense aroma than their regular beer counterparts.
BOURBON: Bourbon's popularity has really shed light on how darker beers are made. While some purists still rely on tank, fermentation, and the less-is-more approach, many breweries have created cult beers by barrel-aging their stouts – particularly in bourbon barrels. The resulting taste is amazing, but deceptive – it can be unsettling to taste a 12.0% beer that goes down way too smoothly, and with no heat, meaning it is hard to taste the alcohol because of the balance of flavors. While it would be fun to try a variety with a group of fellow beer lovers this winter, I suggest having a burger first!
Whether toasting friends by the fire, sipping on a grown-up snow day, or enjoying while snuggled up with a good book, I hope you enjoy one of these hearty wines or bold beers. No matter which you choose, they are sure to warm your insides, soothe your soul, and chase away the winter chill.
Joe O'Keefe
Owner of Wine and Beer 101, offering deliveries throughout Wake Forest, virtual tastings, and socially-distanced live music. Stop by anytime for a drink or to chat.