A Toast To Roasting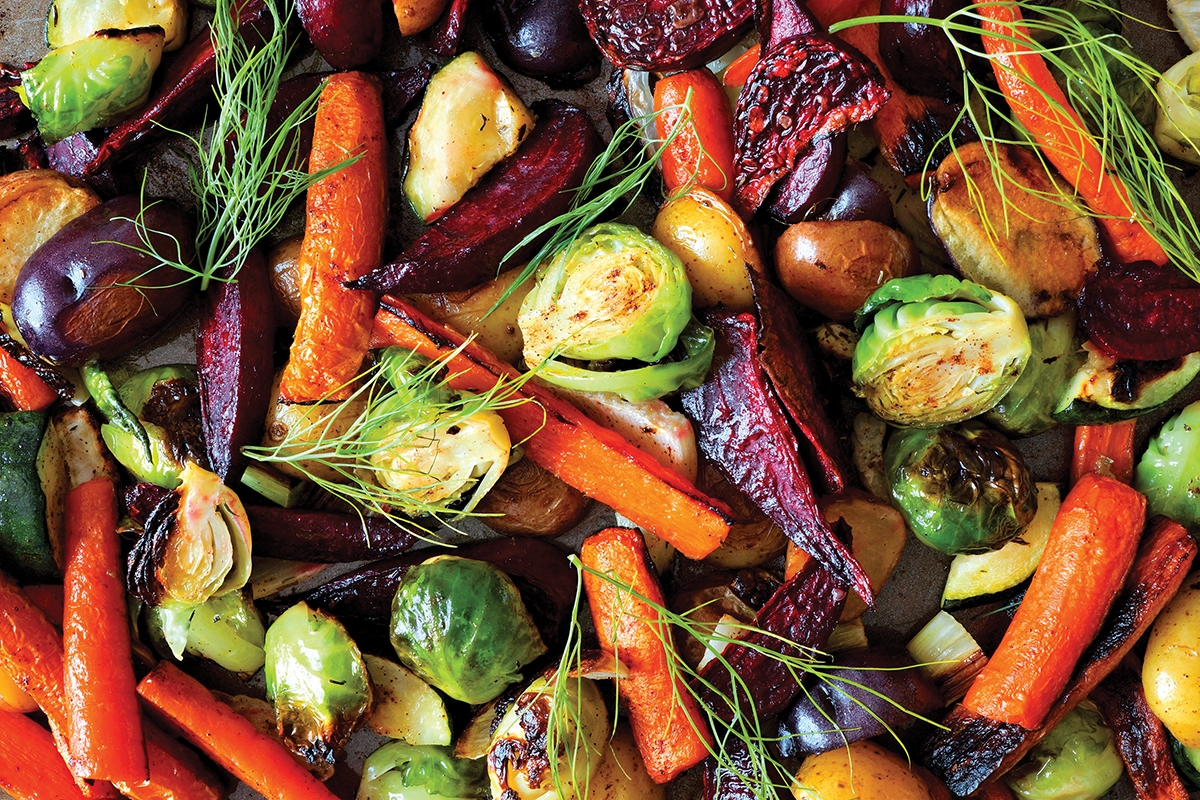 At long last, we've reached my very favorite time of year. The heat has finally dissipated, the kids are back into their routines, and I am eager to get my fall on in the kitchen. The cooler weather just demands a little simmering on the stove and something warm and wonderful coming out of the oven.
I adore fall and the upcoming holiday season for so many reasons – but one of my favorites is exploring all the amazing hearty vegetables that are available during the cooler months. Not only do they boost the nutritional content of your dish, they also bring flavor and texture to it. And the color they add to the dinner plate makes any meal feel more special. While potatoes are probably the first to come to mind, there are so many yummy squashes and root vegetables that you can add to many of your mainstay dishes to enhance them. And don't forget fresh herbs! They are available year-round and there is nothing like adding a handful of rosemary or fresh thyme for the perfect finishing touch.
I am a huge fan of roasting. Just like when you are roasting your favorite meat, starting at a high heat sears in natural juices and creates a delicious crust – it's this process that provides the most flavor in the dish. Whether roasting in the oven or pan searing them for just a few minutes, it is worth the extra step. Lightly salt and pepper your veggies before you begin and make sure your pan and oil are hot.
After roasting your larger veggies for a few minutes, add your aromatics like celery, onions, garlic, and any other veggies you may be using, sautéing them for a few minutes, stirring often. If you are turning veggies into a soup or stew, you'll now want to add liquid to deglaze your pan and pull up all the yummy flavors. You can use wine or your cooking broth to deglaze.
One of my favorite cool weather dishes is a roasted root vegetable soup. My combo of choice is potatoes, onions, carrots, butternut squash, and parsnips, with plenty of garlic and rosemary. Simply peel and cut your veggies in chunks, toss them with salt and pepper, and sauté in a very hot pan or roast in the oven at about 425 for about 10 minutes. Then reduce the temperature, add your favorite vegetable stock, and cook until the vegetables are tender. Any leftovers will make a fantastic pot pie or are perfect for serving over your favorite pasta.
While root vegetables lend themselves so well to roasting because it brings out their natural sweetness, there are lots of other yum-my options in the produce aisle that are perfect for this process and creating amazing sides dishes for your autumn or holiday table. Brussels sprouts, broccoli, cauliflower, and beets are all great options. With just the toss of a few ingredients, most will roast quickly and can complement a variety of main dishes. A little olive oil, garlic, and lemon tossed with broccoli can be cooked in about 10 minutes and is delicious when served alongside roast chicken. Brussels sprouts are delicious when sautéed in a bit of olive oil and then lightly glazed with a drizzle of balsamic vinegar and honey. Cauliflower roasted in olive oil and roasted about 15 minutes is perfect with a sprinkle of parmesan as they come out of the oven.
Roasted veggies are also delicious mixed in seasonal salads. You are only limited by your imagination. Fall entrée salads are a great way to use those extra veggies you have already roasted and are also a tasty way to enjoy leftover roast chicken or any other meat you may have on hand. A couple of my favorites are kale with warm roasted root veggies, sprinkled with pecans and dried cherries and arugula with roasted beets and butternut squash topped with a bit of goat cheese. Both are made even more delicious on a cool autumn evening or served on a holiday table when drizzled with a warm honey balsamic dressing.
Whatever your favorite fall foods may be, I highly encourage you to work some magic with your veggies. Your palate and your tummy will thank you!
Stacey Moritz
Owner of The Lemon Tree Cafe, located at 113 S. White St. in Downtown Wake Forest, offering freshly prepared salads, pastas, soups, and take-away fare.