A Sweet Treat For Winter
The Vermonter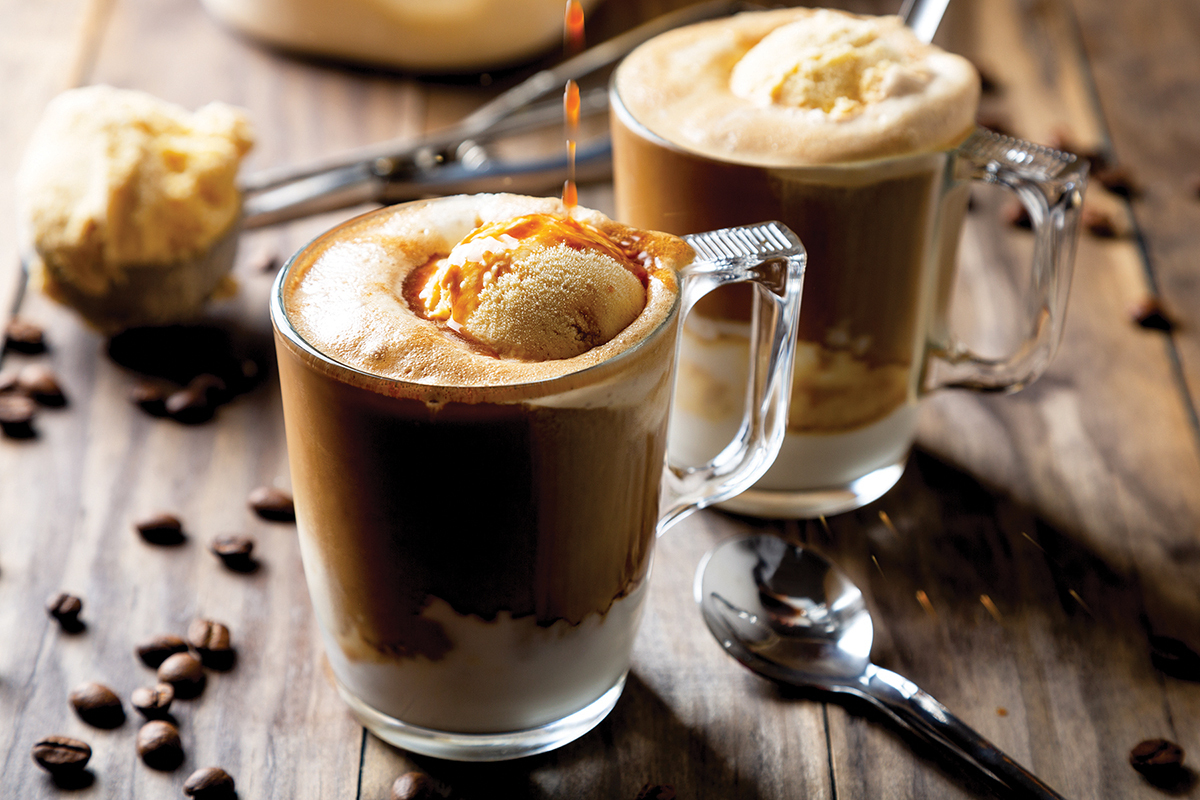 Recently, many coffee shops, restaurants, and bakeries have discovered the Italian coffee-based dessert drink Affogato. What is this exotic sounding treat, you say? Simply put – it's a shot of espresso poured over a scoop of vanilla ice cream ... the perfectly sweet combination to sip on a chilly evening.
But while you're listening to the bundles of joy you love so dearly "playfully" throw Legos at each other rather than gearing up for their bedtime routine, perhaps busting out the espresso machine for a caffeinated dessert drink isn't high on your to-do list.
But here's another less-caffeinated alternative that you can quickly whip up with the coffee pot that's already on your kitchen counter or pot sitting atop the stove … the Vermonter! This take on the Italian dessert drink allows you to concoct your own hot chocolate that you simply splash over a scoop of your favorite ice cream. (And for those of us who are "of age" and would prefer an adult beverage to warm them up on a chilly evening, add a splash of peppermint schnapps, Frangelico, or your favorite spirit – that extra touch of pizazz a wintery night in requires).
I can hear you now, "What? Make my own hot chocolate? Who has time for that?" Relax, it's easy! (So says the professional.) But I promise, it really is. There are two methods to consider for this sweet treat – cocoa and brewed cacao. Hot chocolate made of cocoa is an American mainstay, while brewed cacao is relatively unheard of. Personally, I am particularly fond of the latter. Plainly put, brewed cacao is cacao nibs brewed like coffee. They contain a ton of antioxidants, polyphenols, flavonoids, minerals, and are the least processed of all the chocolate products. Chocolate, with all its benefits, now looks more like a health drink than a once-in-a-while treat for the kids or a guilty pleasure that will help you survive the aforementioned Lego war (knowing its health benefits just made your day, didn't it?).
So, send the store-bought cocoa to the back of the cabinet, pass on that highly-caffeinated cup of coffee, and break out the chocolate.
Cacao Vermonter
– 8 ounces water
– 1 tablespoon cacao nibs*
– ½ teaspoon sugar
– 1 scoop of ice cream
In a coffee maker, pour water into the water reservoir. In the pot, place cacao nibs and sugar and turn on the machine. Let the cacao steep for at least 10 minutes, stirring every 2-3 minutes. Strain the steeped cacoa. Pour over ice cream and enjoy.
Hot Chocolate Vermonter
– 8 ounces milk
– 1 ounce 100% chocolate (cocoa liquor)
– ½ teaspoon sugar
– 1 scoop of ice cream
Bring milk to a soft boil while stirring often. Pour into a cup with chocolate and sugar, stir vigorously (or use a hand mixer), taking care not to splash hot liquid on yourself or others. Pour over ice cream and enjoy.
Note: It's not always easy to find 100% cocoa (cocoa liquor), so any chocolate will suffice. Feel free to adjust to your palate.
Buck Buchanan
Owner of Lumpy's Ice Cream. Lumpy's uses the finest local ingredients and crafts them into ice cream without any preservatives, additives, or synthetic hormones.